Team Canada and Hudson's Bay unveil PyeongChang 2018 collection
Authentically Canadian.
That's what Hudson's Bay was aiming for with its PyeongChang 2018 Olympic and Paralympic Collection, which was unveiled on Tuesday with the help of 15 athletes who would love nothing more than to be sporting the kit in February.
Revealed simultaneously to an audience at the CF Toronto Eaton Centre and online across Canada on Facebook Live during a show hosted by TV and radio personality Patrick Langlois and two-time Olympic bronze medallist diver Roseline Filion, the collection was inspired by iconic Canadian winter style, resulting in a proud, vibrant and modern look.
An in-house team of designers for Hudson's Bay settled on some key elements, including: colour blocking in red, white, and black; layering; graphic embellishments; and a confident use of the maple leaf.
The collection includes the looks that will be proudly worn by Team Canada athletes at the opening, closing, and medal ceremonies, as well as the leisurewear for in and around the Olympic Village. In total, Olympic athletes will be given 28 items from Hudson's Bay in PyeongChang.
Prior to the unveiling, Olympians Ivanie Blondin (long track speed skating), Max Parrot (snowboard), Kelsey Serwa (ski cross), and Travis Gerrits (freestyle skiing – aerials) as well as Paralympian Erin Latimer (para alpine skiing) all participated in a photo shoot featuring the collection. You'll be able to see those images in Hudson's Bay stores.
But fans can also dress like their favourite Canadian Olympians. Official Team Canada replica wear will be available for purchase at all Hudson's Bay locations across Canada this month and online at thebay.com/teamcanada. That includes the latest incarnation of the iconic Red Mittens, sales of which have raised more than $30 million for Canadian athletes. The ninth edition of the mittens will retail for $15, with $3.90 from each pair going to the Canadian Olympic Foundation.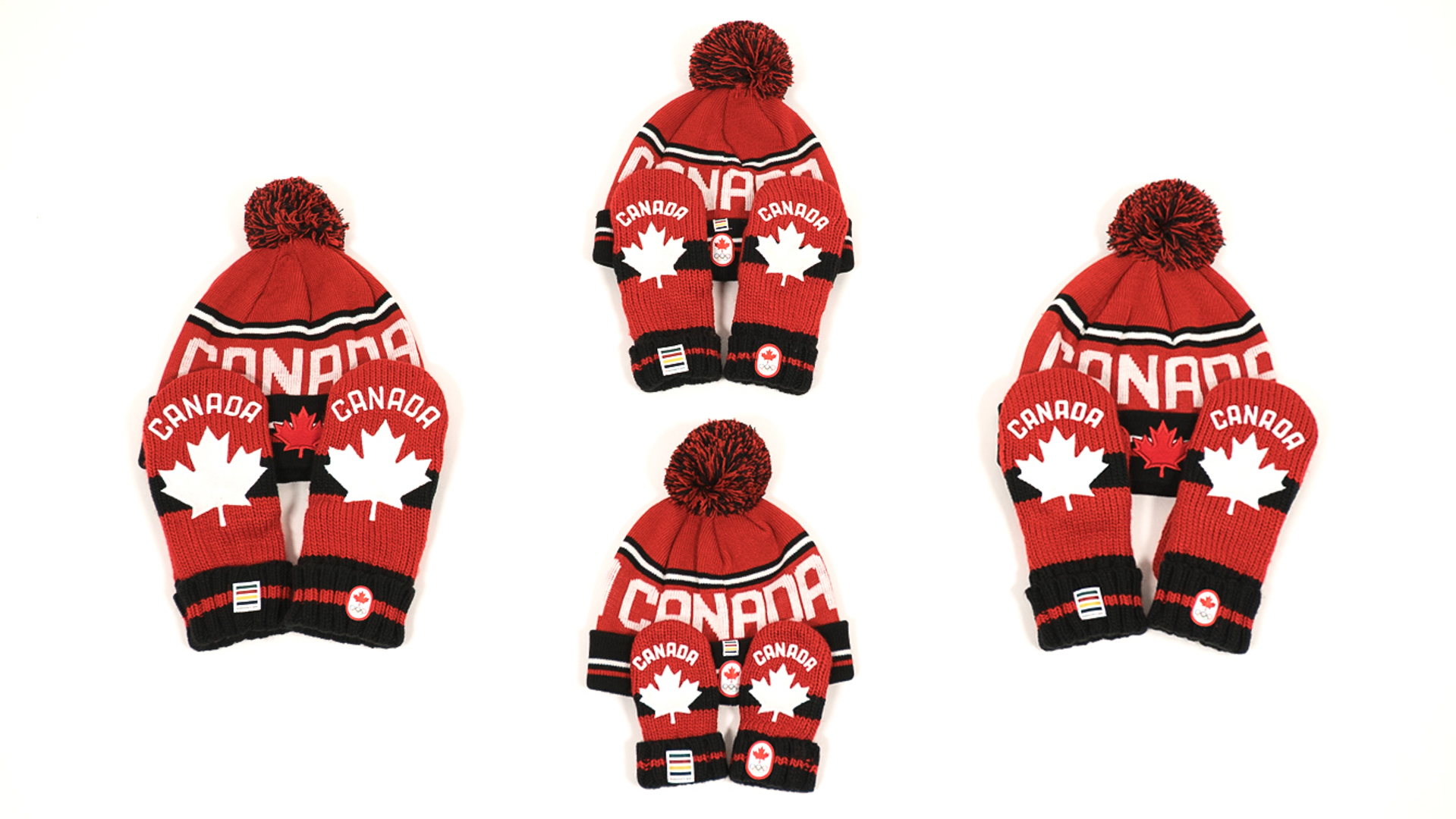 One fan will also be lucky enough to win a Hudson's Bay replica kit of 18 items – including the Red Mittens, a Herschel backpack, and the three ceremony jackets – via the Canadian Olympic Club.
Hudson's Bay has outfitted Team Canada at the last six Olympic Games, dating back to Turin 2006. The company first clothed Team Canada at the 1936 Olympic Winter Games in Garmisch-Partenkirchen and again at the 1960, 1964 and 1968 Olympic Winter Games.