Six medals for Canadian paddlers in Copenhagen
Feature photo: Balint Vekassy via CanoeKayak Canada
Mark de Jonge ended the World Cup season in canoe/kayak with five medals from as many races, as Canada paddled to six podium places in Copenhagen on Sunday.
In the K1 200m de Jonge won silver, his third World Cup medal in the event this season. And it was darn close. His time of 35.476 seconds was only .088 seconds behind Sweden's Petter Menning. Great Britain's Edward McKeever was third with a time of 35.716 seconds.
RELATED: World Cup medals in Duisburg | Montemor-o-Velho
Ben Russell and Gabriel Beauchesne-Sévigny won their second medal of the weekend, a bronze in the non-Olympic C2 200m race. This complements their silver in the C2 1000m from Saturday (more below). The pair were again behind Vadim Menkov and Serik Mirbekov of Uzbekistan. However, both teams were beaten by Italy's Daniele Santini and Luca Incollingo.
The men's K4 200m saw Canadian paddlers earn their first of two gold medals of the weekend. The team of de Jonge, Hugues Fournel, Ryan Cochrane, and Étienne Morneau clocked a time of 30.272 seconds for the win. The brought de Jonge's World Cup medal haul for 2015 to five as the group also won the non-Olympic discipline last week.
The women's K4 200m also managed a podium for their efforts. Geneviève Beauchesne-Sévigny, Émilie Fournel, Kathleen Fraser, and Hannah Vaughan were sandwiched in the silver spot by the Russian winners and Chinese bronze medallists.
In the early afternoon, Gabriel Beauchesne-Sévigny would add an endurance gold by winning the men's C1 5000m.
Canada won 24 medals over the three-stop World Cup season.
Saturday, May 30
Ben Russell and Gabriel Beauchesne-Sévigny won a silver medal in the men's C2 1000m today at the ICF Canoe Sprint World Cup in Copenhagen.
The pair raced to a time of 4 minutes 6.324 seconds only .292 seconds back of Vadim Menkov and Serik Mirbekov of Uzbekistan. For much of the race the Canadians battled with German crew Peter Kretschmer and Michael Mueller before eventually bettering the pair by 2.160 seconds.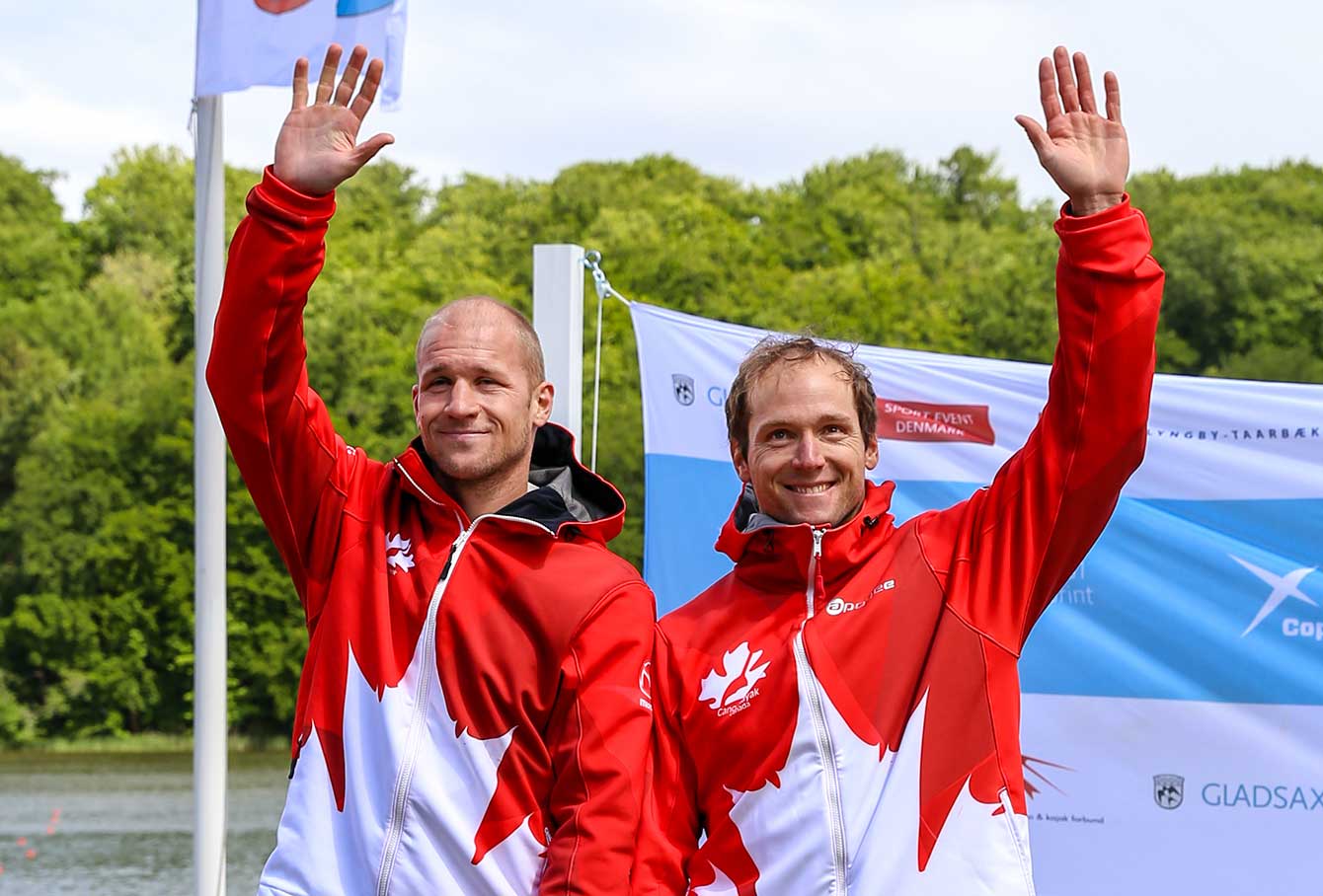 Russell and Beauchesne-Sévigny were fourth last week in Duisburg. Canada's Paul Bryant and Craig Spence were 4th today.
Canada finished out of the medals in other competition on Saturday. Brian Malfesi and Andrew Jessop were 5th in the men's K2 1000m. Mark Oldershaw was 6th in the men's C1 1000m while fellow Olympian Adam van Koeverden was 7th in the men's K1 1000m.
Competition closes on Sunday with eight different Canadian boats in A-Finals.