Double silver for doubles squash at Toronto 2015
Squash is one of those sports for which the Pan Am Games are one of the biggest competitions out there.
But following a visit from IOC President Thomas Bach earlier in the Games and an incredible response from the fans at Toronto 2015, it is definitely making a push for Olympic inclusion.
On Tuesday night, Canada captured a pair of silver medals in the women's and men's doubles events, thanks to two duos that many would say exceeded expectations.
The first gold medal match featured Guadalajara 2011 double medallist Samantha Cornett and Pan Am rookie Nikole Todd against Natalie Grainger and Amanda Sobhy of the United States. This one went back and forth, with the Americans taking the first game 11-9, before the Canadians thrilled the crowd by sending the match to a third and deciding game with their own 11-9 game. Grainger and Sobhy eventually took it 11-6.
The silver was quite the accomplishment considering Todd had never played soft ball doubles before, meaning they were working out their chemistry on the fly throughout the tournament.
"We spent a lot of time with each other," said Cornett. "That's the first thing that really helps a team. But I don't think we had any trouble with chemistry. I think we complemented each other really well."
"She has the shots, I have the speed," cut in Todd.
"I actually think she has shots as well," added Cornett. "We were a really good team."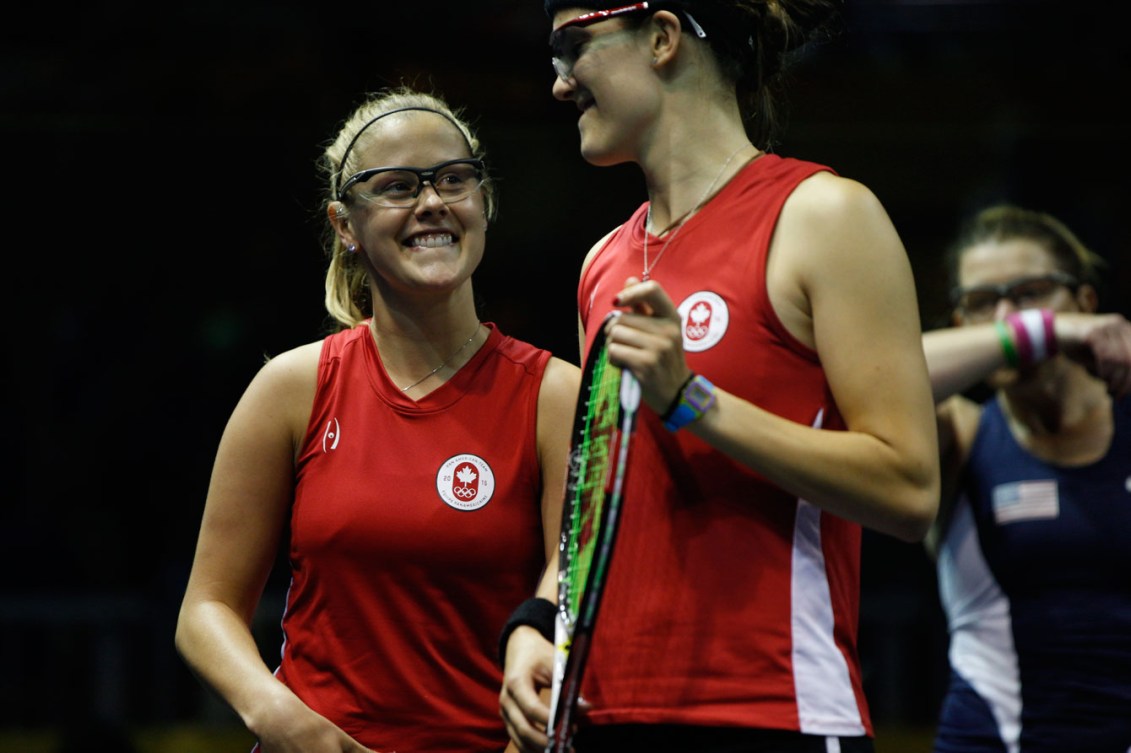 The veteran continued to be effusive in her praise of Todd.
"Nikki, just watching her battle up and down that right wall gave me confidence to battle up and down the left," said Cornett. "She wasn't fazed at all. It was pretty cool. We're going to take that with us into the next couple of days."
The Canadians jump right back into action Wednesday morning in the team event, with high hopes to defend the gold from four years ago.
"Silver medal here is pretty cool," said Cornett of playing in Toronto. "I think winning a gold would be way cooler. Finishing with a win would be awesome and that's what we plan to do."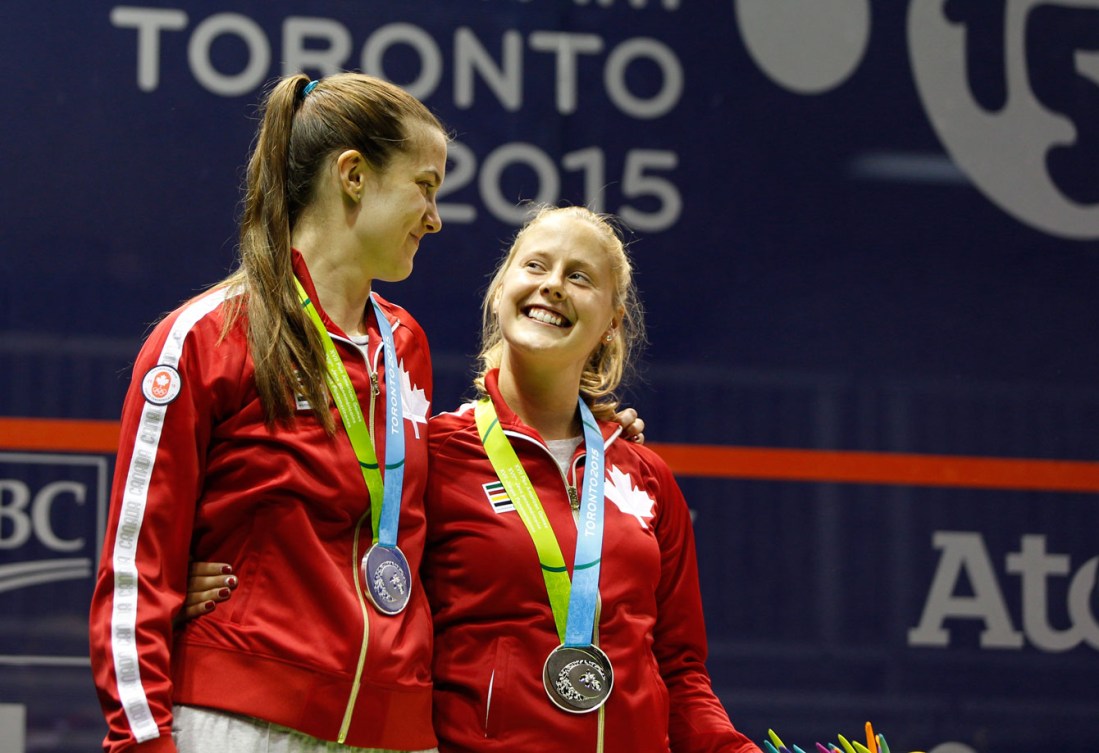 As for the men, the Schnell brothers, Andrew and Graeme, admitted they were outclassed and outplayed by their Colombian opponents, Andres Herrera and Juan Vargas, who took the victory 11-6, 11-3 in front of the enthusiastic Canadian spectators.
"With the number of people that came out and supported us, it was definitely a treat to play in front of them. We're kinda sorry we weren't able to even crack these guys, even give them a match," said Andrew. "All the credit to them. We tried a lot of different things. We resorted to just trying to hit the ball as hard as we could at the end because we didn't know what else to do and even that didn't work. They played really well today."
For both brothers, the highlight was not just playing in their biggest event ever at home, but playing together.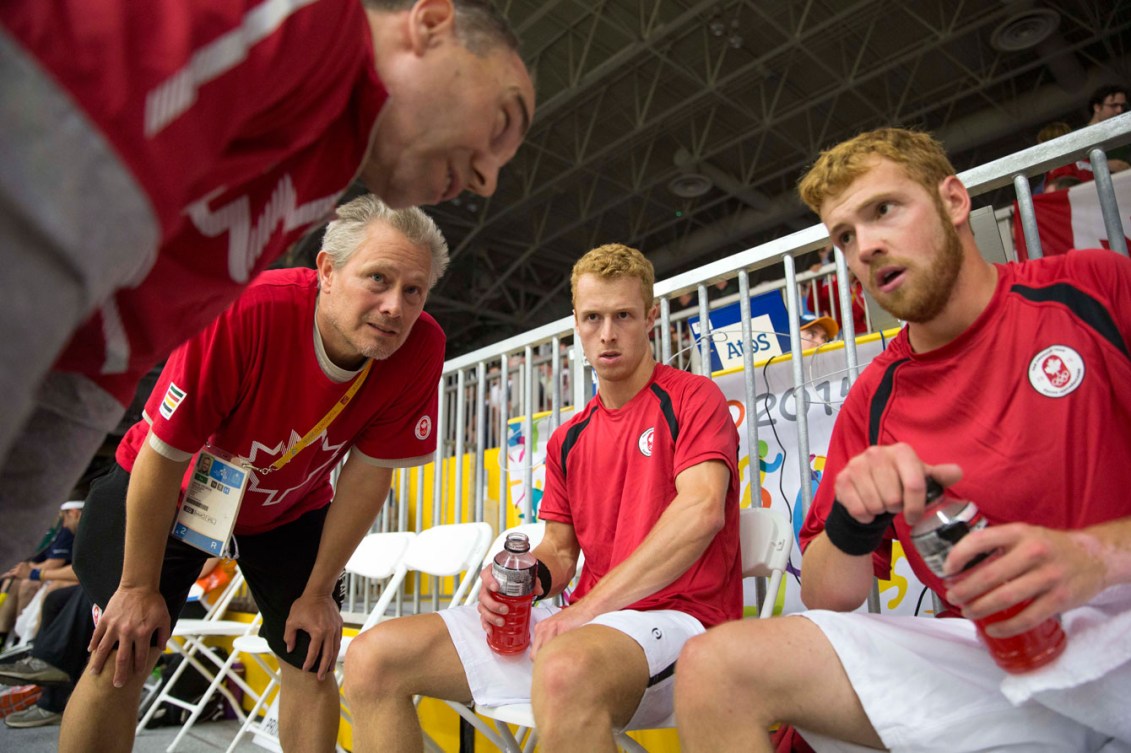 "It's going to be pretty tough to top this one (Pan Am Games), eh?" said Graeme. "Even if I do make another one it's not going to be the same. Obviously when we were down I think 10-3, 10-4 the crowd was still behind us and that's something you can't get anywhere else but Canada."
"I'm not a team sport person. I've never been a team sport person," said Andrew. "I've always enjoyed singles because I like to get the glory when I win and blame nobody else when I lose. But being able to share something like this and a silver medal with my brother is something that I'll never forget and maybe maybe I have an increased appreciation for team sports now."
They'll also get a shot at revenge when they face the Colombians again on Wednesday in the team competition.
As for the sport's Olympic aspirations, Cornett noted: "We're doing the best that we can on the court and I know everyone's doing the best they can off court to make squash an awesome spectacle and I think together it works really well and I hope the IOC sees it. I know the president of the IOC was here and he saw it so that's pretty hopeful news for us. We definitely have our fingers crossed."