Day 15 Recap: A historic day for Canadian sport
Thanks to 19 medals won on Saturday, Team Canada established a new national record for the most the country has ever won at a Pan Am Games.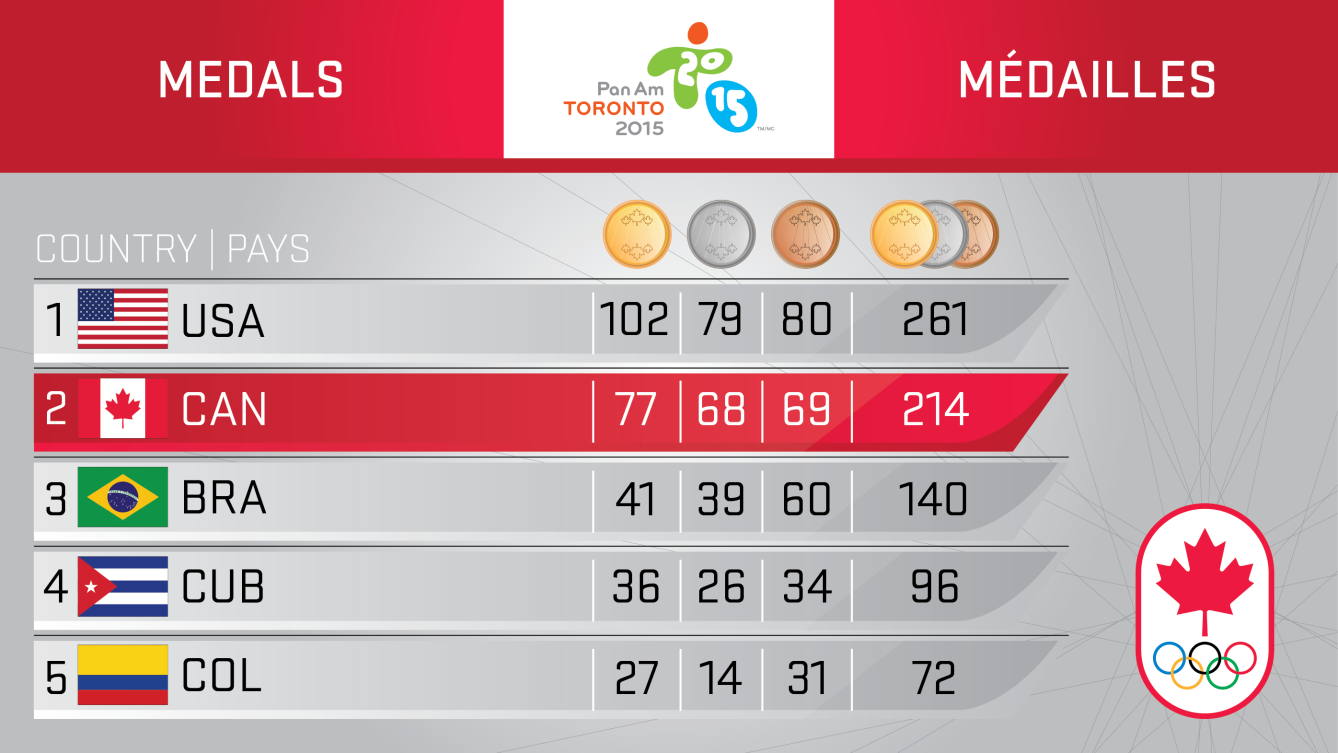 The big performances on Day 15 came in athletics, road cycling, basketball, boxing, fencing, field hockey, table tennis, bowling and racquetball. Canada now sits at 214 total medals (77 gold, 68 silver, 69 bronze) with only one day of competition remaining at Toronto 2015.
Athletics
Derek Drouin and Mike Mason finished 1-2 in the men's high jump. Both had identical jump sheets, up to their clearances of 2.31m. But while Mason bowed out with three misses at 2.34m, Drouin continued on to jump 2.37m and then took three attempts at what would have been a Canadian record 2.41m. He owns the current national mark of 2.40m, set in April 2014.
"I'm happy with it," said Drouin. "Coming in I was really hoping that Mike and I can sweep the top two spots in the podium, obviously that's what we did. It was more so of just competing and hopefully winning rather than height but good height came from that."
Canada also won a pair of medals in the women's 1500m as Nicole Sifuentes took silver (4:09.13) while Sasha Gollish (4:10.11) came through for bronze. Both women were in a lead pack of four on the final lap. Sifuentes ended up in a race for gold but Colombian Muriel Coneo pulled away to win by eight-one hundredths (0.08) of a second.
Canada's night on the track was capped by a bronze medal in the women's 4x400m relay. The quartet of Brianne Theisen-Eaton, Taylor Sharpe, Sage Watson and Sarah Wells posted a time of 3:27.74 to finish behind the United States (3:25.68) and Jamaica (3:27.27).
RELATED: Canadian women pick up four medals in track
"I haven't run a relay in five years," said Theisen-Eaton. "The last time was 2010 and it's true the baton is magic. It was nice to get away from the heptathlon and do a team-oriented race."
Earlier in the night Canada won bronze in the women's 4x100m relay by just one-one hundredth of a second ahead of Brazil. The quartet of Crystal Emmanuel, Kimberly Hyacinthe, Jellisa Westney and Khamica Bingham had clean exchanges throughout to finish in 43 seconds flat, placing behind the United States, which ran a Pan Am record time of 42.58, and Jamaica.
RELATED: Why men's 4x100m team was stripped of gold
The biggest drama came from the men's 4x100m relay. It appeared that Canada had won the gold medal in Pan Am record time of 38.06 seconds, ahead of the United States and Brazil. It would have been the third gold of the Games for sprint phenom Andre De Grasse. But following an appeal, it was determined that lead-off runner Gavin Smellie had left his lane, leading to a disqualification of the team that also included Brendon Rodney and Aaron Brown.
Cycling – Road
Canada continued its cycling dominance on Saturday, adding three more medals to the team's Pan Am total. Jasmin Glaesser rode to gold in the women's road race, while teammate Allison Beveridge took bronze. Glaesser completed the 82.50km race in a time of 2:07:17, just beating Cuba's Marlies Mejias to the line for top prize.
"Our plan was definitely to come out here and race aggressively," said Glaesser. "I was really getting tired in the last 30 kilometres. At the same time, I think that knowing that the crowd was behind me just brought me through all the way to the line."
In the men's 165km road race, Canadian Guillaume Boivin won bronze in a time of 3:46.26. In an insanely close finish at the line, Boivin managed to push his way onto the podium, finishing just behind Venezuela's Miguel Ubeto Aponte, who took gold, and Eric Marcotte of the USA who won silver.
Canada's cycling dominance was evident through Toronto 2015. In total, Canada won 20 cycling medals at the Games, with champions in all four disciplines: BMX, mountain bike, track, and road.
Boxing
Mandy Bujold successfully defended her Pan Am Games title in the women's flyweight (48-51kg) category, defeating American Marlen Esparza on a 2-1 decision. The victory over the 2012 Olympic bronze medallist and reigning world champion was a welcome birthday present for Bujold, who turned 28 on Saturday and closed the match with a flurry of punches.
Caroline Veyre made it a doubly golden night when she defeated Argentina's Dayana Sanchez 2-0 in the lightweight (57-60kg) division in the final boxing event of Toronto 2015. 
"I worked a lot to win this medal," said Veyre. "I think it's the first step to the Olympics next year. I think I'm going to be ready for it."
Fencing
The women's foil team of Alanna Goldie, Eleanor Harvey and Kelleigh Ryan won Canada's first fencing gold medal of the Games in a tight 38-37 victory over the United States. Goldie was the team's star throughout the match, scoring five hits in each of her first two bouts and seven in her last. Harvey and Ryan were consistent throughout the match, but the Americans kept drawing closer thanks to Lee Kiefer, who scored 10 hits in her bout with Harvey and 11 in her final trip to the piste to face Goldie. That made the score 34-33 Canada heading into the final matchup between Harvey and Nicole Ross. With each scoring four hits, Canada secured the gold medal.
Men's Basketball
Canada was unable to make it a golden sweep in basketball, with the men's team losing the gold medal match 86-71 to Brazil. The silver is Canada's first ever Pan Am medal in men's basketball. Anthony Bennett led the way offensive, scoring 18 points and grabbing 9 rebounds. Jamal Murray did his best to power a comeback, scoring 12 second-half points, but unfortunately Brazil was able to hold on for gold.
Field Hockey
Canada's men won Toronto 2015 silver in men's field hockey. They were unable to defeat Argentina in the gold medal match, losing 3-0 to take silver.
But in quirk of the Olympic qualification system, the men have booked their ticket to Rio 2016. The winners of the Pan Am tournament are supposed to earn the continental Olympic berth, but with Argentina already qualified, that spot moves to the next team on the list from the FIH World League, which happens to be Canada.
"We've qualified through the international federation's set up," said captain Scott Tupper. "We deserve to be in Rio. I think we've proven that."
Karate
Camélie Boisvenue fought her way to silver in the women's +68kg division. Boisvenue lost her final matchup against Ecaudor's Valeria Echever after scoring early with two yukos to lead 2-0 with not much time left. In a final effort to win, Echever landed an ippon, giving her three points, to claim gold and take the fight 3-2.
"It's hard to explain there is so much emotion, but I am proud for a silver," said Boisvenue. "For sure I wanted the gold, and I was so close one point at the end. I am very excited and very proud with what I did. My first year on the senior team, and my first time in Pan Am Games and I am proud."
Table Tennis
Eugene Wang won a bronze medal in the men's singles event after being the only non-Brazilian to advance to the semifinals. Following his easy 4-0 (11-3, 11-6, 11-3, 11-9) win over Argentina's Pablo Tabachnik in his quarterfinal, Wang had a much tough encounter in his semifinal with Hugo Calderano. After taking the first game 12-10, Wang dropped the next three games 11-4, 11-8, 11-9 to be on the brink of elimination. He fought back to win the next two games 11-7, 11-7, forcing a seventh and deciding game. But Calderano got the better of him, winning 11-7. Wang's bronze is Canada's first Pan Am Games medal in the men's singles event since Mar del Plata 1995.
Bowling
Dan MacLelland won a bronze medal in the men's singles event, adding to the gold he captured on Thursday in the men's doubles with François Lavoie. The 2014 World Champion had finished Friday's 12-game qualification round in second place and was sitting first after Saturday morning's 8-game round robin. But in his one-game semifinal matchup with Venezuela's Amleto Monacelli, MacLelland came up short, losing 187-178.
"The lane was really tight," said MacLelland. "I tried to set it up and burn a spot for myself but you can't beat topography. I gave my all, and in that match (he) just came out on top. He is a great bowler, he is a PBA Hall of Fame member, great bowler."
"This was like our Olympics," he added. "Every shot mattered, every little thing that happened here this week is just going to help us to push a little further for the 2020 Olympics."
Racquetball
The team of Frédérique Lambert, Jennifer Saunders, Christine Richardson and Michele Morissette won bronze in the women's team event on Saturday. They lost their semifinal match against the USA 2-0, which leaves them with a bronze medal.
The men's team of Vincent Gagnon, Tim Landeryou, Mike Green and Coby Iwaasa also won bronze following their 2-1 semifinal loss to the United States. These are Canada's second and third medals in racquetball at Toronto 2015, going along with the men's doubles bronze.
Women's Softball
Canada defeated Puerto Rico 7-4 on Saturday to book their spot in the gold medal match against the USA. Starting pitcher Jenna Caira pitched 4.2 innings, giving up three earned runs while striking out eight batters. Catcher Kaleigh Rafter and third baseman Megan Timpf led the way offensive, each contributing two RBIs.
Did the lucky loonie guide Canada to Pan Am men's baseball gold?
Women's Baseball
Canada's women defeated Venezuela 6-1 to advance to Sunday's gold medal match against the USA. After allowing Venezuela to score first in the top of the 5th inning, Canada stormed back with six runs of their own. Starter Autumn Mills pitched a complete game for the win, allowing only four hits while striking out three.
For full Team Canada results from Day 15, click here.