THE CANADIAN PRESS/Andrew Lahodynskyj
Memorable moments in Canadian golf history
Update: June 14, 2023
Canadian golfers have been electrifying crowds for well over a century – from George Lyon's Olympic gold in 1904, to Nick Taylor's dramatic play-off victory at the 2023 edition of the RBC Canadian Open.
Here are some of the top moments in Canadian golf.
George Lyon wins Olympic gold
At St. Louis 1904, George Lyon won gold in what proved to be the last Olympic appearance for the sport for 112 years. Golf made its return at Rio 2016.
Lyon, who didn't start golfing until he was 38, won gold at the age of 46. The Canadian Golf Hall of Fame notes that its 1971 inductee "celebrated his victory by walking through the clubhouse on his hands."
Canada's first World Cup win
Called the Canada Cup until 1967, the first edition of what is now called the World Cup of Golf was played in Montreal in 1953. The duo of Al Balding and George Knudson – two of the nation's greatest golfers – won Canada's first World Cup in 1968 in Rome, defeating Americans Julius Boring and Lee Trevino. Balding also won the individual event that year while Knudson won it two years earlier.
Pat Fletcher wins Canadian Open
After Karl Keffer's win in 1914, there was a dry spell for Canadian golfers at the Canadian open until Pat Fletcher's win in 1954.
"I didn't think I would ever see the day," Fletcher said after winning the tournament at the Point Grey Golf Club in Vancouver. "But I can assure you I'm very happy. It's been a real thrill for me."
A 1976 inductee into the Canadian Golf Hall of Fame, Fletcher also won the 1952 Canadian PGA Championship.
Al Balding makes history on US soil
Al Balding became the first Canadian to win a PGA Tour event in the United States when he won the 1955 Mayfair Open in Sanford, Florida. In 1957, Balding won three tour events – the Miami Beach Open, West Palm Beach Open and the Havana Invitational – to place him sixth on the PGA's money list, which was the highest any Canadian had reached at the time. The four wins proved to be the only Tour victories of Balding's career – but he did go on to have success at Canadian tournaments until the 1970s.
Sandra Post wins first major
Sandra Post became the first Canadian to win a major in 1968, defeating defending champion Kathy Witworth in a playoff at the LPGA Championship. Post's performance at the Championship led her to winning the 1968 LPGA Rookie of the Year award. Until Henderson's victory, Post was the only Canadian woman to win a major.
Jocelyne Bourassa wins first Canadian Open
Jocelyne Bourassa followed in Sandra Post's footsteps, winning the LPGA Rookie of the Year award in 1972. She was also named Canada's top female athlete in 1972. In 1973, Bourassa further cemented her name in the Canadian history books, winning the first La Canadienne, which later became the Canadian Women's Open (it was not considered a major at the time).
Dave Barr comes up short at US Open
Dave Barr nearly became the first Canadian male to win a major in 1985, bogeying the final two holes of the US Open to lose to champion Andy North by one shot. Barr gradually moved up the leader board at the tournament, finishing first round play in a tie for eighth. It would be the closest the Kelowna native would get to a major championship in his career, but was victorious eight times on the PGA Tour. Barr and Dan Halldorson also won the World Cup for Canada in 1985.
Unseeded Canada wins Dunhill Cup
The Canadian team of Dave Barr, Rick Gibson and Ray Stewart became the first unseeded team to win the Dunhill Cup in 1994, defeating the favoured American team that featured Tim Kite, Fred Couples and Curtis Strange in the tournament final.
"I'm kind of stunned," Barr told the Associated Press. "We kind of bucked the odds. We didn't care about the ranking of this guy or that guy. We just went out and did what he had to do to win."
Lorie Kane's big year
RELATED: Canadians enjoy golf's Pan Am debut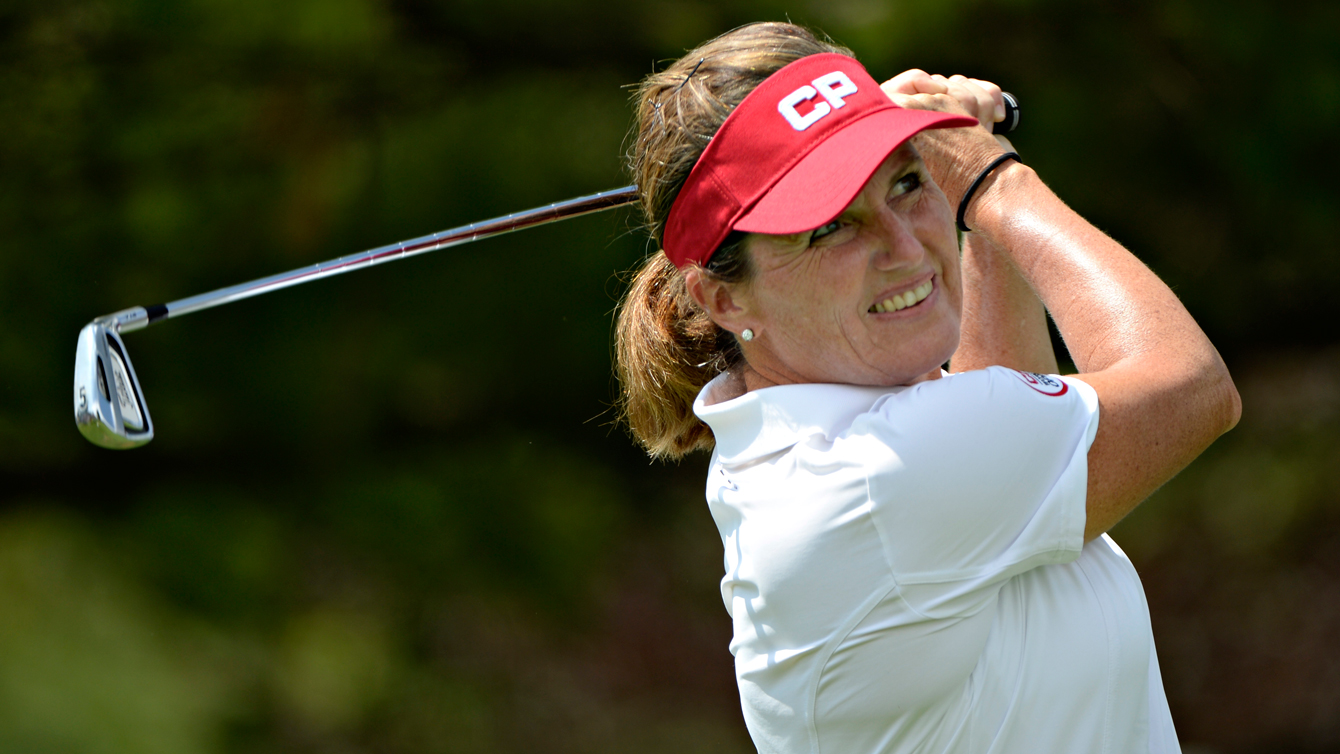 Hall of Famer Lorie Kane's best year came in 2000. After winning three LPGA Tour events – the Michelob Light Classic, New Albany Classic and Mizuno Classic – in the span of four months, Kane won the Bobbie Rosenfield Award as Canada's female athlete of the year. Kane won her fourth tour event in 2001 and has finished in the top 10 at majors on eight different occasions.
Mike Weir wins Masters
In April of 2003, Mike Weir became the first Canadian male to win a major, beating American Len Mattiace in a playoff to capture the 67th Masters Tournament.
"I can't say that I remember the exact moment when he won," said Henderson, who was five-years-old at the time. "He really changed golf in Canada for everybody."
Henderson said that Weir's victory gave confidence to Canadian golfers, showing that it was possible for Canucks to succeed in the sport.
"It's just such an honour to now have my name up there with his as a major champion."
Brooke Henderson's first LPGA major championship
Prior to June, 2016 Sandra Post was the only Canadian woman to ever win a LPGA major championship.
Forty-eight years after the 20-year-old Post won the 1968 LPGA Championship in a playoff, 18-year-old Canadian Brooke Henderson won the 2016 Women's PGA Championship – also in a playoff.
RELATED: Henderson wins first LPGA major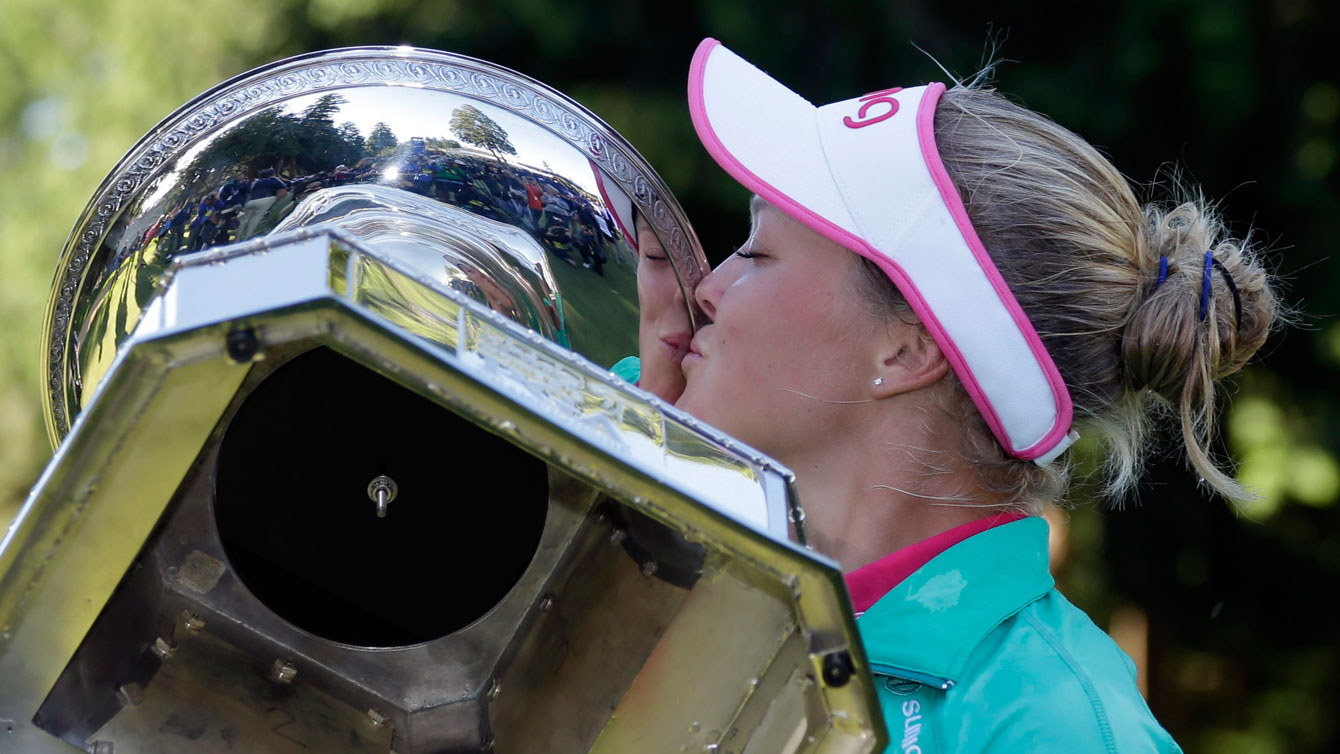 "Every golfer in Canada was glued to that round and you were really fearless," said Post, speaking to Henderson on a media conference call on Monday. "You never blinked and I'm so thrilled. Majors are forever and that's sort of how you define careers. I have a great feeling that this isn't going to be your last major. Congratulations from every golfer in Canada."
Henderson's victory was one of the biggest in Canadian golf history. She is now Canada's all-time winningest pro golfer.
RELATED: Canadians enjoy golf's Pan Am debut
Nick Taylor's victory at Canadian Open
Sixty-nine years after Pat Fletcher's 1954 victory, a Canadian emerged victorious once again at the RBC Canadian Open when Nick Taylor won the 2023 edition of the tournament. It was a dramatic finish, with Taylor taking the win on the fourth hole of a play-off with England's Tommy Fleetwood.
The 22-metre putt sunk to secure the victory was the longest made putt of Taylor's career.