Team Canada will send 72 athletes to the 2018 Youth Olympic Games
Team Canada will send 72 rising stars to the third Summer Youth Olympic Games in Buenos Aires, Argentina.
Nearly 4,000 athletes, aged 15 to 18, from over 200 countries will compete at Buenos Aires 2018 across 32 sports and 36 disciplines. The Youth Olympic Games hopes to create a program of elite sporting while celebrating Olympic values.
Beginning at Singapore 2010, the Youth Olympic Games allows young athletes to become ambassadors of their own morals. Several Team Canada athletes got their first Games experience at a Youth Olympic Games, including Rio 2016 Olympians Philippe Gagné, Charity Williams, Hannah Darling and Dori Yeats to name a few.
Learn more about Buenos Aires 2018
Setting the stage for sport innovation, Buenos Aires 2018 will be the Olympic Games debut for four sports: breaking, sport climbing, karate and roller speed skating. 
Emma Misak and Mathiew Du Ruisseau will be the first Canadians to compete in breaking on an Olympic stage. Breaking is a DanceSport that incorporates 1vs1 battles graded on creativity, personality, technique, variety, performance, and musicality.
Additionally, 18-year-old Cat Carkner will be the first and only Canadian to compete in sport climbing at a Youth Olympic Games. Sport climbing – which will make its Olympic debut at Tokyo 2020 – is comprised of three evenly weighted events: speed climbing, lead climbing and bouldering. The climber with the lowest number of points after the final wins the competition. 
Notably, this year Team Canada's roster consists of the largest track and field team yet to compete in the Youth Olympic Games, with 15 athletes competing across 12 track and 3 field events. 
Canada will send 12 athletes to compete in women's rugby sevens from October 13 to 15. Determined to match the silver medal from Nanjing 2014, they are set to face Japan, France, New Zealand, Tunisia, and Colombia in the round-robin. Also looking to reach a consecutive podium is the U18 Men's Field Hockey team, who will compete in the 5s competition. 
Carson Lee and Anika White will be Team Canada's wrestlers at the Youth Olympic Games. Lee is set to compete in the men's freestyle 80kg event and White is set to wrestle in the women's 73kg weight class. 
Team Canada will also be competing in archery, badminton, boxing, diving, fencing, golf, gymnastics, judo, rowing, shooting, swimming, taekwondo and triathlon.
In addition to competition, athletes will be encouraged to celebrate sport and world diversity through a variety of cultural and team-building activities. With the official slogan, "Feel the future", the Youth Olympic Games supports a call for community growth and future opportunity.
Canada names Bruny Surin as Chef de Mission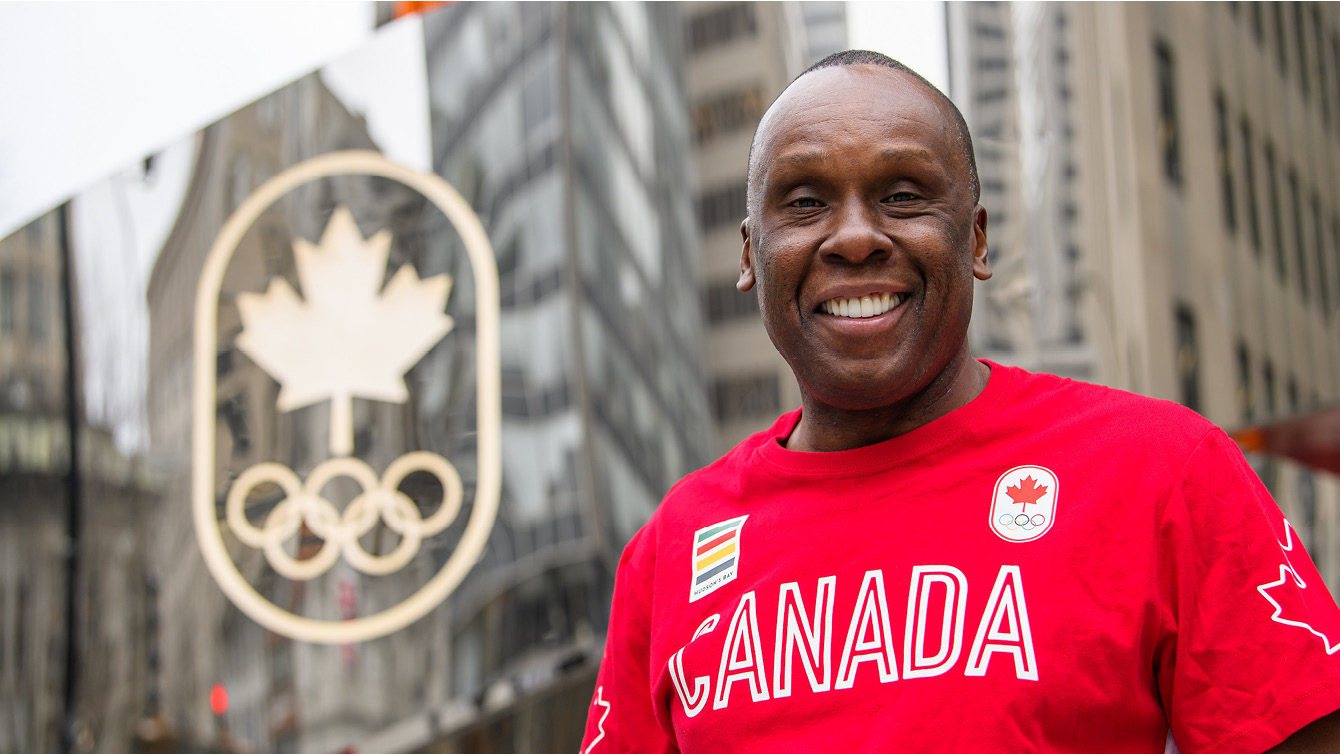 Team Canada will be led by this year's Chef de Mission and four-time Olympian, Bruny Surin. Well known for his success at Atlanta 1996, Surin ran the third leg of the 4x100m relay final to become the first team to defeat the United States for the Olympic gold medal. Their time, 37.69 seconds, stood as a national record for 20 years. Today Surin is an advocate for youth in sport and a valued motivational speaker who has accepted the honour to lead Team Canada as Chef de Mission at Buenos Aires 2018.