Photo: COC/John Kealey
6-year wait for Olympic gold just one more challenge for rightful champion Girard
People often ask me why I chose weightlifting.
The easiest answer is: Why not?
It's a great sport that challenges us physically, mentally, emotionally. But that answer rarely satisfies those who think that lifting weights is only for men.
The Early Challenges
When I was 8, my family moved from Ontario to Québec after my dad lost his job due to a mine closure. At my new school, I was picked on for having an English accent. A shy and fragile little girl, I cried every day for the first two weeks of school.
My parents insisted that my three older sisters and I pick up a sport to make friends in our new hometown. When one of my sisters said she wanted to lift weights, my dad was far from convinced. "We want you to make friends! What about volleyball? Soccer? Gymnastics? Some sport with lots of other girls your age?"
My family may not have a history in high-performance sport, but we are strong minded! My sister didn't give up and my parents eventually gave in.
"I wanted to be the first woman in Canada to win an Olympic medal in my sport."
The club we joined had no girls, just a handful of teenage boys. But my parents always taught us that when we start something new, we don't quit. One full season was all we needed to make weightlifting our family's passion.
It's true, we didn't make friends while training but the confidence we gained lifting weights helped us in all aspects of our lives.
When I was 11, I managed to lift 40kg for the first time. I still remember my feeling of achievement and pride. No one else did it – it was all me!
That's when I understood the true value of a strong work ethic; staying focused, listening to our coaches, and never giving up was paying off.
It wasn't always easy. But I guess that was expected. I mean, everybody knows that reaching an Olympic podium is no easy task. What we don't always expect are the challenges we face.
The Unexpected Challenges
I've had more than 10 coaches in my career. Between Beijing 2008 and London 2012 I had a coach call me an old and washed up athlete. I even had a coach who was arrested and went to prison just one year before my second Games.
I have trained in a barn, in a garage, in a basement, and for my final preparation for London 2012, in a carport.
I came back from Beijing 2008 feeling like a failure with my fourth-place finish. People who doubted me or had unrealistic expectations surrounded me. I struggled with depression and burn out. I injured myself so badly that I couldn't even take my dog for a quick walk, let alone do any kind of training fit for an Olympian.
So why did I keep going? Why did I put up with all the suffering? So often, giving up seemed like the logical answer, like that's what most people would do if they had to go through what I did.
But knowing that I was only three kilos away from a medal was exactly what I needed to bounce back and believe in my ability to stand on the podium in London. It was my perceived failure that kept me going.
Those four years between Games were the most transformative of my life. I learned the importance of keeping positive company. I got rid of the toxicity and surrounded myself with people who supported and believed in me. I learned to trust in myself and to take control of my life again. I learned to be happy.
The challenges I faced were exactly the reason I couldn't stop!
The Conquerable Challenges
I wanted to be the first woman in Canada to win an Olympic medal in my sport. I knew deep inside that I could be the one opening doors and showing the way. To do that, I had to keep going, working hard to keep that passion for my sport alive, no matter the challenges.
It was scary to face so many obstacles and let fear become a constant reality in my life.
But I learned that fear was never a reason not to do something. Instead, I had to face them and conquer them. My dreams were always just outside of my comfort zone, so I had to push my limits. I learned that challenges are great opportunities to show the world and ourselves who we really are.
I won't pretend that a carport was the ideal training location because it wasn't. But I can tell you with no hesitation that it is exactly what I needed for my Olympic preparation. That little personal gym I built with my husband and my parents became my place, my life. It made me.
The six months before London 2012 were the happiest of my athletic career. So often, I felt I was exactly where I wanted to be, doing what I was meant to do. I had a purpose and reason for every decision I took in life.
Every little kilo I was able to add on my bar in training allowed me to feel more accomplished. Every time I overcame an obstacle, I felt a rush. I knew how to deal with my injuries, with my diet, with my training. I knew how to push myself to the point I needed to achieve my dream. But most of all, I was surrounded by people who believed in me just as much as I did, and that was the most precious gift of all.
Climbing onto the third step of that podium in London was one of the best moments of my life. I knew I earned it and I enjoyed every second of it. I told myself that I was right to work so hard for the past 18 years. I deserved that nice, big, heavy bronze medal.
The little girl who cried in the corner of her classroom was now an Olympic medallist. Little did I know that this powerful moment would later have a different meaning.
The Rewarding Challenges
I was a coach and mother of two amazing little humans when I learned that the competitors who finished ahead of me cheated. It wasn't really a surprise as my sport has a history of doping. The surprise was the number of athletes that got caught, from London 2012 and other past Games.
Not only was my bronze medal upgraded to gold but my fourth-place finish at Beijing 2008 was now a bronze. Just like that, I became a two-time Olympic medallist, the first in Canadian weightlifting.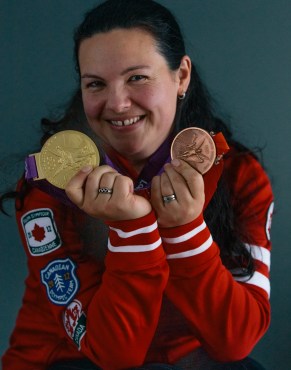 "My story is proof that it is worth everything to work hard, to believe in yourself and, most of all, to stay true to your values and your passions."
Obviously, I wasn't able to celebrate in the moment at the Games and many people were upset for me. "You lost your moment! No one can give you back what you should of have had years ago!" And they are right. I missed out on a lot of things – support, publicity and money, to name a few.
Perhaps most importantly, I missed out on the opportunity to showcase weightlifting to Canadians and break stereotypes; to show young girls that it's okay to want to be strong, that it's possible and it's great to be powerful and tenacious.
But there's no point thinking about the what ifs. What I gained is much more meaningful.
My story is proof that it is worth everything to work hard, to believe in yourself and, most of all, to stay true to your values and your passions. Dreams are within reach when you work hard every day of your life and you allow yourself to believe.
I grew up believing that it was impossible for a Canadian woman to win an Olympic medal in a sport that is perceived to be only for men and that has a substantial history of doping.
But here I am, about to receive Olympic gold and bronze medals.
I hope I can inspire all athletes to believe in what sport can do for them.
I want Canadians to celebrate a victory of our values. Whatever your gender or sport, do what you do with all your heart and believe that with hard work and patience you can make your dreams come true.
This is what it means to be Canadian, what it means to be Olympic.
I could not have made this journey alone. I did it thanks to my parents, who taught me that nothing is ever too hard and the challenges you face are an opportunity for you to grow. I did it thanks to my husband, who never once doubted me and never complained about the sacrifices he had to make during my athletic career. I did it thanks to my sisters and friends who trained with me so I wouldn't do it alone. I did it thanks to all my coaches, who taught me different things about my sport and about myself, as well as my medical team who helped keep my body and soul together all those years. But most of all, I did it thanks to my country who chose to believe in and promote clean sport.
You can re-watch Christine Girard receive her Olympic gold and bronze medals from London 2012 and Beijing 2008 via Team Canada's Facebook page: