AP Photo/Laurent Cipriani
Brooke Henderson's 13 legendary LPGA Tour victories
Every time Brooke Henderson hoists a trophy, she makes Canadian history.
With each LPGA Tour victory, she adds to her record for professional tour titles won by a Canadian golfer.
As of January 2023, Henderson has totalled 13 LPGA Tour triumphs. Here's a look back at how she won each one.
#1- Cambia Portland Classic (2015)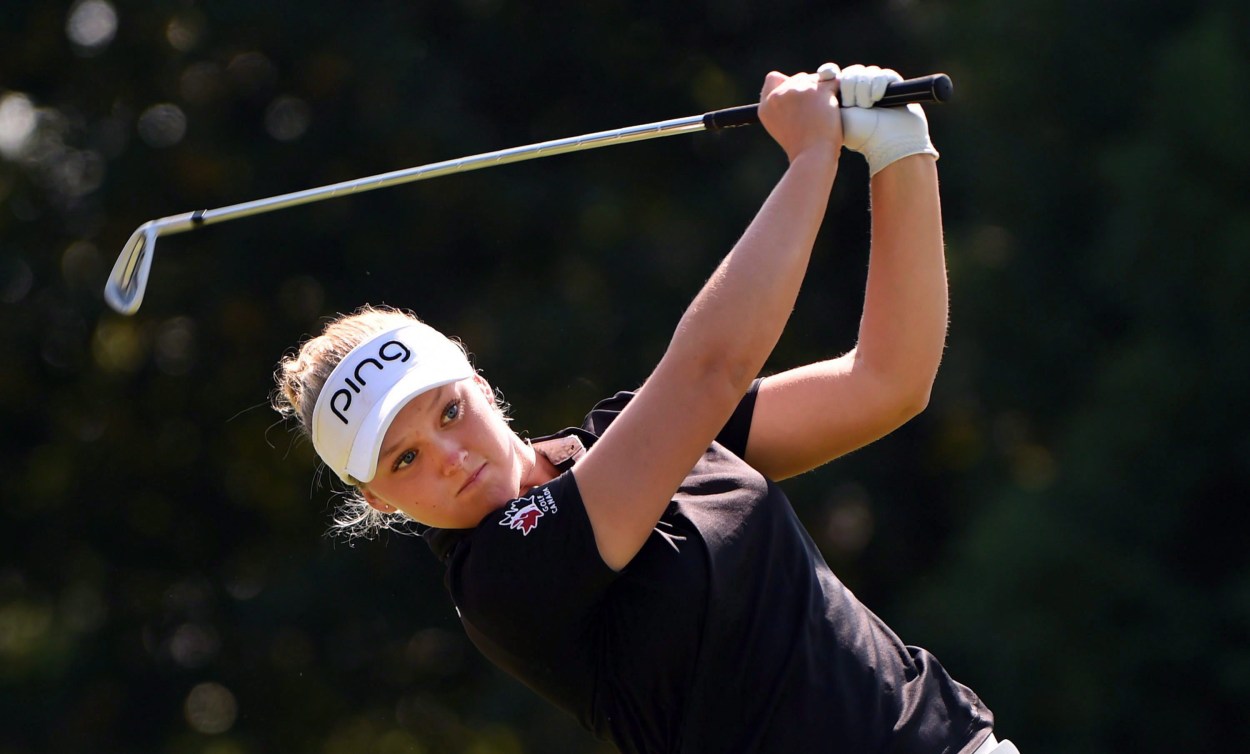 A LPGA tournament win by a non-member of the tour was groundbreaking on its own. But Henderson went a step above by claiming the title with an eight-shot victory — the largest in the history of the Cambia Portland Classic. At 17 years, 11 months, and 6 days old, Henderson was the third youngest champion in LPGA Tour history.
READ: Henderson captures first LPGA title
She had been denied an age petition by LPGA Tour Commissioner Mike Whan to play in the qualifying school where she could have earned her full time LPGA Tour card for 2015. She instead relied on sponsor exemptions or qualification events to get into tournaments. Two days after this breakthrough win, Henderson was granted full LPGA membership.
#2- KPMG Women's PGA Championship (2016)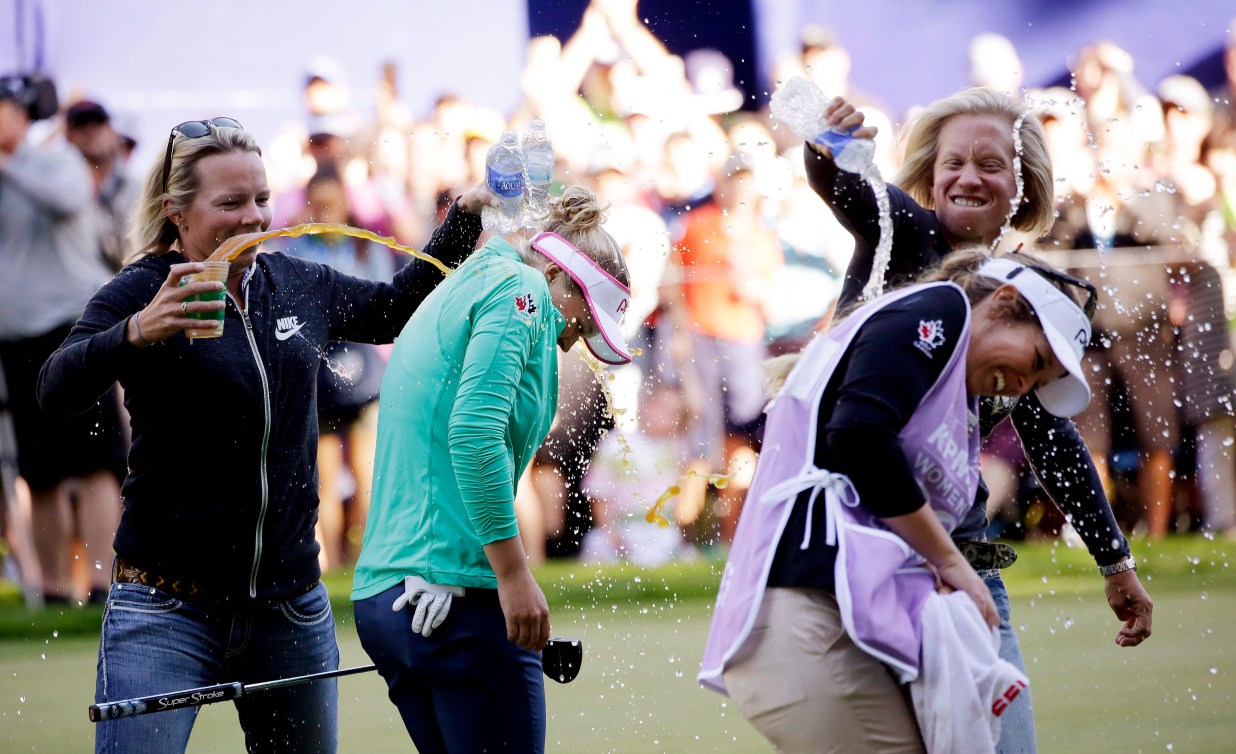 With official LPGA membership under her belt, Henderson took the next step to stardom in second year on the tour: winning a major championship.
It was a riveting finish, as she finished the four rounds tied with 19-year-old Lydia Ko of New Zealand, moving up three spots from where she had been on Saturday. Henderson then defeated Ko in a sudden death playoff with her birdie on the 18th hole. At 18, Henderson became the second youngest woman to win an LPGA major (behind only Ko) and the youngest ever to win this tournament.
READ: Henderson dominates first year in LPGA
#3- Cambia Portland Classic (2016)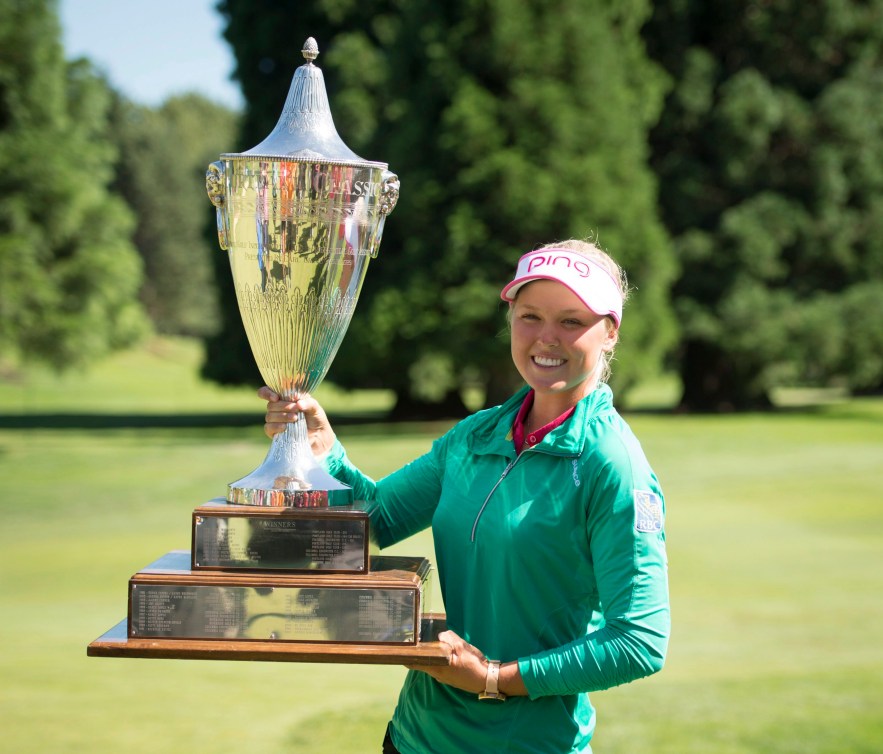 For a second straight year, topped the field at the Cambia Portland Classic, finishing at 14-under par. This one put her in the rare company of Canadian women who won multiple LPGA events in the same season.
READ: Henderson wins third title at Portland repeat
It was also in 2016 that Henderson made her Olympic debut. In Rio, she tied for seventh for the best Canadian Olympic result by a female golfer.
#4- Meijer LPGA Classic (2017)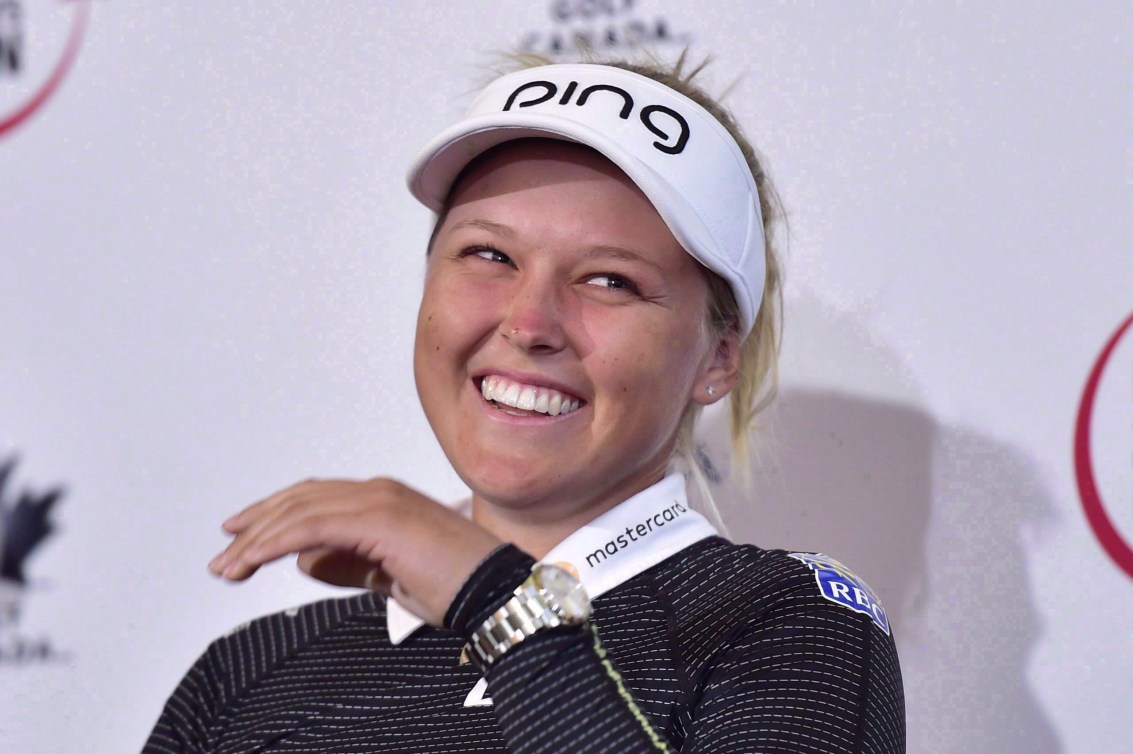 READ: Henderson wins fourth career LPGA title
At the Meijer LPGA Classic, Henderson started off by shooting a career-low 63 in the first round. She went on to win the title by two strokes over Lexi Thompson and Michelle Wie, finishing at 17-under par.
#5- New Zealand Women's Open (2017)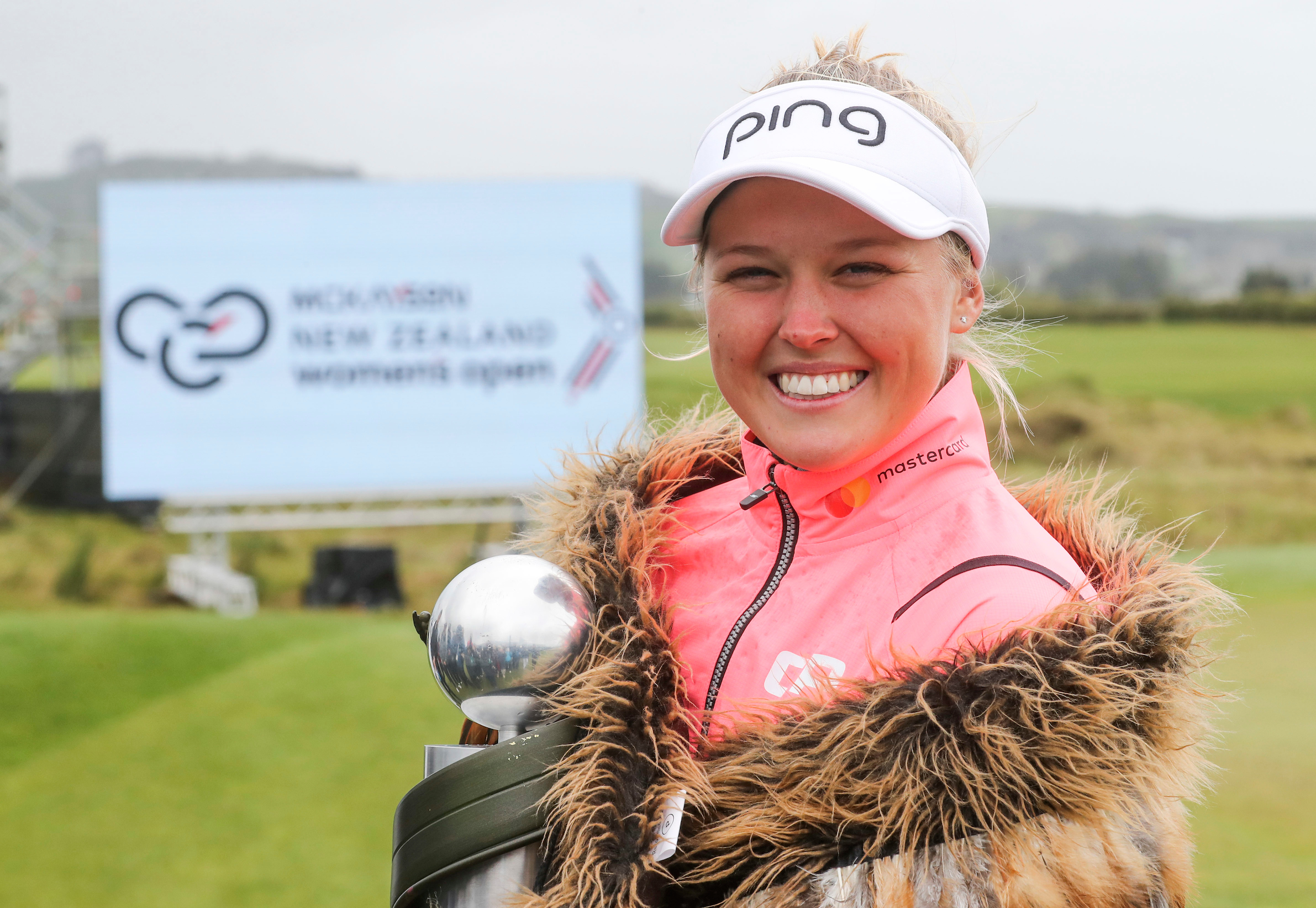 Persevering through yet another LPGA tournament with challenging weather conditions and a one shot deficit on the first day, Henderson was able to pull away with her first win outside North America. This was her second LPGA title of 2017, boosting her career count to five.
#6- LOTTE Championship (2018)
Struggling with the strong wind during the tournament, Henderson lived up to her character and showed her perseverance and passion for the game. After shooting one-over 73 in the third round, she bounced back with a final round 3-under 69 to take the victory.
Demonstrating her love for Canada and the hockey community, Henderson dedicated her win to the Humboldt Broncos hockey team.
READ: Henderson wins sixth LPGA title
#7- CP Women's Open (2018)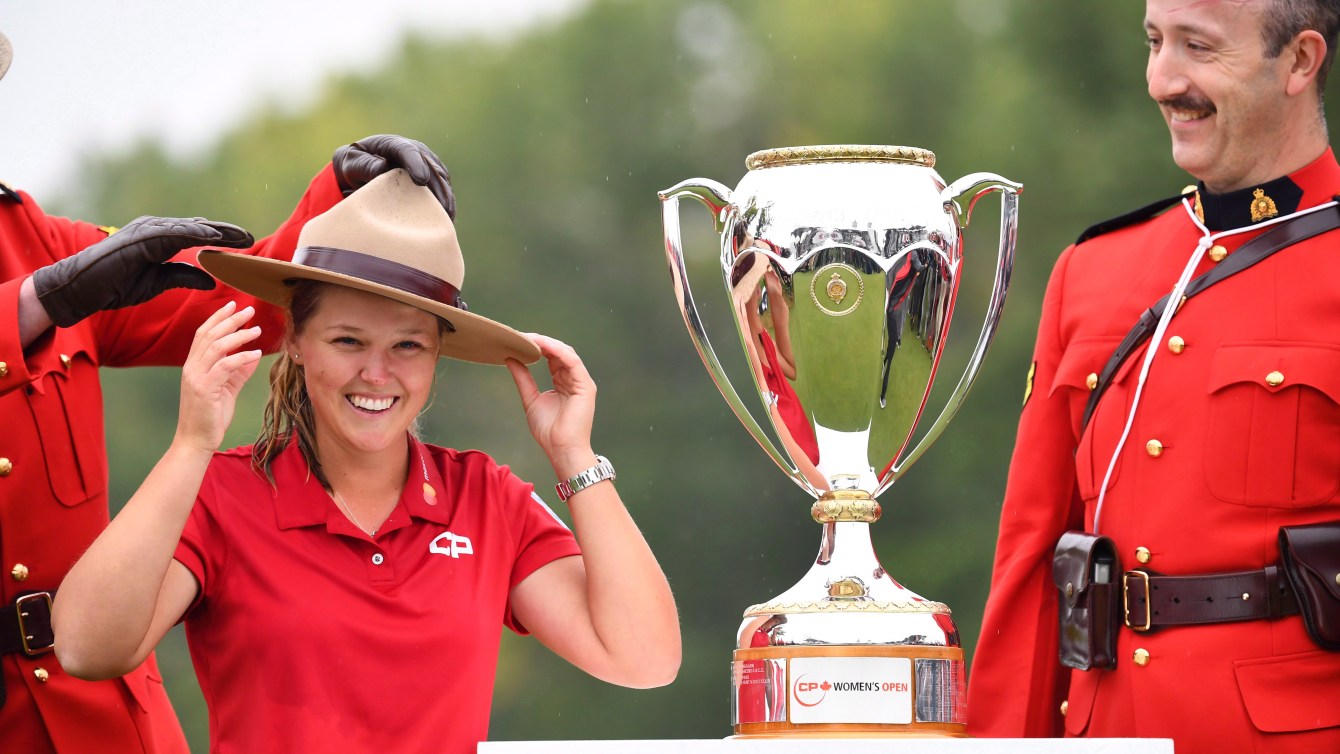 This was a win to make all Canadians proud. Henderson lived up to her talent and survived the pressure to become the first Canadian in 45 years to win the CP Women's Open — Canada's only LPGA Tour event. The last to do it was Jocelyne Bourassa in 1973.
READ: Henderson makes Canadian history
#8- LOTTE Championship (2019)
Though she had won there before, Henderson had her struggles during the 2019 LOTTE Championship. Henderson started the final round with pressure after she bogeyed her first hole. She was able to gain momentum and follow with three birdies and 14 pars, allowing her to successfully defend her title with a 2-under 70. Her eighth career win put her on par with Sandra Post, George Knudsen, and Mike Weir for most pro titles ever by a Canadian golfer.
READ: Henderson defends LOTTE championship title
#9-
Meijer LPGA Classic

(2019)

Henderson's record-breaking moment came in June at the Meijer LPGA Classic where she earned her ninth career LPGA Tour title, putting her above the three aforementioned golfers.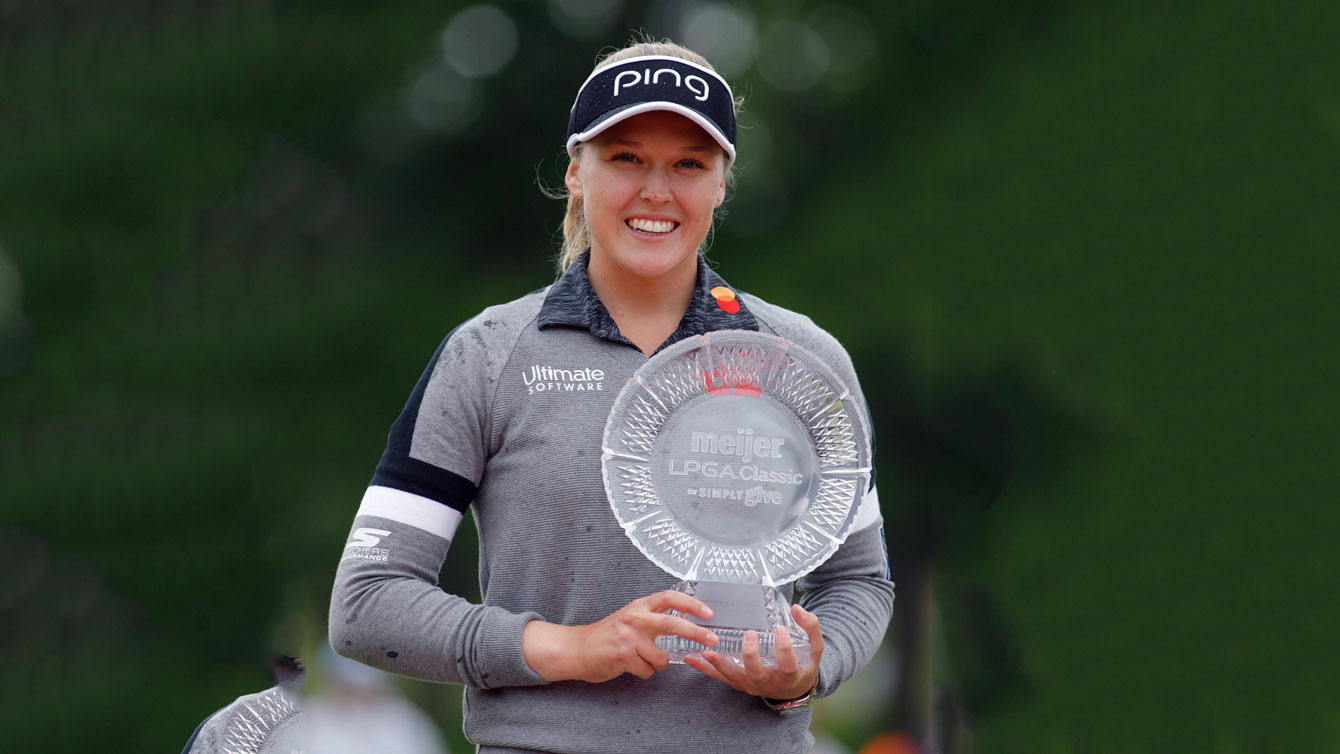 READ: Brooke Henderson makes Canadian history with ninth victory
In her 13th event of the 2019 season, Henderson finished the final round at 2-under-par 70 for a four-round total of 267, which gave her a one-stroke margin of victory.
#10- Hugel-Air Premia LA Open (2021)
In April 2021, Henderson rallied to win the Hugel-Air Premia LA Open for her 10th LPGA Tour title. The 23-year-old started the final round four strokes behind leader Jessica Korda and three back of top-ranked Jin Young Ko. Henderson shot 4-under 67 and held on for a one-shot victory after closing the gap for her first win since 2019.
READ: Brooke Henderson captures 10th career LPGA title at LA Open
#11 – Shoprite LPGA Classic (2022)
Shooting a final round 64, Henderson set up a beautiful playoff hole against U.S.'s Lindsey Weaver-Wright.
Hungry for a win from the start, Henderson played hard finishing off her round with a birdie on the final hole to take a brief two-shot lead. But Weaver-Wright birdied four of the last six holes to set up a playoff. On the par-5 playoff hole, Henderson stuck her approach shot just a few feet from the hole before burying her second eagle of the day to claim victory.
READ: Henderson's spectacular Sunday earns her 11th tour title
#12- Amundi Evian Championship (2022)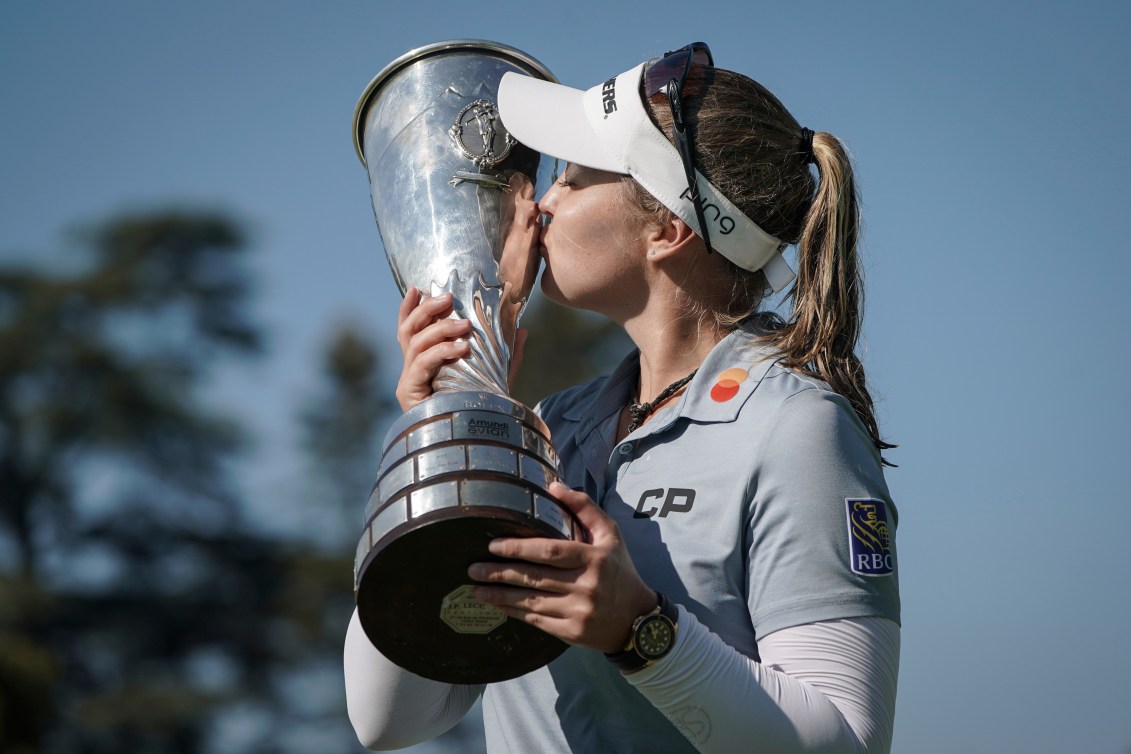 Henderson's second win of 2022 was also the second major title of her career. She took home the first place million dollar prize in France by one stroke after getting the eight-foot birdie putt she needed on the final hole. That left her at even par for the day, 17-under for the tournament as she held off a hard-charging field of women.
#13- Hilton Grand Vacations Tournament of Champions (2023)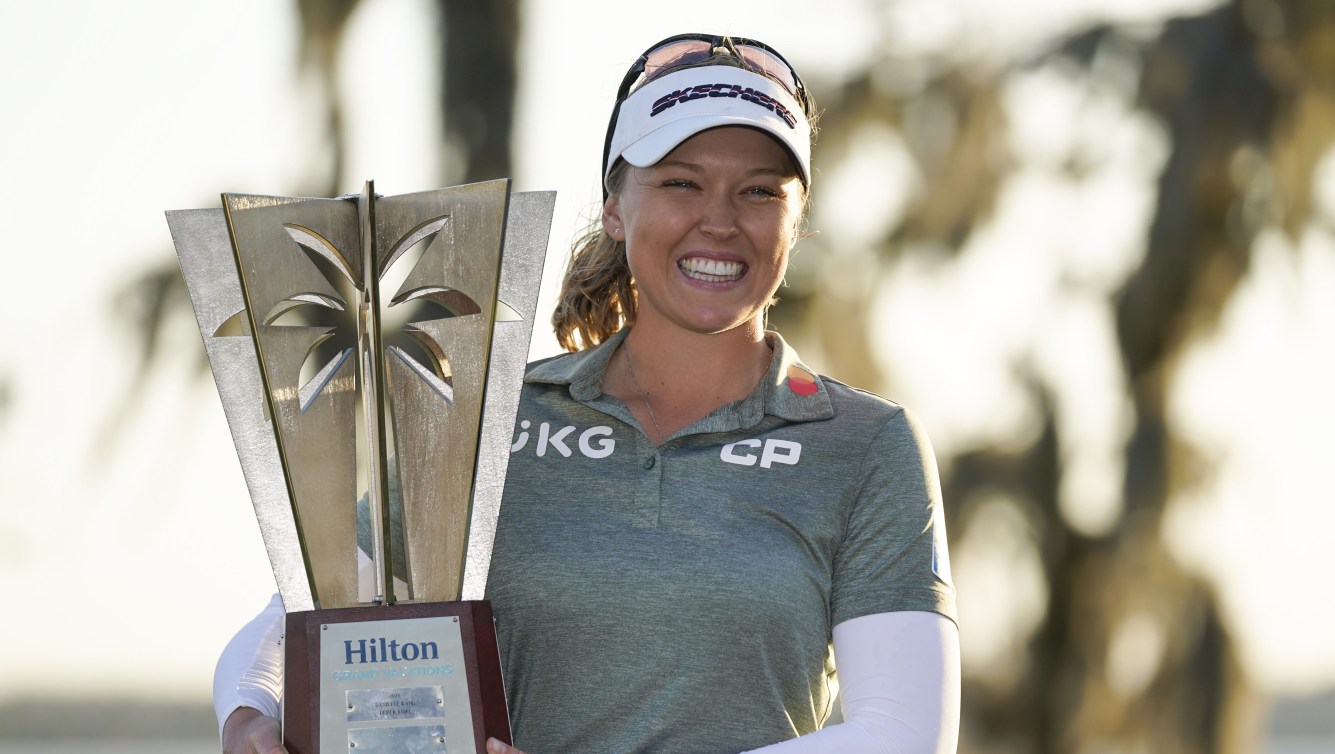 A truly elite tournament, the Tournament of Champions is (as the name suggests) only for champions. In this case, the 29 women who had won LPGA titles in the last two seasons. Henderson led the LPGA's season-opening event wire-to-wire, securing a four-stroke victory with a final round 2-under 70 that put her at 16-under par for the four rounds.
With more titles at the top level of golf than any Canadian, it is likely this is not Henderson's last major accomplishment in the sport of golf. Team Canada and Brooke Henderson fans are excited to see what will be added to this list in the future.