THE CANADIAN PRESS/Ryan Remiorz
Danish gamble fails, Gushue rolls to 10-5 win to open men's curling at 2022 Olympic Winter Games
Sometimes you win, sometimes you lose. That's the reality of a gamble and it was game-changing one by Denmark that backfired and propelled Brad Gushue and Team Canada to a 10-5 win in its opening game of men's curling at the 2022 Olympic Winter Games.
Gushue, third Mark Nichols, second Brett Gallant and lead Geoff Walker were in a tight battle Wednesday evening in Beijing until Denmark skip Mikkel Krause elected not to play a straight-forward hit and stick for one to tie the game. Instead, he tried a runback double that could have given his team a three-ender and a 7-5 lead.
But his front end over-swept the rock, it missed both Canadian stones and resulted in a steal of two and a 7-4 margin for Gushue and company. Gushue perfectly executed a double to score three in the eighth end and the teams shook hands.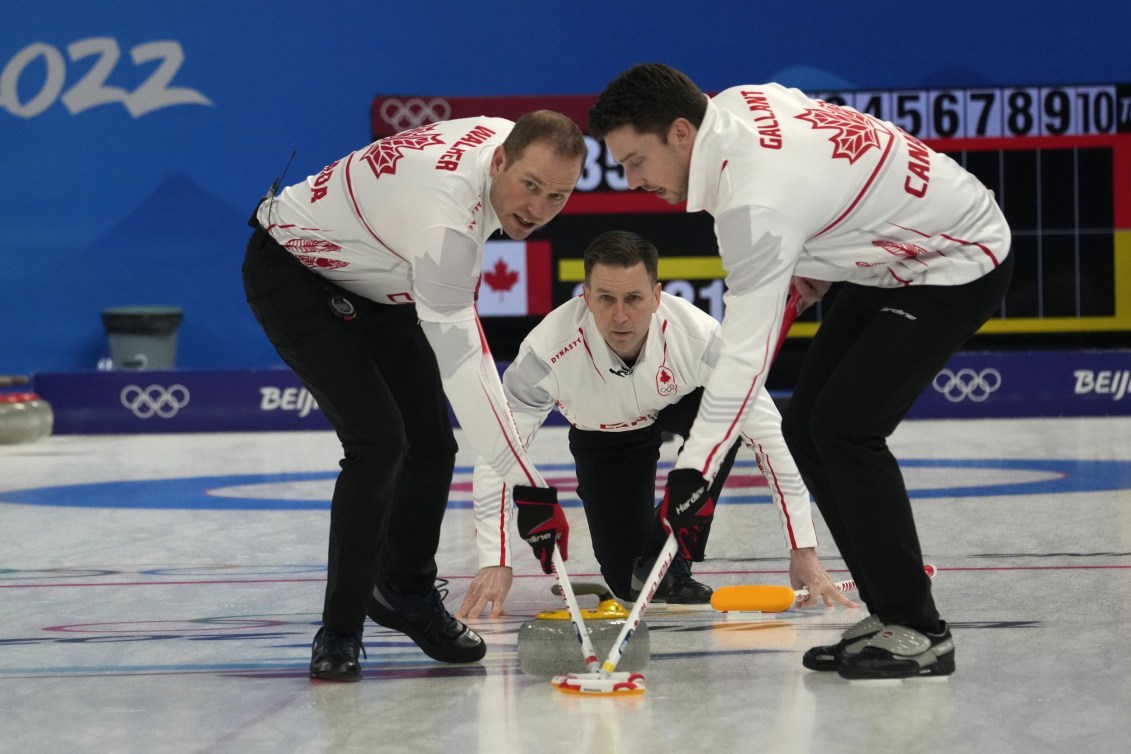 Both teams had a shaky start. Krause had to make a tap and roll against five Canadian counters to score a single in the first end. Gushue missed a double and then rolled out on a hit and stick to give Denmark two in the second.
"First-game jitters kind of ironed themselves out," Gushue said of the early ends. "I thought we played pretty good. We were just a little bit off, but for the first game of a big event I thought we handled it really well."
Seeking a second Olympic gold medal to go with the one won in 2006, Gushue made his hit-and-stick for three in the third end after Krause's final try for a double wrecked on a guard.
"They played really well that first half," said Gallant. "We got a few chances in the second half and made the most of them
The jitters could be expected since the game was the first for Gushue's team since they beat Brad Jacobs to win the Canadian Curling Trials in late November.
"I felt as the game went on we got more and more comfortable, more and more confident," said Gushue. "We get a couple more games like that then you start to find your groove and get in a rhythm. The quicker you can get into that rhythm the better it is."
And it was the first Olympic game for Gallant and Walker.
"Pretty fun," Gallant said of the experience. "A little bit of nerves early on, got to throw the pregame draw to the button to get a feel for weight so that was nice, just fun to get started."
Gushue was impressed by both his front-end players in their Games debut.
"They played great," said the skip. "We had some misses out there, no doubt, but they weren't big misses… they were close and that's a good sign. They played great, they looked comfortable, so a good start."
Team Krause, the last team to qualify for the Olympics, has played just 18 games this season with nine wins.
Denmark shot a combined 75 percent while Canada was slightly better at 82. But Krause only shot 64 percent and 60 percent on take-outs. Walker was a game-high 95 percent.
Gushue shot 81 percent but said he wasn't as nervous today as he was for his game in 2006 when he made his Olympic debut.
"Today felt like a normal big event like the worlds or Brier, the first game so that's nice," he said. "I remember 16 years ago I couldn't sleep, I could barely feel myself out on the ice. It wasn't that bad today, a little bit of jitters, a little bit of stress about not knowing the ice and being completely confident where to put the broom, but that will come as we play a couple of games."
In the other first-draw games, defending champion John Shuster and his U.S. squad beat Russia 6-5, Norway got by Switzerland 7-4 and Niklas Edin, a five-time world champion, began his quest for Sweden's first-ever Olympic gold medal with a 6-4 win over China.