AP Photo/Pavel Golovkin
Team Canada advances to semifinals at IIHF World Championship
Team Canada has advanced to the semifinals of the 2023 IIHF World Championship in Finland.
Jack Quinn, Sammy Blais, Michael Carcone and Tyler Toffoli scored while Samuel Montembeault had a strong performance in net to push Canada to a 4-1 win over co-host Finland in quarterfinal action on Thursday. The victory advances Team Canada into Saturday's semifinals where they'll play Latvia.
Canada is looking to win gold at the men's worlds for the first time since 2021. Canada and Finland have gotten to know each other quite well in gold medal matches at this tournament in recent years, facing off in each of the past three championship games — including last year when the Finns edged the Canadians 4-3 in overtime.
READ: Team Canada looking to get back on top of the podium at IIHF World Championship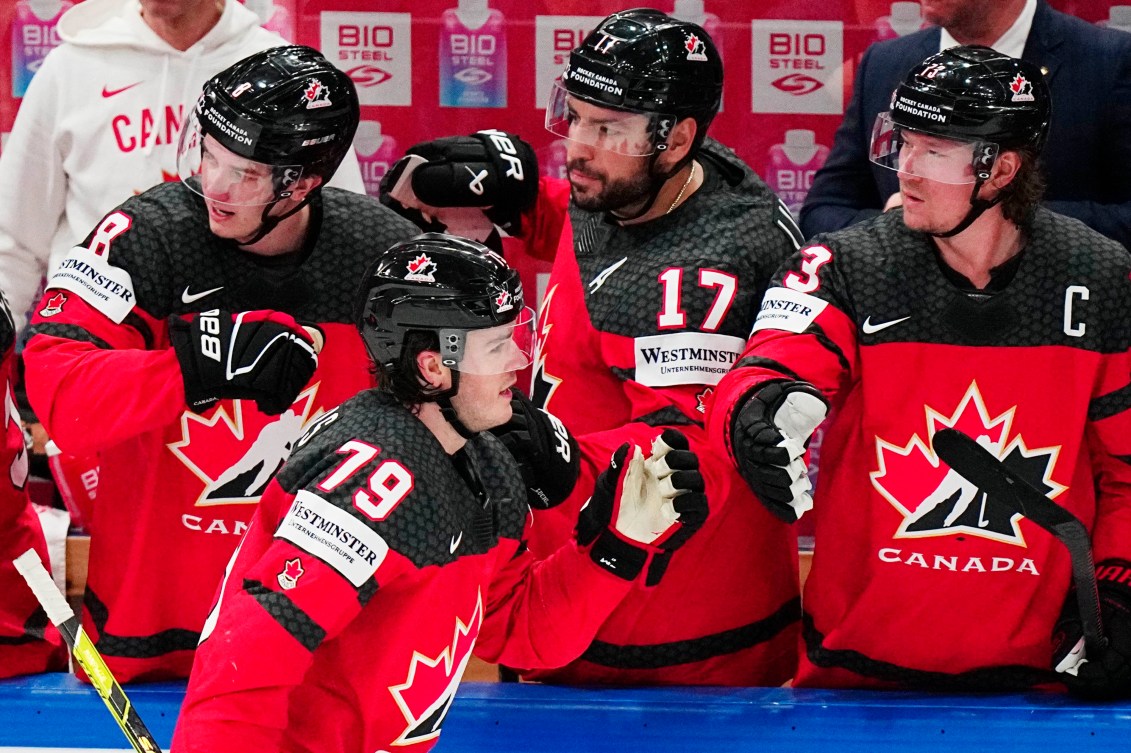 Canada's penalty kill went to work early in the first period and successfully killed off a Tyler Myers interference call, allowing only one Finnish shot. Just after the penalty expired, Jake Neighbours had Canada's first good scoring chance, ripping a one-time shot into the pad of netminder Emil Larmi.
Quinn opened the scoring 7:12 into the first. After getting around a Finnish defender, Quinn quickly fired a low shot that fooled Larmi, giving Canada a 1-0 advantage.
Montembeault was called for delay of game later in the period and was kept busy during the penalty kill as Finland pressed for the equalizer. The Canadian goaltender stopped all 10 shots he faced in the opening frame.
Blais gave Canada a 2-0 lead 10:45 into the second period. The Canadians entered the zone on a three-on-one with Neighbours setting up Blais for a high shot that beat Larmi.
A few minutes later, Finland's Kaapo Kakko had a breakaway but ran out of room before he could get a good shot off. Soon after, the Finns entered the zone on a two-on-one but Kakko couldn't fire a shot due to a sliding Canadian defenseman. Late in the period it was Kakko again who made a nice feed to Kasperi Kapanen on another two-on-one, forcing Montembeault to make a big pad stop.
Just 2:54 into the third period, Carcone scored to make it 3-0 for Team Canada. Mackenzie Weegar made a nice pass from inside the circle, finding a wide open Carcone who ripped a shot past Larmi to extend Canada's lead.
With their goaltender pulled and 3:08 remaining in regulation time, Teemu Hartikainen jammed a bouncing puck between Montembeault and the post to get Finland within two. Any threat of a Finnish comeback ended with 2:18 remaining when Toffoli scored into the open net, making it a 4-1 final.
Team Canada advanced to the quarterfinals after placing second in Group B in preliminary round play, winning five of their seven games. Canada fell 3-2 in a shootout to Norway and 3-2 in regulation to Switzerland. The Swiss finished atop Group B but were upset in their quarterfinal matchup against Germany, falling 3-1.
Saturday's other semifinal will feature the Germans taking on the United States. The gold and bronze medal games take place on Sunday. All remaining games will be played at Nokia Arena in Finland and will be broadcast by TSN.