Canadian roundup: Multiple medal weekend for moguls and short track
Here are five recent stories featuring Canadian athletes competing at international events.
World Cup moguls, Val Saint-Côme
Bottom line: On Saturday, World Cup points leader Mikaël Kingsbury triumphed, while Chloé Dufour-Lapointe won silver with teammate Audrey Robichaud third in Val Saint-Côme, Quebec.
Women's Sevens Series, Brazil
Bottom line: In Brazil, Canada earned their second-straight third place finish on the sevens tour with a 19-0 win over France.
SEE ALSO: Women's rugby team arrives in Brasil after lengthy travel delays
Despite one heck of a travel delay getting down to São Paulo the Canadian women delivered another top-3 performance. After a 3-0 first day, Canada beat Russia 22-10 to get to the semifinals but were knocked off by a last minute Australian try to miss the finals with a 12-7 loss. In the third place game Canada overcame France 19-0 with try scorers Bianca Farella (2) and Ghislaine Landry. Canada now has 32 points through two events and sits in third position. Remember, the top-4 teams at the end of series automatically qualify for Rio 2016.
Short track World Cup, Germany
Bottom line: The Canadian team delivered four medals in Dresden, Germany starting with a Marianne St-Gelais 1000m bronze on Saturday, then a triple medal day on Sunday thanks to the Hamelin brothers plus the women's relay.
St-Gelais added to her medal collection on Saturday with a bronze and her fifth straight World Cup on the podium. Second place at one point in the race, the 24-year-old went for the win "I was going for gold and it's too bad that it didn't work out, because I had the legs to win," said St-Gelais on the Speed Skating Canada website. "In the position I was in, the silver medal was a sure thing, but I decided to go for one more spot, so I tried it again on the outside. Unfortunately, I ended up closer to the Korean that I expected, and my turn ended up being too wide." South Korea's Kim Alang took gold with China's Fan Kexin earning the silver.
On Sunday, St-Gelais contributed to a gold medal in the women's 3000m relay. Kim Boutin, Audrey Phaneuf and Kasandra Bradette completed the team who were ahead of Italy (2) and France (3). François Hamelin was a silver medallist in the 500m with his brother Charles third on the podium in the 1500m.
Canada now has 21 medals in five World Cups, (3 gold, 7 silver, 11 bronze), the sixth and final World Cup in in Erzurum, Turkey, Feb 13-15.
World Cup skeleton, Igls
Bottom line: Elisabeth Vathje rolled on with her outstanding rookie season by winning another silver medal, this one in Igls, Austria on Saturday.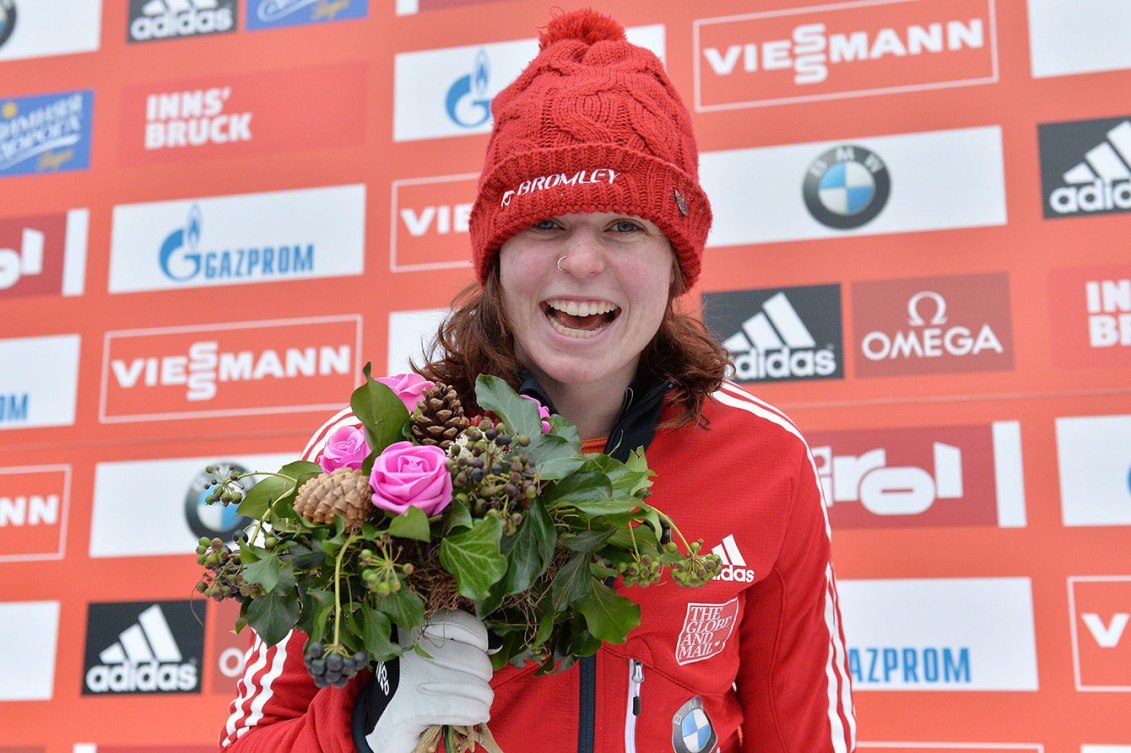 Elisabeth Vathje, a 20-year-old from Calgary is ripping up the World Cup tour, now with four medals, (1 gold, 3 silver). Lizzy Yarnold of Great Britain won in one-minute, 49.46 seconds, Vathje clocked a time of one-minute, 49.64 seconds while Austria's Janine Flock raced to one-minute, 49.83 seconds.
"Silver is my new favourite colour I guess," said Vathje on the Bobsleigh Canada website. "I'm pretty excited. I had two personal best pushes on both runs today. It was such a close race and I just kind of let it go and let the sled do its job again today."
Tennis, Fed Cup
Bottom line: Appearing for the first time in the World Group of Fed Cup play, Canada was eliminated 4-0 by a strong Czech side.