THE CANADIAN PRESS/Darren Calabrese
What is the difference between racquetball and squash?
It takes a lot of trust to follow someone through a glass door into a room with one exit, armed with just a racquet, or a racket if you're playing squash.
The glass around the court and the (sometimes tiny) door is one of the only things racquetball and squash have in common. You can quickly learn this by bringing the wrong racquet (racket) to a game, or you could make it easy for yourself by checking out the differences below.
History
Let's be brief: Squash is older, and invented by English school kids in 1830. Racquetball was created by an American fellow in 1949.
Racquet or racket?
Racquetball uses a 'racquet' that can be up to 55.88 cm long with a tear-drop stringed area. Squash uses a 'racket', and not just to be different. Back in the day, English prisoners used to call an earlier version of the game, 'Rackets.' A squash racket is longer (up to 68.6 cm) but the stringed surface is narrower.
What about the balls?
Both racquetballs and squash balls are hollow and rubber. Although, racquetballs are larger than squash balls by 42% in diameter and they are bouncier. Notably, squash owes its name to those mischievous school kids who realized a punctured Racket ball 'squashes' on impact, making it harder to hit.
Court size (singles)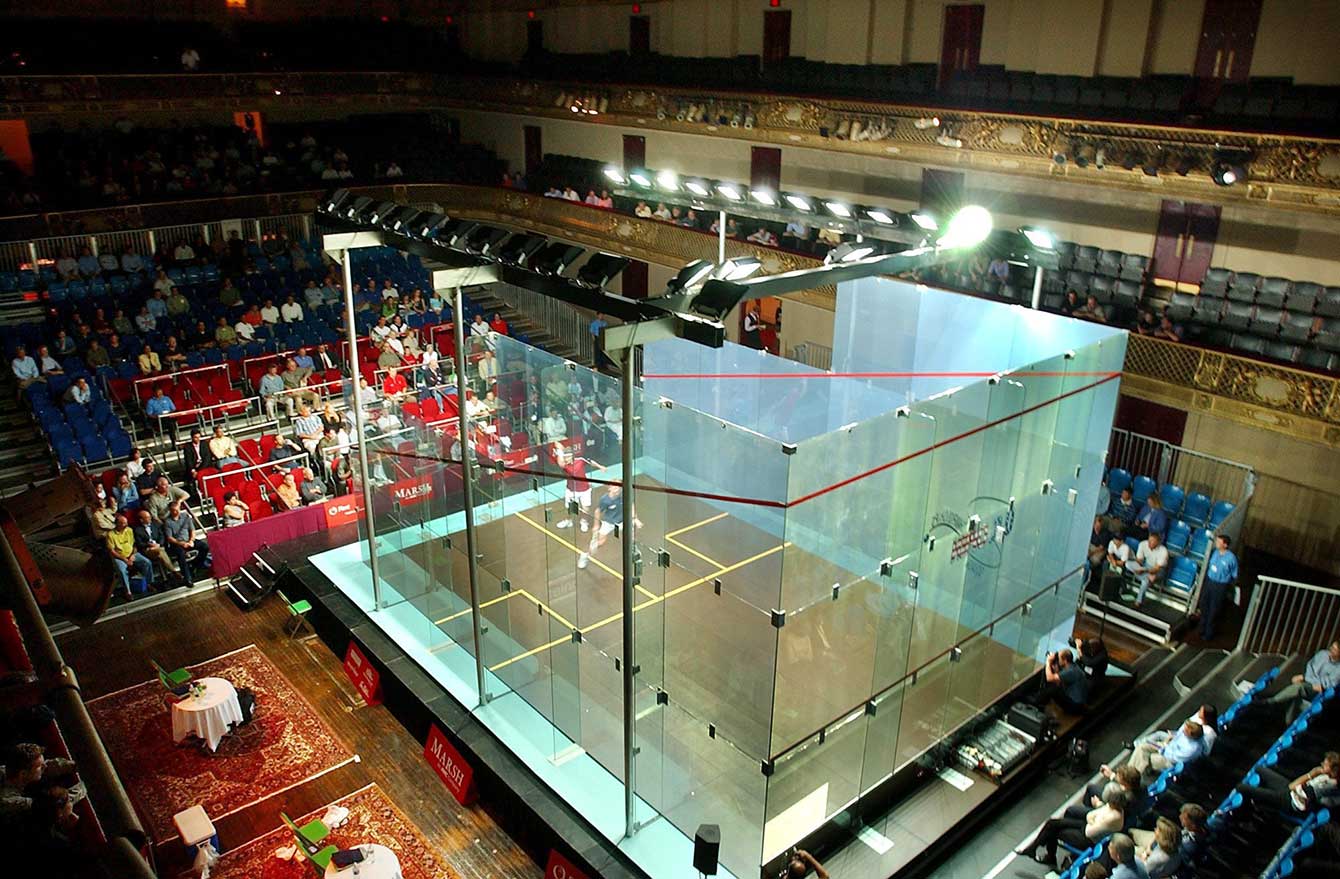 Since one sport was invented in England, and the other in America, here's the respective metric and imperial measurements.
Racquetball (LxWxH): 12.19m x 6.10m x 6.10m (40 ft. x 20 ft. x 20 ft.)
Squash (LxWxH): 9.75m x 6.4 m x 5.64m (32 ft. x 21 ft. x 18.5 ft., rounded to tenth)
How to serve
During a serve, squash players are confined to a box on the court that they have to stand in. The ball has to be sent in to the opposite corner to be considered a qualified serve.
In racquetball, the player can stand anywhere in the service box and let it rip. The ball has to drop behind the service box without hitting the back wall first.
How to win
RELATED: Canadian Pan Am Games Racquetball team | Squash team
In a racquetball match, you must have the serve to score. This makes the game much longer, saved by the fact it is best of three. Each game is to 15, unless a tie-breaking third game is required, which is played to 11.
RELATED: Canada's second and third medals in racquetball at Toronto 2015
Squash players score points from any rally, and play their games to 11, with the winner of a match earning the best of five. In Canada, you must win by two in both sports.
Jonathon Power doing his thing
Did you know that in 1999, Canada's Jonathon Power became the first-ever North American squash player to receive the No.1 world ranking? You do now — do what you will with this little bit of squash trivia!