Help Build an Olympian – Jennifer Abel talks Daily Training
Last night two-time Olympian Jennifer Abel delivered the performance of her season, winning 3m springboard gold with a lifetime best score.
The 23-year-old pulled away from the competition on her third dive, one that had beat her up all season.
"I had the same dive list for many years and, if I performed well, it was good enough for me to be on the podium," said Jennifer. "Adding a new dive is risky. But my coach told me that I had the potential for 8.5-9's with this dive (5154B) and the degree of difficulty would improve my overall score, so I decided to take the risk and it ended up being a good one!"
Learn more about how the two-time Olympian perfected her new dive to prepare for the Toronto 2015 Pan Am Games – in and out of the water.
In the pool
"We train five days a week – Monday to Friday at the Centre Sportif au Parc Olympique in Montreal. I'm in the water three days a week and doing dry dive training two days a week," says Jennifer. "The pool days are split up between my individual spring board training and doing synchro training with Pamela (Ware) and Francois (Imbeau-Dulac) for mixed synchro."
On the deck
"Diving is a great general fitness sport. You use all of your muscles so you need to be strong and you need to be flexible. Springboard divers tend to have stronger legs, whereas platform divers have strong upper bodies for handstands on the platform."
Jennifer and the other members of the FAB IV do strength training, yoga, and pilates to improve their strength and flexibility.
In the air
Diving is scored based on both execution and degree of difficulty. Divers are always looking to add new, more-skilled dives to their repertoire, but it can take years before they use the dive in competition. It's a fine balance between taking a risk with a difficult dive and performing a safe dive flawlessly.
"There's a big difference between doing a dive just to do it, doing a dive to perform it to your personal best in competition and doing a dive to get you on the podium. I've been doing this big dive since 2009, but up until this year it just wasn't ready for competition."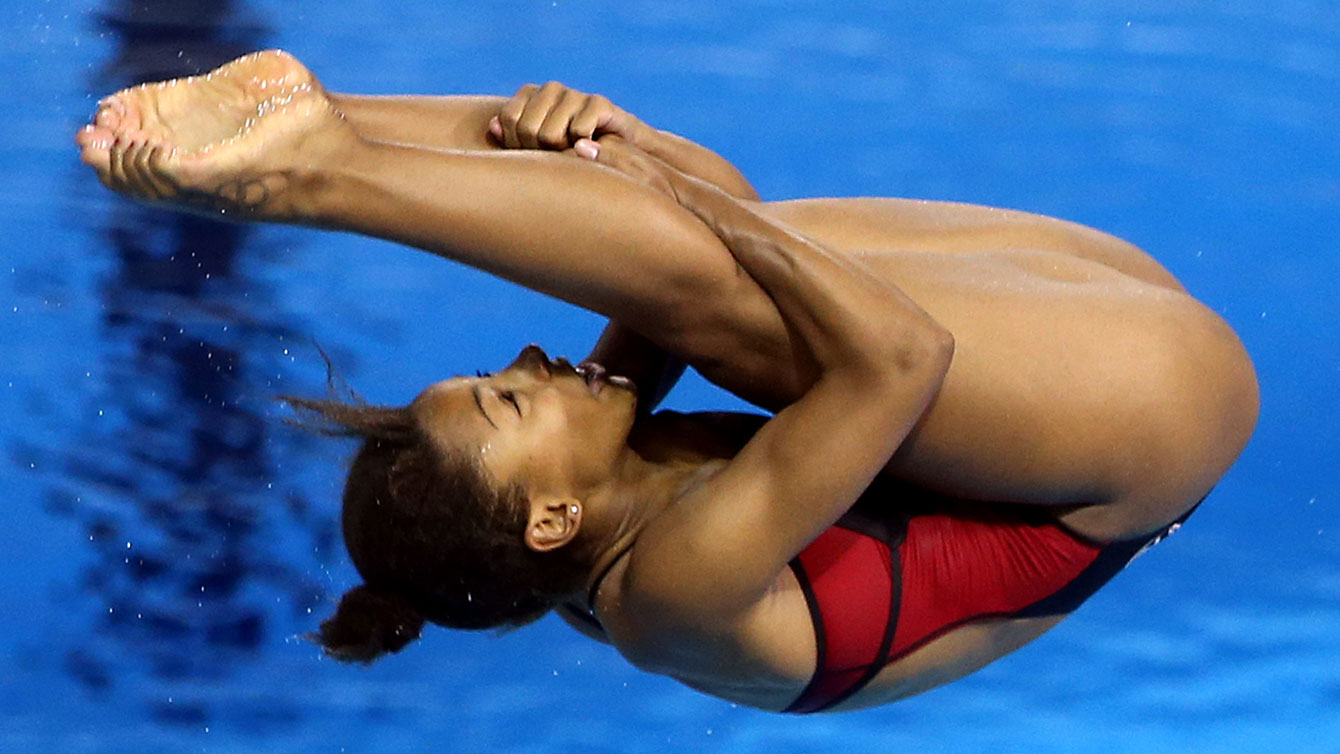 Learning a new dive begins out of the water in a practice called 'dry diving'. Divers are set up in a harness that supports their weight using ropes. Their coach then pulls on the ropes to suspend the diver in the air at the height they'd be diving from, and the diver is free to perform the motion of the dive without fear of mistakes.
"Dry diving helps us practice the movement of the dive and learn how the dive feels before we try it in the pool," said Jennifer. "When we move to the pool, we start at the bottom of the dive, doing half a rotation, then one full rotation, then one and a half, and so on. When it's ready, it's ready. You just go on the count of three. It is nerve wracking but it's part of the sport."
Analysis
Many sports rely on practice and game film and diving is no exception. Divers have incredible body awareness while they're in the air but even the best ones can benefit from reviewing their own dives.
"We have a TiVo at the pool. We don't use it all the time, but it's helpful for our coach to explain to us what he wants. Sometimes he'll say put your arms higher, and you'll think that they are positioned properly until you watch the tape and see that your arms are out in front of you."
Later today Jennifer and her partner Pamela Ware will compete in the synchro event.
A top notch daily training environment is essential for Jennifer and athletes just like her. With your support we can ensure that they have access to the training resources they need to continue to reach the podium.