Help Build an Olympian: Martha McCabe makes a splash
Canadian swimmers Kierra Smith and Martha McCabe pulled off a 1-2 punch on Wednesday in the women's 200m breaststroke.
Smith lowered her own Pan Am record from the morning, swimming a time of 2:24.38 while McCabe touched 13 one-hundredths behind, also under the record. They were both over one-and-a-half seconds ahead of American Annie Lazor in third.
"To be honest if I had to come second to anyone I wanted to come second to a Canadian," said McCabe who after the touch urged on the red and white crowd for a few more seconds of mayhem. "I know this is a once-in-a-lifetime opportunity and I just want to absorb every single moment of it." McCabe is a Torontonian.
The importance of sport science
A year ago, Martha's silver medal-winning performance might not have happened. A serious setback might have meant disaster had it not been for a team of experts in sport science, and Martha's own indomitable will. Her result is all the more impressive considering one year ago she was unable to lift her arms above her head.
"On December 15 2013, I noticed my shoulder was sore. The next morning, I couldn't lift my arm above 90 degrees and the pain had worsened."
She took a break over the holidays, assuming the pain would go away but was discouraged when she returned to practice and the pain continued. It was bad enough that her sister had to blow dry her hair.
An MRI in early January revealed a stress fracture to Martha's collar bone.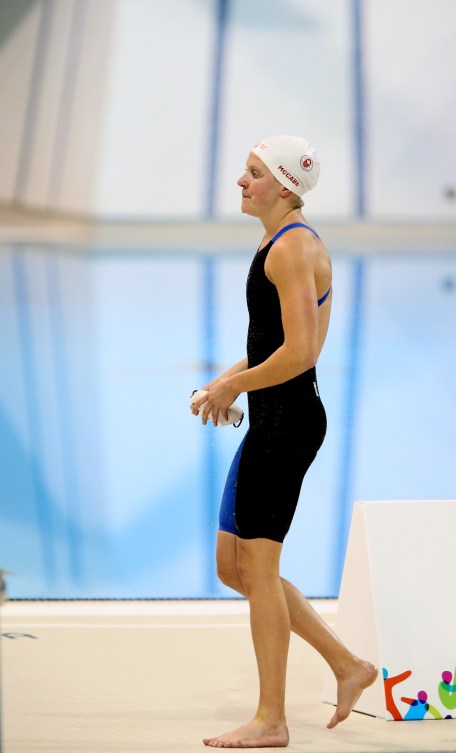 "The fracture was in the distal part of my clavicle bone. Bone density tests revealed that I was healthy, so we assumed that the fracture was from lifting too much or too heavy for my body to handle."
The doctor prescribed that Martha rest and not lift her arms above her head – a challenge for the Olympic veteran breast stroke specialist.
Fortunately, Martha's integrated support team – IST – was involved and quickly came up with a plan.
"I could still kick, so I kept up my workouts in the pool using a snorkel since I couldn't raise my arms. My coach (Ben Titley) would run up and down the pool deck and tow me along by a cord attached around my waist. The extra pull helped me simulate swimming at race pace, since I couldn't achieve it on my own without the use of my arms."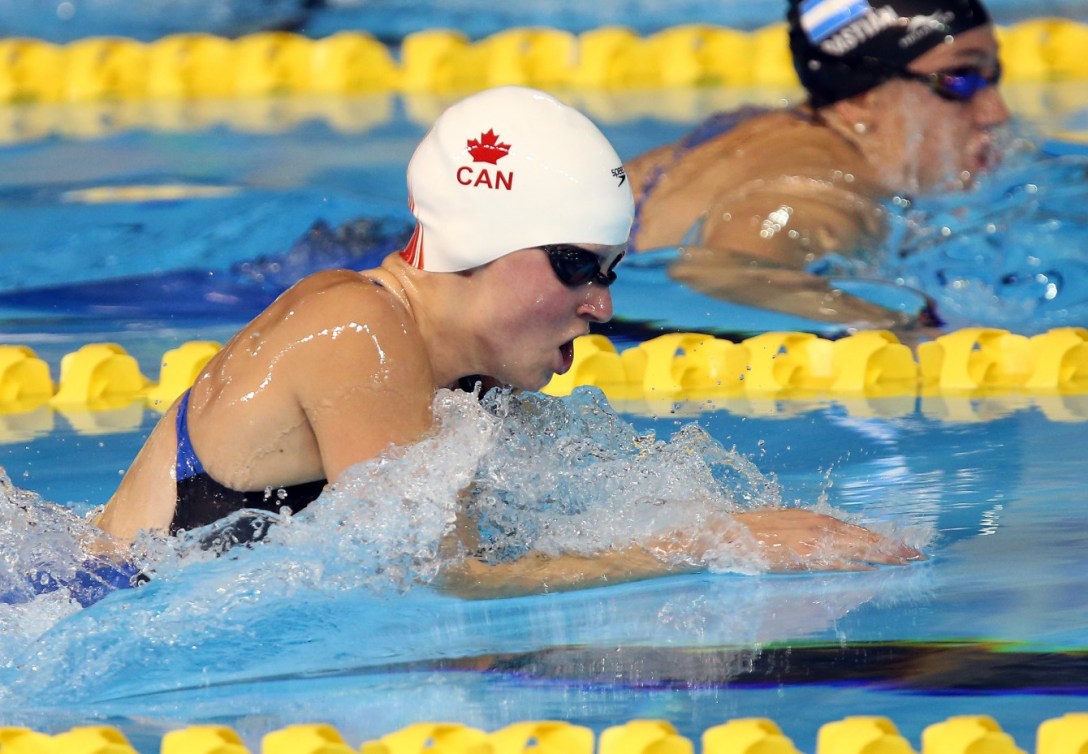 Out of the pool, Martha worked with athletic therapists, physiotherapists and biomechanists nearly every day.
"I lost nearly all of my arm muscle while I couldn't train or strength my arms," said Martha. "It was extremely challenging, especially because I'm a smaller than a lot of my competitors in the first place. My physio team helped me rebuild some of the smaller muscles around my clavicle and scapula, and to gain control of these muscles."
She also received treatment for her legs. Since she was maintaining her fitness using only her legs, both in the pool and by hitting the pavement for runs, her muscles took a beating and needed extra attention with stretching and massage.
It was a lengthy and frustrating process, but throughout the ordeal Martha managed to keep her perspective. She squeaked her way on to the Canadian team for the 2014 Commonwealth Games in Glasgow, despite recurring symptoms. She made the final at those Games, and turned her focus to the future.
"I think starting up the 2015 season after the Commonwealth Games was a challenge because I was worried about injury. I'm usually excited to get going into everything really fast but had to take a step back and slow it down."
It took the support of her coach Ben Titley, athletic therapists Jason Meehan and Jon Sprenger, physiotherapist Ron Mattison, and biomechanist Ryan Atkinson, as well as the support of her family and friends to put Martha back together. Now, she is swimming faster than ever.
For Martha, having an IST help her through the injury was essential to keeping her in the pool. Their knowledge of sport science meant that Martha and the team could focus on the areas of the mind and body that needed it most. For high-performance athletes, expert and detailed attention can make a huge difference. When athletes compete for split-second finishes, the specific attention can mean seeing their performance improve – even by one-hundredths of a second.
For Martha and the rest of Team Canada, this kind of support can mean all the world: standing on a podium and hearing O Canada played.