RBC Training Ground identifies five more athletes with Olympic potential
Meet RBC Training Ground's 2017 top performers: Dennis Cook, Kasandra Savoie, Andrew Wood, Sarah Orban and Avalon Wasteneys.
For the second year in a row, RBC Training Ground travelled coast-to-coast looking for Canada's next Olympian. Over 2,000  young athletes have were tested in 2017, but only five athletes were crowned regional winners and the recipients of an acclimatization trip to the PyeongChang 2018 Olympic Winter Games.
Learn more each of the winner's success stories below.
Dennis Cook – Ontario Regional Winner
Dennis Cook of Richmond Hill, bested a very strong field to be crowned 2017's RBC Training Ground Ontario winner. The 25-year-old clocked the best time of the day in the 40m running sprint, and placed second overall in both jump tests.
"I'm thrilled, I honestly can't believe it – there were so many great athletes here that it's an honour to be holding this trophy.  When they announced my number, I looked down, and then to my friend on my left, and had to double check because I couldn't believe what I was hearing," Dennis explained after his win.
Dennis came into RBC Training Ground as a successful Lifesaving Sport athlete, and now has his sights set on the Skeleton track, with Bobsleigh Skeleton Canada being one of several National Sport Organizations (NSO) who had an eye on him at the Ontario final.
"Coming in to the Milton Regional Qualifier event six weeks ago as a relative unknown, Dennis turned heads when he set a new vertical jump standard of 109 cm, and showed us how fast he could run," said Kurt Innes, Talent Development Director for CSI Pacific and RBC Training Ground technical lead.
"Today, several NSO's had Dennis on their radar and he did not disappoint. He has a goal of representing Canada at the Olympic Winter Games in the sport of Skeleton, and he came to the RBC Training Ground to help him connect these dots. He had a clear set of performance goals for the event, including specific performance targets for the three individual speed/power tests!  We simply don't see many athletes with that laser focus, and high level of self-directed preparation and personal accountability!"
In addition to Dennis, coaches from the 11 NSO's participating in RBC Training Ground will meet this week to identify athletes they'd like to engage in second-phase testing.  Later this year, more than 30 athletes from this group will go on to join athletes from Year 1 in the RBC Future Olympians program, where funds will be directed to their NSO's to assist in their high-performance development.
Kasandra Savoie – Quebec Regional Winner
Kasandra Savoie is the youngest winner in program history. Hailing from Sherbrooke, Savoie is an accomplished track and field athlete – currently the top ranked midget pole vaulter in the country – and also plays competitive hockey. She impressed judges with her speed and power, finishing top spot in the standing long jump, standing triple jump and six-second bike sprint. She also found her way into the top 10 on the 40m sprint and concept 2 dyno strength test.
"Kasandra's performance impressed all of the sport coaches here today," says Kurt Innes, Talent Development Director for CSI Pacific and RBC Training Ground technical lead. She was the best performer in 3 of the 6 different physical tests, and second in another. After the testing was all said and done,  Kasandra had exceeded benchmarks from four different national sport organizations. It's an incredible feat for someone of her age, and relative stage of development. With continued hard work, and support from her family and the sporting community in Sherbrooke, Kasandra may some day wear the maple leaf and earn the privilege of representing Canada in one of these sports."
Savoie was an easy pick for power and speed based sports like athletics, cycling and rugby. But in the deliberation room, even scouts from some of the more technical sports like water polo and judo were open to pursuing her for further testing, due to her youth.
For Savoie, this is just the beginning of the journey. Coaches from the 11 participating NSOs will meet to review all of the participants' test results and contact those who are selected for sport-specific testing. Up to 50 athletes from Quebec, including Savoie and the other top performers, will receive support and access to high-performance coaching, training and competition to achieve their Olympic dreams.
Andrew Wood – Atlantic Canada Regional Winner
St. John's native Andrew Wood grew up playing basketball before switching to track at university. His story bears resemblance to that of Andre De Grasse, who ran his first race in basketball shorts. He's hoping that he can follow in his footsteps, thanks to the support of RBC Training Ground. Wood was named Atlantic Canada's Top Performer on June 10 at the regional final event hosted at the Canada Games Centre in Halifax.
Wood, 21, hit multiple national benchmarks and was the top male for standing long jump and 40m sprint. He has attracted the attention of at least three different national sport organizations (NSO) with his impressive speed and power, qualities that are important to sports like bobsleigh, athletics and rugby.
"Athletics has been a huge part of my life throughout the past few years. I feel amazing right now, I'm shaking a bit. I didn't expect to win, but I'm super proud. I came in to the competition today just wanting to have fun and see what happens."
The journey to the Olympic Games is a long one, and Wood's is just beginning. Within the next few weeks, he'll be contacted by the NSOs who are interested in him and begin sport-specific testing for the sports that identified him as a prospect. He's just happy to have the opportunity.
"I think athletes from Atlantic Canada can be underestimated. I'm so happy to represent St. John's and I'm ready to debunk that myth."
More than 100 athletes from Maritime provinces were invited to the Atlantic Canada regional final. Wood is the first athlete from Newfoundland to win RBC Training Ground and receive funding to support his athletic development through the program.
Sarah Orban – Alberta Regional Winner
Twenty-one-year-old Sarah Orban has always dreamed going to the Olympic Games. Thanks to RBC Training Ground, the Calgary native will get to see her dream come to life. Orban was named Alberta's Top Performer on May 6 at the RBC Training Ground regional final event hosted at Winsport, thereby securing the grand prize trip and funding to continue her athletic pursuits.
"Winning RBC Training Ground is incredible, it feels surreal," says Orban. "When I first heard about the program, I knew I had to take the opportunity to come out and compete and be recognized."
Orban was chosen by a panel of coaches and talent identification officials based on her well-rounded performance at the Alberta Regional Final. Currently in her fourth year the University of Lethbridge, Orban plays on the women's varsity soccer team and runs track. Her multi-sport background was evident throughout the testing and she finished atop the leaderboard on the bike sprint and posted the second-best scores on the day for the 40m sprint, triple jump and standing broad jump. Her high scores on these speed and power tests make her a prime candidate for sports like cycling and skeleton.
RELATED: Finding future Olympians through RBC Training Ground
"I'm definitely open to trying other sports, and I've actually considered trying skeleton before," says Orban. "Talking to some of the Olympians that were here today was so inspirational, and they just made me feel like I could get to that level – that with grit and dedication, any goal can be pursued. Going to the Olympic Games next year is going to make me even more hungry to compete."
The Regional Final in Calgary was the culmination of a series of combines hosted in Lethbridge, Okotoks, Edmonton and Grande Prairie. Though Orban was selected as the Top Performer, the journey is far from over for her and the other young phenoms that competed. High-performance coaches will be reviewing the testing data and contacting athletes that hit certain performance benchmarks for further sport-specific testing.
Avalon Wasteneys – BC Regional Winner
The RBC Training Ground British Columbia Regional Final was held on March 4 at the Richmond Olympic Oval, where 100 of the top athletes, from regional qualifiers held in Burnaby, Prince George, Langley, Kamloops and Victoria, competed in Olympic benchmark tests in front of national sport coaches and scouts.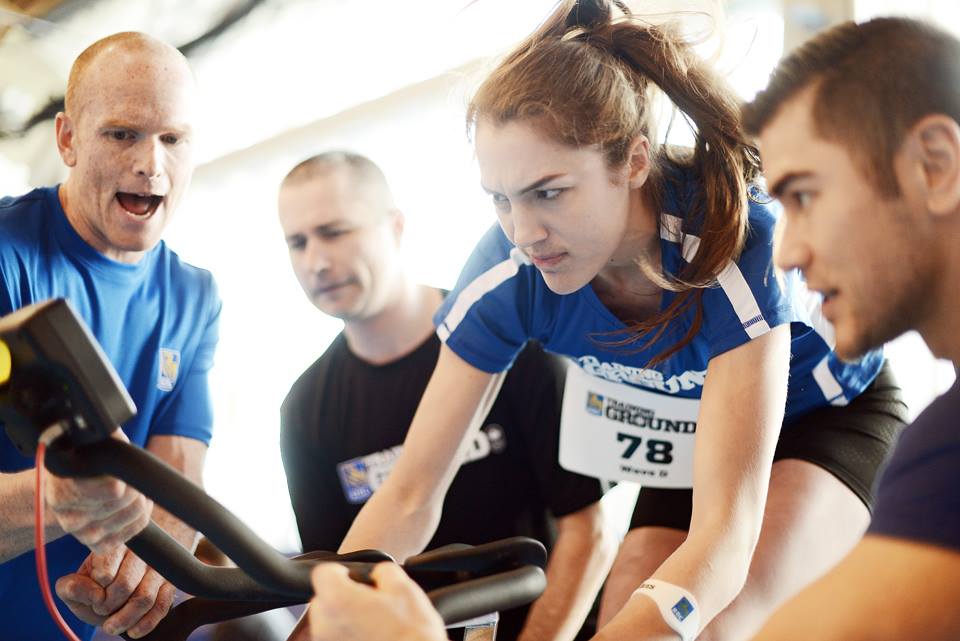 Avalon Wasteneys, a 19-year-old University of Victoria women's varsity rower, beat a field of 100 of the province's top athletes to become RBC Training Ground's Top Performer from British Columbia.
A Vancouver Island native, originally from Campbell River, Wasteneys earned her way to the regional final based on her performance at the Victoria local qualifier.
RELATED: RBC Training Ground athletes begin Phase 2 assessment
"I came out for fun in Victoria, as my teammate mentioned it to me the night before and I thought why not give it a shot," Wasteneys exclaimed. "Winning RBC Training Ground definitely gives me a confidence boost. I know I have what it takes to push myself to go farther. Seeing all these Olympic athletes today, I figured if they did it, maybe I can do it too."
Wasteneys first found national success as a cross-country skier, earning national medals throughout her junior career. In the summer of 2015, she made the decision to switch sports from skiing to rowing. Now a varsity rower at the University of Victoria, she won a silver medal as part of the women's eight boat at the Canadian University Rowing Championships in November 2016.