Canoe Kayak Canada
Team Canada names 16 paddlers for canoe/kayak sprint for Tokyo 2020
Team Canada will compete in women's and men's canoe and kayak sprint events at Tokyo 2020, as the sport's program becomes gender equal for the first time in Olympic history.
Canada will have two paddlers competing in the first ever women's canoe competitions at the Olympic Games – Laurence Vincent Lapointe and Katie Vincent. They've been C-2 partners since 2015, winning world titles in 2017 and 2018. At the latter they also smashed their own world record in the C-2 500m.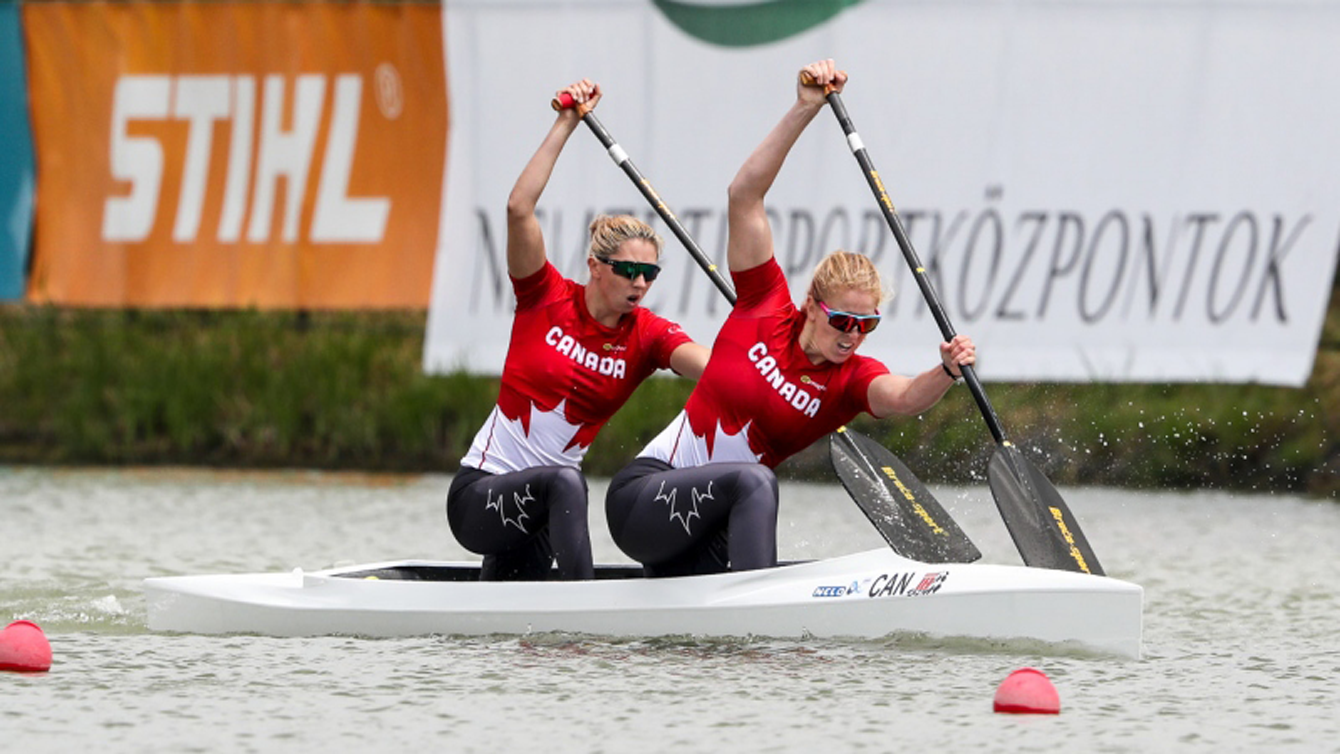 Vincent won three U23 world titles in the C-1 200m from 2016 to 2018. She earned her solo World Cup gold in the C-1 200m in 2016. Vincent Lapointe is a six-time world champion in the C-1 200m, most recently in 2018, and is the world record holder in the event.
"I feel a lot of love and support from the community in these final moments ahead of the women's canoe debut," said Vincent. "When the starter says 'go' in Tokyo, it will be a moment I hope all Canadians and paddlers will celebrate. It is hard not to reflect on the journey to get here but beyond the results, it's been the wildest, most rewarding year of my life. These Olympic Games will be an opportunity to celebrate and reap the rewards of our hard work, resilience and dedication. We can't control the outcome but we can commit to doing our best and leaving it all on the water."
The veteran of the team is Mark de Jonge, who will be competing in his third Olympic Games. He won K-1 200m bronze at London 2012 and also competed solo at Rio 2016. He qualified for Tokyo as part of a K-4 500m crew with Nick Matveev, Simon McTavish, and Pierre-Luc Poulin, who will all be making their Olympic debuts. The quartet secured Canada's spot in the event at the 2019 World Championships. Brian Malfesi and Vincent Jourdenais are also set to represent Canada in men's kayak.
"It's a huge relief to finally be nominated to the Canadian Olympic Team after five years of preparation and a lot of uncertainty over the past year," said de Jonge. "I'm so proud of our team for staying strong through the rough patches and I am confident that our resilience and hard work will pay off when we compete in Tokyo."
In women's kayak, Andréanne Langlois is back for her second straight Olympic appearance after competing in the K-1 200m and K-4 500m at Rio 2016. She won four medals at the Lima 2019 Pan Am Games, including a pair of silvers in the K-1 events and gold in both the K-2 500m and K-4 500m. Those two team boats also included Alanna Bray-Lougheed who was nominated in women's kayak, along with Michelle Russell, Madeline Schmidt, Lissa Bissonnette and Courtney Stott.
Canada will be represented in men's canoe by Connor Fitzpatrick and Roland Varga. They qualified a spot for Canada in the C-2 1000m with their performance at the 2019 World Championships, where they lowered the Canadian record in the event.
Canada has won 24 Olympic medals in canoe/kayak sprint since the sport debuted at Berlin 1936. From Atlanta 1996 to London 2012, Canada won at least one medal at every Games in canoe/kayak sprint. Along with de Jonge's bronze, Adam van Koeverden won K-1 1000m silver and Mark Oldershaw won C-1 1000m bronze at London 2012.
Canada enjoyed its greatest success at Los Angeles 1984, winning six medals, including two gold, one by Larry Cain in the C-1 500m and one by Alwyn Morris and Hugh Fisher in the K-2 1000m. Those Games were also the first at which Canadian women won kayak medals.
Canoe/kayak sprint at Tokyo 2020 will take place August 2-7 at the Sea Forest Waterway. The Canadian entries in specific events will be finalized closer to the start of those events.
Team Canada Canoe/Kayak Sprint Athletes at Tokyo 2020:
Women's Canoe
Katie Vincent (Mississauga, ON)
Laurence Vincent Lapointe (Trois-Rivières, QC)
Women's Kayak
Lissa Bissonette (Sherbrooke, QC)
Alanna Bray-Lougheed (Oakville, ON)
Andréanne Langlois (Lac Beauport, QC)
Michelle Russell (Fall River, NS)
Madeline Schmidt (Ottawa, ON)
Courtney Stott (Ajax, ON)
Men's Kayak
Mark de Jonge (Halifax, NS)
Vincent Jourdenais (Saint-Basile-le-Grand, QC)
Brian Malfesi (Maple Ridge, BC)
Nicholas Matveev (Toronto, ON)
Simon McTavish (Oakville, ON)
Pierre-Luc Poulin (Lac Beauport, QC)
Men's Canoe
Connor Fitzpatrick (Dartmouth, NS)
Roland Varga (Aurora, ON)