AP Photo/Silvia Izquierdo
Beckie's brace lifts Canada to first women's soccer win
It didn't come easy, but Canada has their first win in women's soccer at Tokyo 2020.
A pair of goals from Janine Beckie gave head coach Bev Priestman's side a 2-1 victory over Chile on Day 1. Combined with a 1-1 draw with Japan in their opening match, Canada now sits in a good position to reach the quarterfinals of the 12-team competition.
Priestman made three changes to the starting lineup from the Japan game, with Kailen Sheridan replacing the injured Stephanie Labbé in goal, and a pair of 20-year-old Olympic debutantes, Jayde Riviere and Julia Grosso, replacing Allysha Chapman and Quinn.
The Canadians poured on the attacking pressure in the early going, and were nearly rewarded on a few occasions.
Defender Kadeisha Buchanan made an impressive, and uncharacteristic, series of one-two passes inside the Chile penalty area in the sixth minute and put the ball past goalkeeper Christiane Endler. But referee Esther Staubli ruled that the ball had come off of Buchanan's arm, and the goal was disallowed.
Later in the first half, the referee made use of video review and determined Canadian captain Christine Sinclair had been fouled inside the area and awarded a penalty kick. Beckie stepped up to take, but put her shot off the post.
She would redeem herself in the 39th minute, picking up a ball Endler had parried away and blasting home from about 15 yards out.
Then, two minutes into the second half, Nichelle Prince threaded a perfect pass between two Chilean defenders to find Beckie, who evaded Endler and put home her second goal.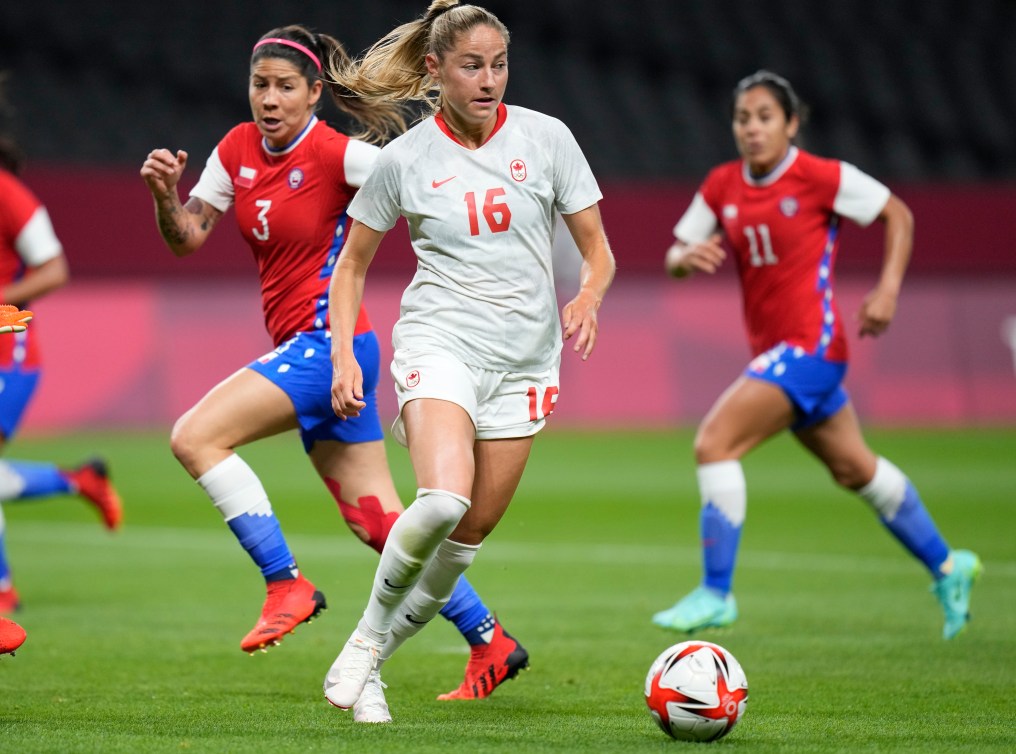 Canada, ranked No. 8 in the FIFA Women's Ranking, were always going to be favourites against No. 37-ranked Chile. But the South American side, making their Olympic debut, proved themselves to be a relentless opponent.
Chile was awarded a video-review-assisted penalty kick of their own after Shelina Zadorsky took down Chilean striker Daniela Zamora. Karen Araya converted the penalty in the 57th minute, her nation's first-ever goal in Olympic competition.
The Chileans nearly had their equalizer in the 73rd minute, when Maria Jose Urrutia's shot rang off the crossbar. That was the closest they'd come, as Canada controlled the clock and held onto the result.
Canada's final match of the group stage (Tuesday, 7 a.m. ET) is against Great Britain, whose team is predominantly comprised of players from England (No. 6 in the FIFA ranking). Great Britain defeated Japan 1-0 on Day 1 to sit in first place in Group E with six points, while Canada is in second place with four.
The top two teams in each group, as well as the top two third-place finishers, qualify for the quarterfinals. Canada would clinch first place in the group with a win over Great Britain, and a draw would also guarantee them a spot in the knockout phase. Even a loss could see them through, depending on results in other games.
The Canadians are seeking their third straight podium finish in the sport, having won bronze at both London 2012 and Rio 2016.