THE CANADIAN PRESS/Paul Chiasson
The most quintessential Keegan Messing moments
Keegan Messing suspects he is competing in his 20th national championships this weekend. Forgive him if he lost count.
What he knows for certain is they will be his last. The two-time Olympian will be retiring at the end of the season.
Though he may not have a trophy case full of world championship or Olympic medals, Messing will definitely leave his mark on figure skating for what he has done and who has been both on and off the ice.
Canadian Cheerleader in Chief
Soon to turn 31, Messing was born and raised in Alaska, where he still calls home. But his pride and enthusiasm in competing for Canada knows no bounds. Messing switched national allegiances ahead of the 2014-15 season to represent the home country of his mother and grandmother. Since then, his skating has flourished. He's also been having so much fun and his programs have featured an eclectic mix of music (we'll highlight a few throughout this article).
But when he wasn't on the ice, Messing could often be seen in the stands, waving the Canadian flag wildly for his competing teammates. Nowhere was that more appreciated than at Beijing 2022 where he ensured his fellow figure skaters and others could see they were supported, even without their friends, family, or fans in attendance.
Canadian figure skater Keegan Messing waves a national flag as Canadian skaters are introduced during the rhythm dance competition at the Olympic Winter Games in Beijing, Saturday, Feb. 12, 2022. THE CANADIAN PRESS/Paul Chiasson

Team Canada figure skater Keegan Messing waves a Canadian flag during the women's 1500m short track semifinals during the Beijing 2022 Olympic Winter Games on Wednesday, February 16, 2022. Photo by Mark Blinch/COC
It was well documented that Messing missed his chance to compete in the Olympic team event in Beijing (a little more on that to come). One reason he wanted to continue competing this season was to have one last opportunity to be part of a Canadian team at the ISU World Team Trophy.
Held at the end of the season, it's way less stressful than the world championships. And who wouldn't want to have their last skate come at an event with fully decked out team boxes and teammates cheering you on dressed head-to-toe in Canadiana? See what we mean with a look back at his short program from the 2019 World Team Trophy.
Overcoming Obstacles
When you live in Alaska, no travel to competitions is easy. Messing has dealt with his share of delays the only way he knows how — with a get 'er done attitude.
Last January, he endured a 33-hour journey from Anchorage to Ottawa for the national championships. At some point during his three flights, his luggage was lost — including his skating gear. The day before the short program, he practiced in jeans and a newly-acquired pair of white skates that he desperately tried to break in. Luckily, his luggage showed up and with his regular skates on his feet, he won his first national title.
That earned him a spot on the 2022 Olympic team, which led to more travel travails. Messing was unable to depart for Beijing with his teammates because he couldn't produce the necessary negative tests for COVID-19. When he finally got his clearance to depart Vancouver, he ended up having to fly almost completely around the world. He arrived in Beijing barely in time to make his last scheduled practice. About 24 hours after landing, Messing landed everything in his short program, a remarkable show of resilience.
Keegan Messing skates in practice at Beijing 2022 on February 7, 2022, PHOTO: Greg Kolz/Skate Canada

Keegan Messing competes in the men's short program at Beijing 2022 on February 8, 2022, PHOTO: Greg Kolz/Skate Canada

Keegan Messing smiles after finishing his short program at Beijing 2022 on February 8, 2022, PHOTO: Greg Kolz/Skate Canada
Respectful and Respected
Messing won the bronze medal at the Autumn Classic International in September 2019. While standing on the third step of the podium, he realized that there was no flag facing gold medallist Yuzuru Hanyu of Japan for him to honour during his national anthem. Messing took it upon himself to stretch out the Japanese flag that was hanging on a pole behind the podium, a move which earned Hanyu's gratitude.
"I decided to hold up a flag because if I were in that place, I would've liked to have a flag presented at that time. That's why I did it. I felt like that's what I would've wanted so I went ahead and took initiative and I did it," Messing said of a moment that went viral even outside of the skating world.
Proud Papa
Ever since his son Wyatt was born in July 2021, Messing has been sharing photos with fans. In every kiss-and-cry, Messing would hold up his phone to the camera to show off a new pic of his growing kid.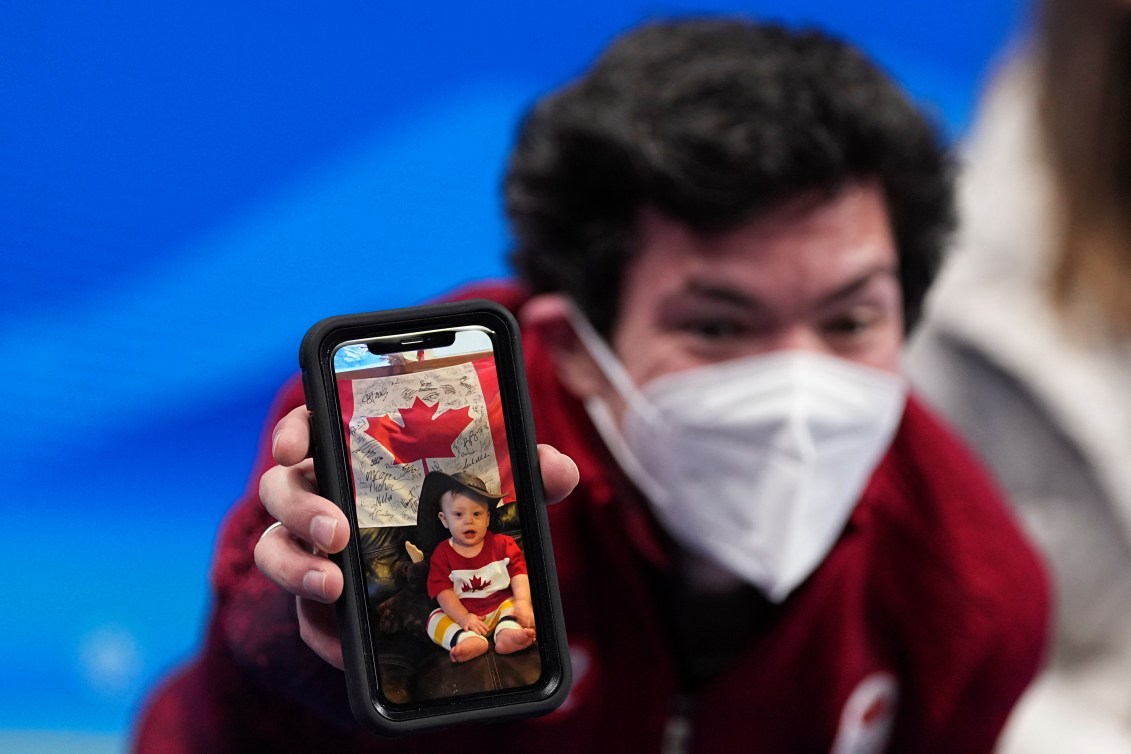 At Skate Canada International in October 2022, he surprised everyone after the short program when instead of a photo of Wyatt, he pulled out a string of ultrasound images and revealed that he and wife Lane would be adding to their family. The baby's scheduled arrival date? The day that Messing will compete in the men's free skate at the 2023 Canadian Championships.
That Skate Canada was Messing's last international competition on Canadian ice. At the end of the exhibition gala, he brought Wyatt onto the ice with him, resulting in so much oohing and ahhing from the other skaters and fans.
Skating For His Family
After getting married in the summer of 2019, Messing made a sentimental music selection for his short program that season. Ed Sheeran's "Perfect" had been the song for his and Lane's first dance as husband and wife.
But just over a month after that happy celebration, Messing suffered heartbreak when his younger brother Paxon was killed in a motorcycle accident. Through his grief, he decided to compete at Skate America in October.
Though he missed the podium, he was asked (as he frequently is) to participate in the gala. He delivered a moving tribute after first placing a photo of Paxon on the ice for his performance to Bryan Adams' "Here I Am", which had been used in a photo slideshow at his brother's funeral.
Memorable Messing
What could be more Canadian than skating in a red plaid shirt and jeans to the music of Alan Doyle? We mentioned Messing's many gala appearances. This program is a prime example of the joy and energy, the flashy footwork and backflips he brings to thrill his fans around the world.
We're thankful Messing has said that even though his competitive career is coming to a close, he's looking forward to continuing to perform on tours and in shows. Because we can all use a little more Messing in our lives.