Stephen Fisher/WCF
Jones & Laing to play for bronze at mixed doubles curling worlds
Updated April 28, 2023
Jennifer Jones and Brent Laing will play for the bronze medal at the World Mixed Doubles Curling Championship in Gangneung, South Korea.
They had their dreams of gold dashed by the United States in Friday's semifinal showdown, ending up on the wrong side of a 6-2 score. The American duo of Cory Thiesse and Korey Dropkin stole four points during the match — one in each of the first and sixth ends followed by two in the seventh end — to get the victory.
"They played very, very well," said Jones. "We didn't put as much pressure as we would have liked. And you know, it just started off with that steal. If I make that draw in the first end, maybe it changes the game a bit. But we're still really happy with our week, and we had fun out there. We'll see what we can do tomorrow morning."
Canada will now take on Norway's Martine Roenning and Mathias Braenden in the bronze medal game, which will take place at 9:00 p.m. ET on Friday night. Jones and Laing are looking to win Canada's fifth medal all-time at the mixed doubles worlds since they were first held in 2008. The U.S. will play Japan for the gold medal.
Jones & Laing earn semifinal bye at mixed doubles curling worlds
Jennifer Jones and Brent Laing are moving on to the playoff round at the World Mixed Doubles Curling Championship in Gangneung, South Korea.
That was confirmed following the second of their two wins on Wednesday, when they stole an 8-7 extra end victory against Hungary. On Thursday, they locked up first place in Group A, which gives them a bye directly into the semifinals.
Canada finished the preliminary round with a record of eight wins and one loss after a 7-6 victory over South Korea in their final round robin match. When combined with Estonia's surprising 8-6 loss to the Netherlands that dropped their record to 7-2, Jones and Laing secured top spot in the group, which means they avoid having to play a qualification playoff game.
"That kind of came out of nowhere," said Jones. "We just wanted to finish the round robin off strong, and obviously with a win, and we were quite content with second place. First place is just an added bonus."
Estonia is the only team that has defeated the Canadian couple this week, a 7-4 loss which came in Jones and Laing's third game of the tournament.
Scotland, with a 7-2 record, has also advanced to the playoffs from Group A. They will face the United States (7-2) in a qualification playoff game. The winner will move on to face Canada in the semifinals, which will take place at 5:00 a.m. ET on Friday. Japan (8-1) earned the semifinal bye from Group B. Norway (7-2) will take on Estonia in the other qualification playoff game.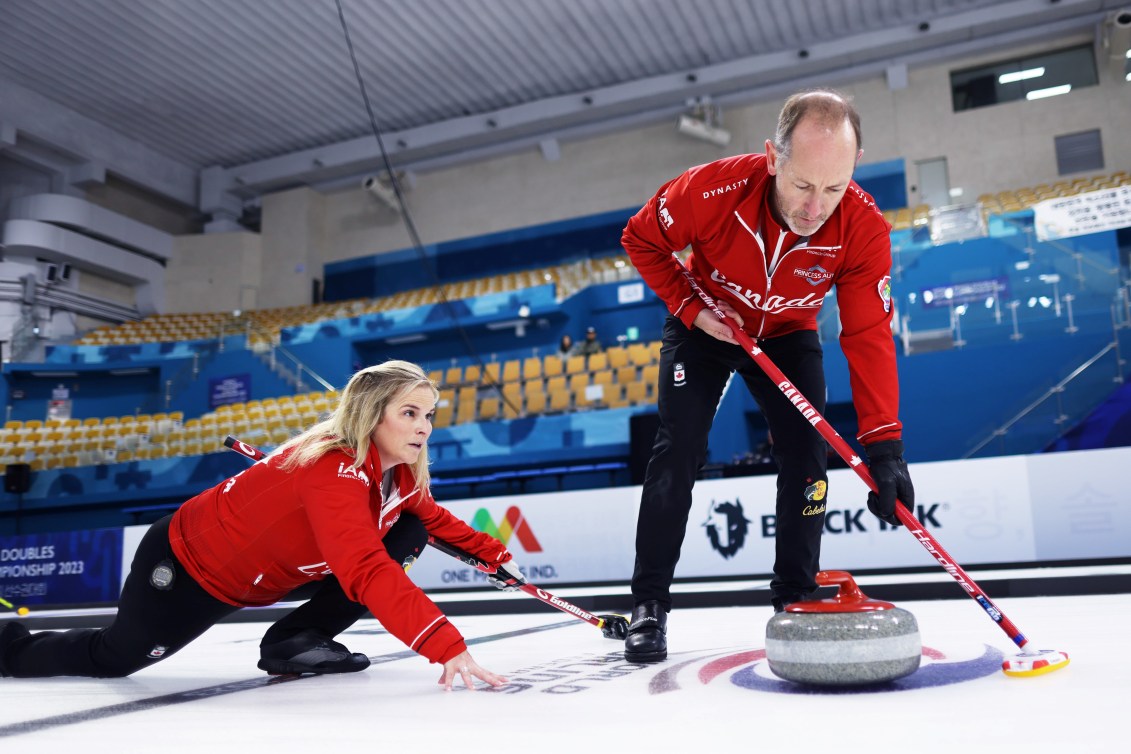 The Canadian husband-wife duo, who are competing at their first mixed doubles worlds, opened the tournament with an 8-4 victory over Scotland. Bruce Moat and Jennifer Dodds won the world title in 2021 and are looking to give Scotland a three-peat following last year's title capture by Eve Muirhead and Bobby Lammie.
Jones and Laing followed up with a 10-5 win over the Netherlands before dropping their match against Estonia's Marie Kaldvee and Harri Lill, who are playing in their sixth mixed doubles worlds together. The Canadians rebounded with an 8-4 win against Italy, who boast one half of the 2022 Olympic champion duo in Stefania Constantini.
Jones and Laing then rolled to 11-6 win against Australia and an 8-3 win over the Czech Republic. In their first win on Wednesday, they took down Denmark 8-2. But their match against Hungary, who have just one win and have been relegated to the B Division of the world championships in 2024, proved to be a challenge.
The Hungarians took a 7-5 lead after scoring three in the seventh end when they used their power play. With the hammer, the Canadians used their own power play in the eighth and looked to be in position to score three for the win. But back-to-back double takeouts by Hungary limited Jones and Laing to two points, sending the game into the extra end.
Without the hammer, Laing made a freeze to a pair of Hungarian stones which were buried behind a centre guard. Linda Joo had a chance for the win if she made a draw to a small piece of the button, but she was heavy on her throw, giving Canada the steal.
Starting with a deuce in the first end, Canada led the whole game against South Korea. Though the host team did try to come back in the second half, they couldn't catch up to Jones and Laing.
The bronze medal game will take place 9:00 p.m. ET Friday night, with the gold medal game at 1:00 a.m. ET Saturday morning.
Canada has won four medals at the World Mixed Doubles Curling Championship, most recently a silver in 2019 by Jocelyn Peterman and Brett Gallant. A gold in Gangneung would be Canada's first ever at the mixed doubles worlds.
A medal of any colour would be a nice addition to the Jones-Laing trophy case. Jones won Olympic gold with her women's team at Sochi 2014 and is a four-time world championship medallist. Laing is a three-time world champion in men's curling.