THE CANADIAN PRESS/Adrian Wyld
Park family ready to compete in the 'motherland' at Santiago 2023
For Team Canada, the taekwondo competition at the Pan American Games this fall will be a real family affair.
Of the nine Canadian athletes headed to Santiago 2023, three — Skylar Park, Tae-Ku Park and Braven Park — are siblings.
Their father, Jae, will be going with them as a coach. And they'll get to perform in front of family in Chile, their mother Andrea's country of birth.
"To do this as a family is just amazing," says Jae. "For me as a father, to have all three of my kids represent Canada at the Pan Am Games is a dream come true. It's been a goal, and it's reality right now. I'm very, very excited."
Skylar, 23, is the most experienced of the trio, having competed at Lima 2019 and Tokyo 2020. She won silver in the women's 57kg competition at the last Pan Am Games, a few months after she claimed a bronze medal at the 2019 World Taekwondo Championships. She went into her Olympic debut as the third seed in her weight class.
Despite an unexpected quarterfinal defeat, Skylar's first Olympic experience provided valuable lessons. Since then, she's worked with her team, a sports psychologist and, of course, her dad to solidify and strengthen her "mental game".
"My dad and I have grown together as athlete and coach. I've grown myself personally," she says. "I'm feeling in a good place. Things are starting to come together nicely at a good time."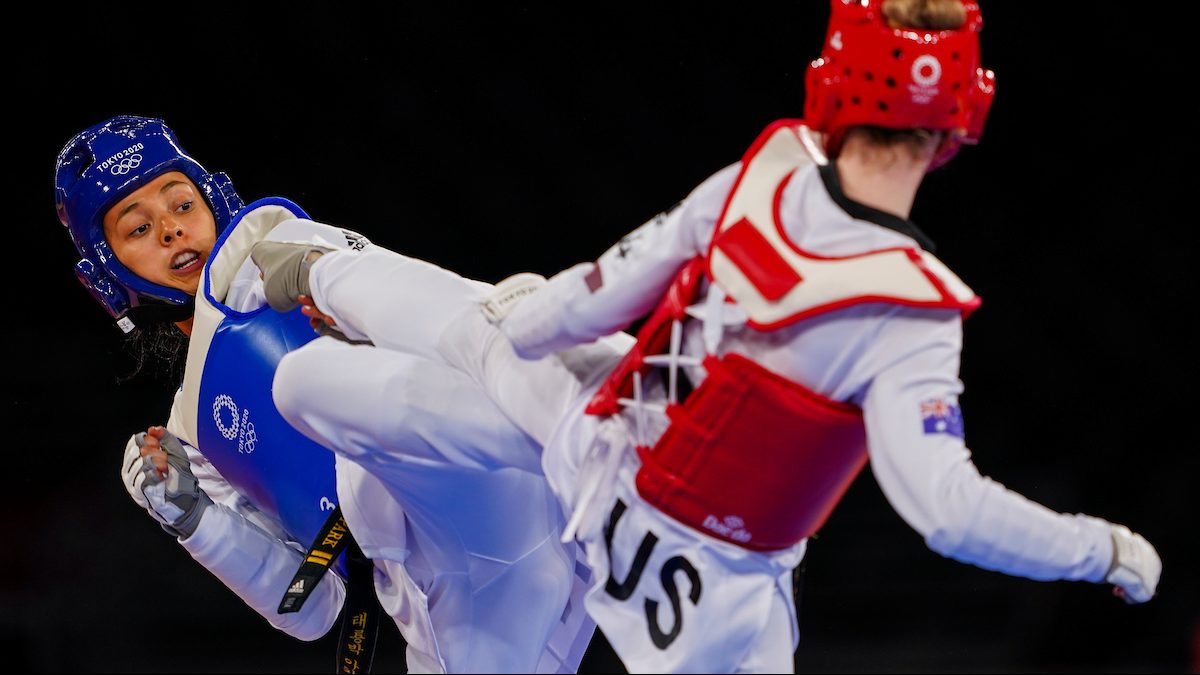 That experience was instructive not just for Skylar, but also her 22-year-old brother Tae-Ku. He was with Skylar as a training partner in Lima and Tokyo. But Santiago 2023 will be the first competitive multi-sport Games for both him and Braven.
"Experiencing that kind of environment in Tokyo with Skylar and seeing how that pressure and emotion can really affect your performance has taught me a lot," says Tae-Ku. "I still feel like I'm coming into my own and still have tons of room to grow."
And what has 20-year-old Braven learned from his siblings' experiences these past few years?
"As much as I get advice from them, I don't necessarily always listen to it, just because I'm the younger brother," he says with a laugh. "But I try to take what they say and I try to use it to help me grow, especially with them having more experience and more knowledge than me."
A family legacy in taekwondo
His siblings aren't the only relatives that Braven can draw inspiration from. Remarkably, there are 16 taekwondo black belts in the Park family, including aunts, uncles, cousins, and their paternal grandfather.
But Jae is keen to point out that his kids aren't simply cogs in the family taekwondo machine. They're all distinct individuals with their own strengths and weaknesses, as well as their own competitive fire.
"That's what I've been trying to tell my kids: this is your passion, this is your dream," he says. "Let's go chase it and make sure that is what fuels you above and beyond anything else."
Still, the significance of competing as a family at the Pan Am Games isn't lost on any of them. While they've previously competed in South Korea, Jae's country of birth, this will be their first time doing so in Chile — which Jae describes as "the motherland".
"We're super excited to get to compete as a family there," says Skylar. "Having family from Chile come down, having my grandparents come down and watch us as well, we're going to have our whole family there and it's just going to be really special."
Pushing each other to greater heights
But this isn't simply a family spectacle; it's a meaningful competition. And while Tae-Ku and Braven have served as Skylar's training partners in the past, this time is different.
Now, all three are active competitors looking to make their own marks on the big stage.
"This time, having them chasing this goal as well, as strongly as I am, I think it creates a different environment in training and allows us to push each other even harder," says Skylar.
Jae agrees. "It makes our training environment a lot more exciting, a lot more dynamic. The kids have been doing awesome and we're well prepared."
So, with everything coming together as it is, do all three kids have their eyes on the podium? Jae's answer is part proud coach, part proud father.
"Absolutely," he says. "We don't go into competitions to lose so really, at the end of the day, all three of them definitely have the potential to get on the podium. I have no problems in saying it."
Before they head south to Santiago in October, all three siblings will compete at the 2023 World Taekwondo Championships taking place May 29 to June 4 in Baku, Azerbaijan. Results from the major global event will count towards the world ranking list that provides one of the pathways to Olympic qualification for Paris 2024.