Oslo 1952
Team Canada Medal Count
1
0
1
Games Summary
VI Olympic Winter Games
These were the first edition of the Olympic Winter Games to be held in Scandinavia, the birthplace of numerous winter sport disciplines. The occasion was marked by the lighting of the Olympic flame in the hearth of the home of Sondre Norheim, the pioneer of modern skiing. It was then relayed by 94 skiers to Oslo, the first capital city to host the Winter Games, where the cauldron was lit by the grandson of polar explorer Fridtjof Nansen. The famed Holmenkollen ski jump was renovated and an outdoor standing room stadium area allowed 130,000 spectators to take in the competition.
Canada was represented in ice hockey by the Edmonton Mercurys who won their first seven games before ending the tournament with a 3-3 tie against the United States. That record was enough to give Canada the gold medal, the last Olympic gold the country would win in ice hockey for 50 years. Canada's all-time record in Olympic ice hockey grew to 37 wins, 1 loss and 3 ties with 403 goals scored and only 34 goals against.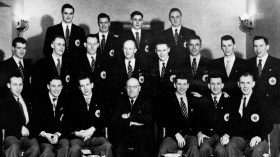 Canada also won a bronze medal in speed skating as Gordon Audley finished third in the 500m. That was the only event that wasn't won by Norwegian Hjalmar Andersen, who won gold in the 1500m, 5000m, and 10,000m.
These were the first Games at which women competed in cross-country skiing. These were also the first Olympic Games to be opened by a woman, as Princess Ragnhild did the honour in place of her father Crown Prince Olav and grandfather King Haakon VII who were both attending the funeral of King George VI in London.
Canadian Medallists
| Event | Athlete | Finish | Sport |
| --- | --- | --- | --- |
| Men | George Abel, John (Jack) Davies, Billie Dawe, Robert Dickson, Donald Gauf, William Gibson, Ralph Hansch, Robert Meyers, David Miller, Eric Paterson, Thomas Pollock, Allan Purvis, Gordon Robertson, Louis Secco, Francis Sullivan, Robert Watt | Gold | Ice Hockey |
| 500m - Men | Gordon Audley | Bronze | Speed Skating - Long Track |
Overall Medal Count
| Rank | Country | Gold | Silver | Bronze | Total |
| --- | --- | --- | --- | --- | --- |
| 1 | Norway | 7 | 3 | 6 | 16 |
| 2 | United States | 4 | 6 | 1 | 11 |
| 3 | Finland | 3 | 4 | 2 | 9 |
| 4 | Austria | 2 | 4 | 2 | 8 |
| 5 | Germnay | 3 | 2 | 2 | 7 |
| 6 | Sweden | - | - | 4 | 4 |
| 7 | Netherlands | - | 3 | - | 3 |
| T8 | Canada | 1 | - | 1 | 2 |
| T8 | Italy | 1 | - | 1 | 2 |
| 10 | Switzerland | - | - | 2 | 2 |
| 11 | Great Britain | 1 | - | - | 1 |
| T12 | France | - | - | 1 | 1 |
| T12 | Hungary | - | - | 1 | 1 |