Equestrian – Jumping
Team Canada Medal Count
2
2
1
Sport Overview
Equestrian – Jumping at Paris 2024
Venue: Château de Versailles
Competition Dates: August 2-3, 5-6 (Days 7-8, 10-11)
Events: 2 (2 mixed)
Trivia: Test your knowledge!
Arguably the best known of the equestrian disciplines, jumping (sometimes called show jumping) features highly technical courses with a series of 12-15 obstacles that vary in height and width, including water jumps, simulated stone walls, parallel rails and triple bars.
Riders and their horses receive penalties for faults made during each round. Four penalties are assessed if an obstacle is knocked down while jumping or if a water jump is not fully cleared or for the first time a horse displays disobedience (such as refusing to jump). A second disobedience results in elimination, as does a fall by a horse or athlete.
Riders must complete the course in a set time or receive one penalty per second they go over. Riders want to finish with as few penalties as possible.
The team and individual events are run separately, each starting with a Qualifier round followed by a Final round. The team event is held first, followed by the individual event. Penalties do not carry over from the Qualifiers to the Finals. If there are any ties for podium placements in either the team or individual events, they are broken by a jump-off.
Canada's Olympic History (Pre-Paris 2024)
Two of Canada's five Olympic jumping medals were won at Beijing 2008. Eric Lamaze became the first Canadian equestrian to win individual Olympic gold when he defeated Sweden's Rolf-Göran Bengtsson in a jump-off. That came after he had joined with Ian Millar, Jill Henselwood and Mac Cone to win silver in the team event. Millar stood on an Olympic podium for the first time at age 61 in his ninth Olympic appearance.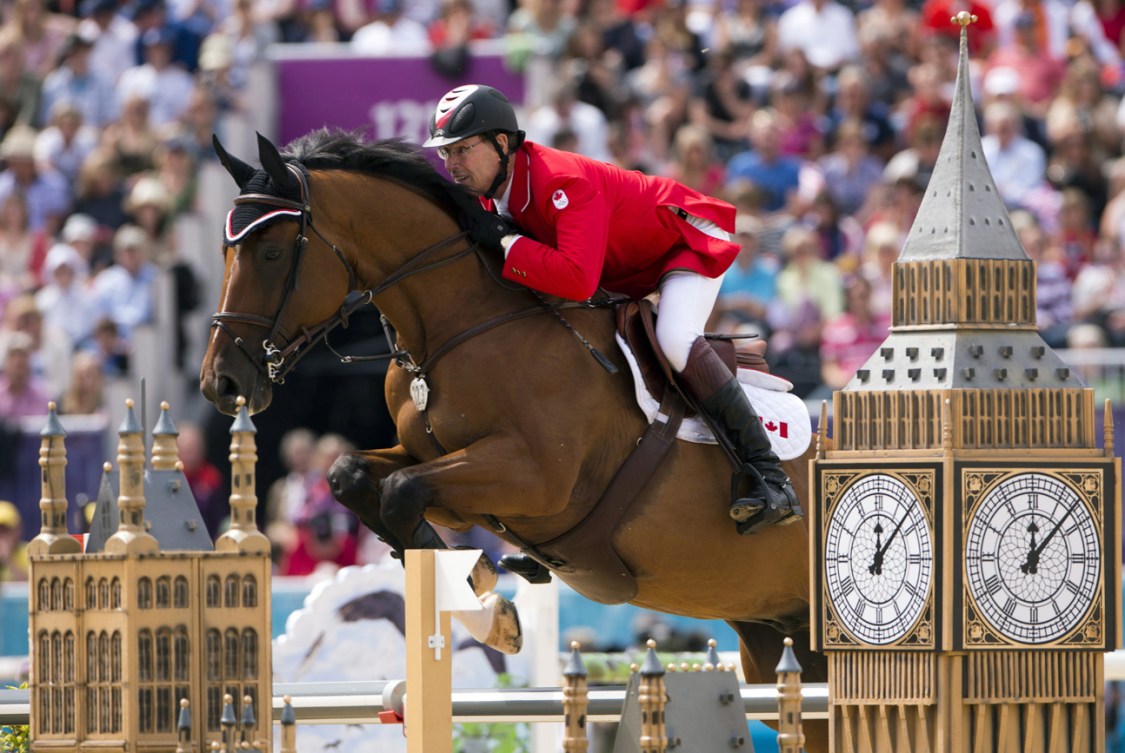 Millar went on to set an all-time Olympic record with his 10th appearance at London 2012.  Lamaze would then go on to earn his place as Canada's most decorated Olympic equestrian by winning a bronze medal in the individual jumping event at Rio 2016, which was decided by a six-way jump off.
Canada's first Olympic equestrian gold medal was won in team jumping at Mexico City 1968, by the trio of James Elder, James Day and Thomas Gayford. That was Elder's second career Olympic medal, having won bronze in team eventing in 1956. Michel Vaillancourt was Canada's first individual Olympic equestrian medallist with his silver at Montreal 1976.
Olympic Jumping History
Jumping was first included on the Olympic program at Paris 1900. That was a one-off appearance until equestrian made a permanent return at Stockholm 1912 where a team jumping event was included alongside the individual event.
For the first few decades only male military officers were permitted to compete in Olympic equestrian events. At Helsinki 1952, equestrian events became open to civilians. Women first competed in jumping at the Olympic Games in 1956. That year, the equestrian events took place in Stockholm in June rather than with the rest of the Olympic sports in Melbourne in November because of strict Australian quarantine laws for horses.
Canadian Medallists
| Event | Athlete | Finish | Games |
| --- | --- | --- | --- |
| Team Jumping | James Elder James Day Thomas Gayford | Gold | Mexico City, 1968 |
| Individual Jumping | Eric Lamaze | Gold | Beijing 2008 |
| Individual Jumping | Michel Vaillancourt | Silver | Montreal 1976 |
| Team Jumping | Eric Lamaze Jill Henselwood Ian Millar Mac Cone | Silver | Beijing 2008 |
| Individual Jumping | Eric Lamaze | Bronze | Rio 2016 |
Teams