Gymnastics – Trampoline
Team Canada Medal Count
2
3
2
Sport Overview
Trampoline at Paris 2024
Venue: Bercy Arena
Competition Dates: August 2 (Day 7)
Events: 2 (1 men, 1 women)
Trivia: Test your knowledge!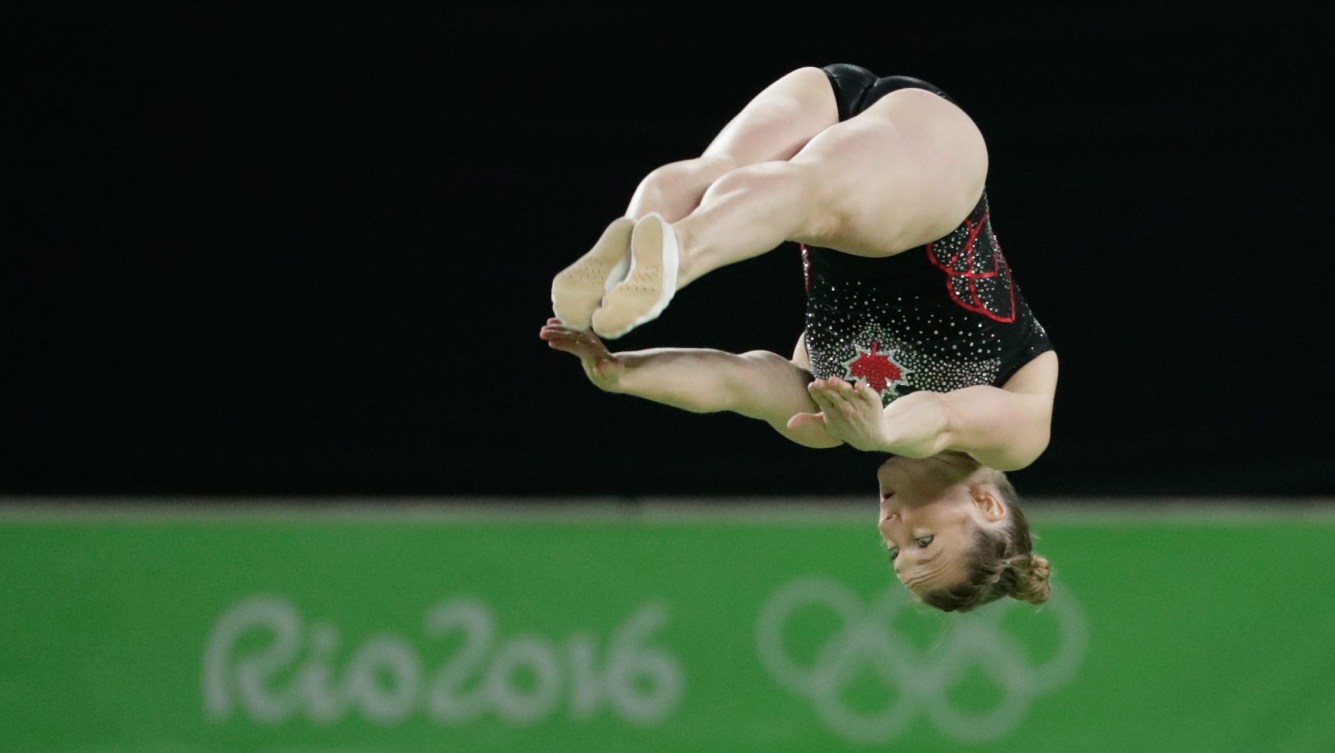 Olympic trampoline competition features individual events for men and women. Both begin with a qualifying round in which each gymnast performs two routines, each with 10 elements. Only their highest scoring routine will count towards determining the top eight competitors who advance to the final round where they perform one routine of 10 elements.
Trampoline routines are planned to demonstrate a variety of forward and backward twisting and non-twisting elements. In all positions, the feet and legs should be kept together with feet and toes pointed.
The total score of each routine is the sum of four types of marks: D — the difficulty of the elements performed; E — the execution of those elements; T — the time of flight (time the athlete spends in the air); and H — the horizontal displacement of the athlete.
Two judges score the difficulty, starting at zero and adding to it as elements are performed, counting the number of somersaults and twists each one includes. Six judges score the execution, starting at 10 points and deducting up to 0.5 points for errors on each element. An electronic system evaluates the time of the flight and the horizontal displacement on each element.
Canada's Olympic Trampoline History (Pre-Paris 2024)
Since the sport's debut at Sydney 2000, Canada has won seven Olympic medals, highlighted by having a woman on the podium at the first five Games. Rosie MacLennan is Canada's only Olympic gold medallist in trampoline, taking the title at London 2012 and again at Rio 2016. She made history at the latter, becoming the first trampolinist to win back-to-back Olympic gold medals. Her victory also made her the first Canadian woman to win two gold medals in an individual event at the summer Games and the first Canadian athlete to successfully defend an Olympic title at the summer Games.
Karen Cockburn is the most decorated female trampolinist in the world with her three Olympic medals, two silver and one bronze. Her future husband Mathieu Turgeon also reached the podium in Sydney. Employing his "go big or go home philosophy", Jason Burnett worked his way to a silver medal finish at Beijing 2008.
Canadian Medallists
| Event | Athlete | Finish | Games |
| --- | --- | --- | --- |
| Individual - Women | Rosannagh MacLennan | Gold | 2012 London |
| Individual - Women | Rosannagh MacLennan | Gold | 2016 Rio |
| Individual - Women | Karen Cockburn | Silver | 2004 Athens |
| Individual - Women | Karen Cockburn | Silver | 2008 Beijing |
| Individual - Men | Jason Burnett | Silver | 2008 Beijing |
| Individual - Women | Karen Cockburn | Bronze | 2000 Sydney |
| Individual - Men | Mathieu Turgeon | Bronze | 2000 Sydney |
Teams