Team Canada Olympic Day Grant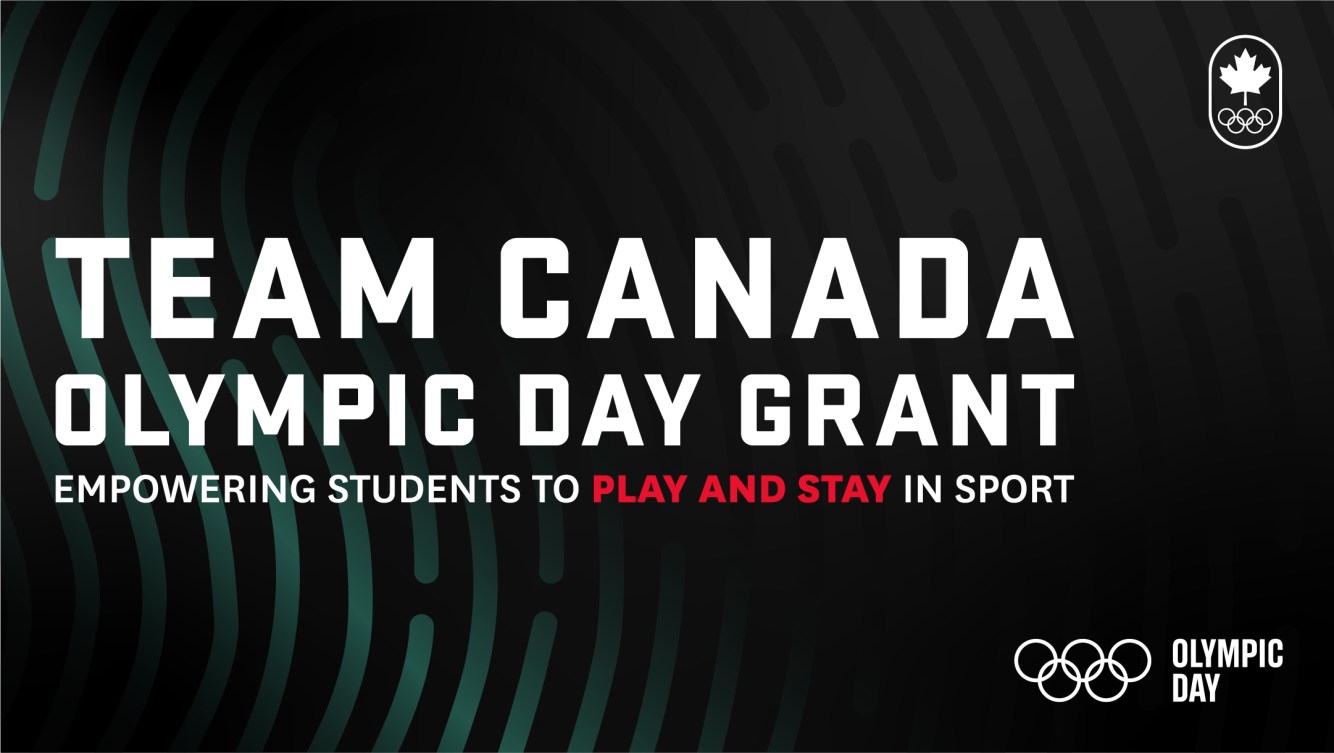 In celebration of Olympic Day, recognized annually by the IOC on June 23, Team Canada opened applications for the Team Canada Olympic Day Grant for Canadian schools with the goal of empowering students to play and stay in sport.
Sport brings communities together, teaches us leadership and fair play, and fuels our health and well-being. But often there are barriers that mean that young Canadians either "can't" or "won't'" participate in sport. We believe that we play a role in ensuring access and a quality experience in sport at all levels.
The Team Canada Olympic Day Grant provides funding to increase access to sport in schools while also giving athletes the opportunity to inspire students through their stories.
A total of 6 grants of $5,000 were made available for Canadian schools across the country to help students play and stay in sport. Successful schools also received a 90-minute Team Canada athlete speaking engagement to inspire students to participate in sport and develop the skills to thrive and succeed in their daily lives.
The 2023 recipients and their winning programs are:
Bert Church High School (Airdrie, Alta.) – Empowering the school's women's lacrosse team and educating on Indigenous culture.
Centre Wellington District High School (Fergus, Ont.) – Empowering girls and gender-diverse students through the introduction of powerlifting and Olympic weightlifting programs.
École Nuvviti (Ivujivik, Que.) – Promoting a healthy active lifestyle by increasing access to sport while providing the necessities to participate (i.e., healthy food and drink).
École Parkside School (Altona, Man.) – Improving outdoor infrastructure to increase school and community access to outdoor volleyball.
École secondaire des Sources (Montreal, Que.) – Increasing access to an afterschool triathlon program for students.
Sussex Regional High School (Sussex, N.B.) – Developing a bike repair program and offering specialized biking opportunities for students with disabilities with physical therapists.
2023 Team Canada Olympic Day Grant Information
The applicant must be an individual who works for a provincially registered school/board/division in Canada including:
– Elementary, intermediate, or secondary publicly funded schools
– First nation, metis, and Inuit elementary, intermediate, secondary schools and educational programs
– Educational institutions in Canada
Please note: schools are permitted to submit more than one application, however in order to distribute funds equitably our ability to award multiple grants to the same school is limited.
1. The application must demonstrate how the applicant will use the funding to empower students to engage in at least one of the four Olympic Day pillars:
Move: encourage students to participate in sport or physical activity.
Learn: promote the role of sport in society and the importance of the Olympic Values.
Discover: provide students with the opportunity to discover new sports.
Together for a better world: encourage students to contribute to a better world through sport through sustainability, inclusion, and peace.
2. Funding must be used before May 1st, 2024.
3. Applicant will work with the COC to get all rights and permissions needed for COC to record and share athlete speaking engagement event at school on social channels.
4. Agreement to complete and submit to COC two impact reports, December 2023 (interim), and May 2024 (final).
Interim report will include budgetary progress and key statistics including reach, impact and qualitative feedback.
Final report will include longer term community impact data, and more extensive qualitative feedback.
Registration fees (e.g., Ski-lift tickets, swimming pool access passes, recreation facility or gym passes, professional development opportunities, expeditions)
Programming costs (e.g., Offering after school sport opportunities)
Staffing costs (e.g., Contract for community part-time programming staff, release time for staff)
Purchase of equipment
Rental of space or transportation to nearby or adjacent venue
Other expenses as deemed appropriate to allow sport to be more safe, inclusive, and barrier-free at school
Application period: March 7 – April 4, 2023
Application deadline: April 4, 2023 – 23:59pm EST
Application revision and school notification: April 13 – 28, 2023
Team Canada speaking engagement at school: May 22 – June 13, 2023
Report #1: December 2023
Report #2: May 2024
Terms and Conditions available here.
Applications are currently closed. They will reopen in the Fall of 2023, please check back then.
WHAT IS OLYMPIC DAY?
Recognized annually on June 23, Olympic Day is a worldwide celebration of the Olympic Movement. Based on the pillars of "Move, learn, discover – Together for a better world", Olympic Day is a day to promote a healthy and active lifestyle.
CONTACT US
If you have any questions regarding this program, you can always contact the Olympic Education team at cosp@olympic.ca.