Rio 2016 Fun Facts: All in the family for Team Canada
Heading to an Olympic Games may be considered the biggest dream for most athletes.
For some of Team Canada's athletes, Rio 2016 will be even more exciting, since they will share a bond with a family member who is also representing the maple leaf on the Olympic stage in Brazil. 
RELATED: Team Canada provincial breakdown
Among Canada's 314 squad members, there are three sets of siblings and two sets of cousins. Some of them will be teammates and work together to bring home Olympic medals. Others will compete in different sports and will have the opportunity to watch their relatives in action. Here they are:
Katherine and Michelle Plouffe
RELATED: Women's basketball team named for Rio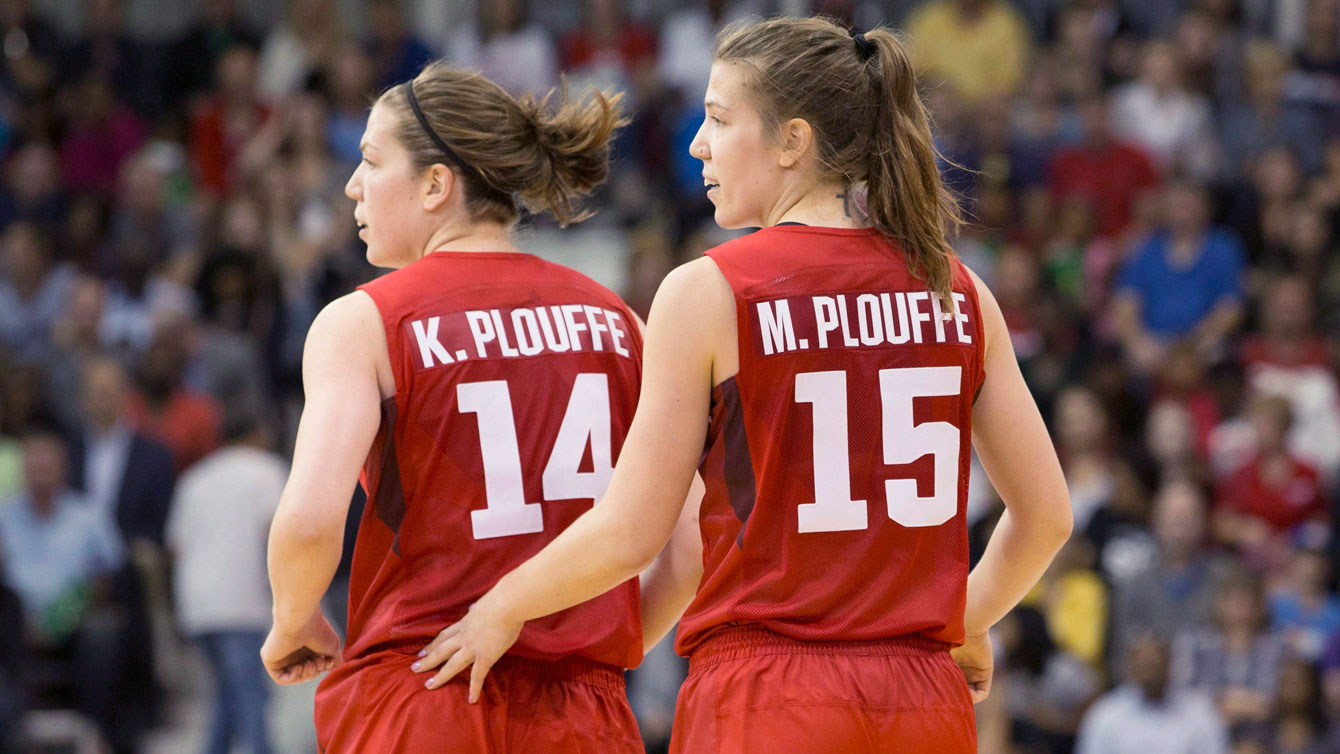 The twins Katherine and Michelle Plouffe have an obviously strong connection from birth. Such a special relationship may help Team Canada in the courts during the basketball competition, from August 6 to 20.  At London 2012, Canada finished 8th in the women's competition.
Jacob and Graeme Saunders
RELATED: Nine Canadians set to sail in Rio
The brothers Jacob and Graeme Saunders began sailing together in the fall of 2009. Almost seven years later, they will make another debut together, this time in the Rio 2016 sailing competition. The duo will represent Team Canada in the 470 event, from August 10 to 17, at Marina da Glória.
Ashley Steacy and Heather Steacy
RELATED: Learn more about Ashley Steacy
RELATED: Athletics Canada nominates largest squad for Rio
Representing Canada for the second time in the Olympic Games' athletics competition, the hammer thrower Heather Steacy will have the company of her sister-in-law Ashley Steacy at Rio 2016. Ashley's Olympic debut will be also the first time rugby sevens will be played in the Games. Women's rugby will be held from August 6 to 8, while women's hammer throw event will take place from August 12 to 15.
Conlin McCabe and Martha McCabe
RELATED: Rowing Canada names athletes for Rio
Rio 2016 will be the second time to the Olympic Games for the cousins Conlin McCabe and Martha McCabe. Member of the silver medal-winning rowing eight at London 2012, Conlin will be part of the men's fours in Rio, from August 8 to 12.
RELATED: Team Canada swimming selection for Rio
RELATED: Swimming terms in Brazilian Portuguese
Martha, who finished 5th in the 200m breaststroke four years ago, will try to improve her mark in the same event, from August 9 to 10.
Ben Saxton and Graham Vigrass
RELATED: Learn more about Ben Saxton
At Rio 2016, Ben Saxton and Graham Vigrass will be heading to the first Olympic Games of their careers. The cousins share a passion for volleyball, but one of them plays in the sand and the other indoor. 
RELATED: Volleyball terms in Brazilian Portuguese
Saxton will represent Canada with teammate Chaim Schalk at the beach volleyball tournament, along with three other Canadian teams, from August 6 to 18. One day after the start of beach action, Vigrass and Team Canada men's volleyball will start their pursuit of an Olympic medal, at Maracanãzinho.
RELATED: Canada nominates volleyball team for Rio 2016
RELATED: Beach volleyball to gets set for volleyball action