Team Canada's men's volleyball squad set for Tokyo 2020
For the first time ever, Canada will be competing in back-to-back men's Olympic volleyball tournaments.
The 12-man roster for Tokyo 2020 includes seven Olympians returning from Rio 2016 where Canada made it to the quarterfinals in their first Olympic appearance in 24 years.
The team qualified in January 2020 on home court in Vancouver after going undefeated to win the NORCECA Men's Tokyo Qualification Tournament. Canada was the only undefeated team at the four-country event. Most recently, they competed at the month-long Volleyball Nations League which they finished with five straight wins to finish eighth overall.
The team will be led by captain Gord Perrin, back for his second Olympic Games. In Rio, he helped Canada defeat Italy and the United States in the preliminary round — teams that would go on to win silver and bronze, respectively. In 2015, Perrin helped Canada win its first NORCECA Continental Championships, which was followed by bronze medals in 2017 and 2019.
"It's an honour as always to represent Canada on the world stage, and of course the Olympic Games hit different," said Perrin. "We've spent a lot of time building this team, and there are a lot of people who aren't on the roster of coaches and players that have contributed greatly. Since we competed in Rio, we've gained some valuable experience as well as added some young dynamic players to the roster. I believe we are going to Tokyo to be on the podium."
Nick Hoag will also make his second Olympic appearance. At the 2015 NORCECA Continental Championship, Hoag was named Best Server and Tournament MVP on route to Canada's gold medal. He also won bronze at the 2015 Pan Am Games in Toronto alongside Perrin. In 2018, Hoag was named captain for the FIVB World Cup, where he led Canada to a top-10 finish.
There will be a family connection on the team as Hoag's father Glenn, who was a member of Canada's best-ever fourth-place team at Los Angeles 1984, is the national team's head coach.
The other returning Olympians include Blair Bann, Jay Blankenau, TJ Sanders, Steven Marshall and Graham Vigrass. Bann was a standout at last year's NORCECA Olympic qualifier, where he was named tournament MVP and Best Receiver.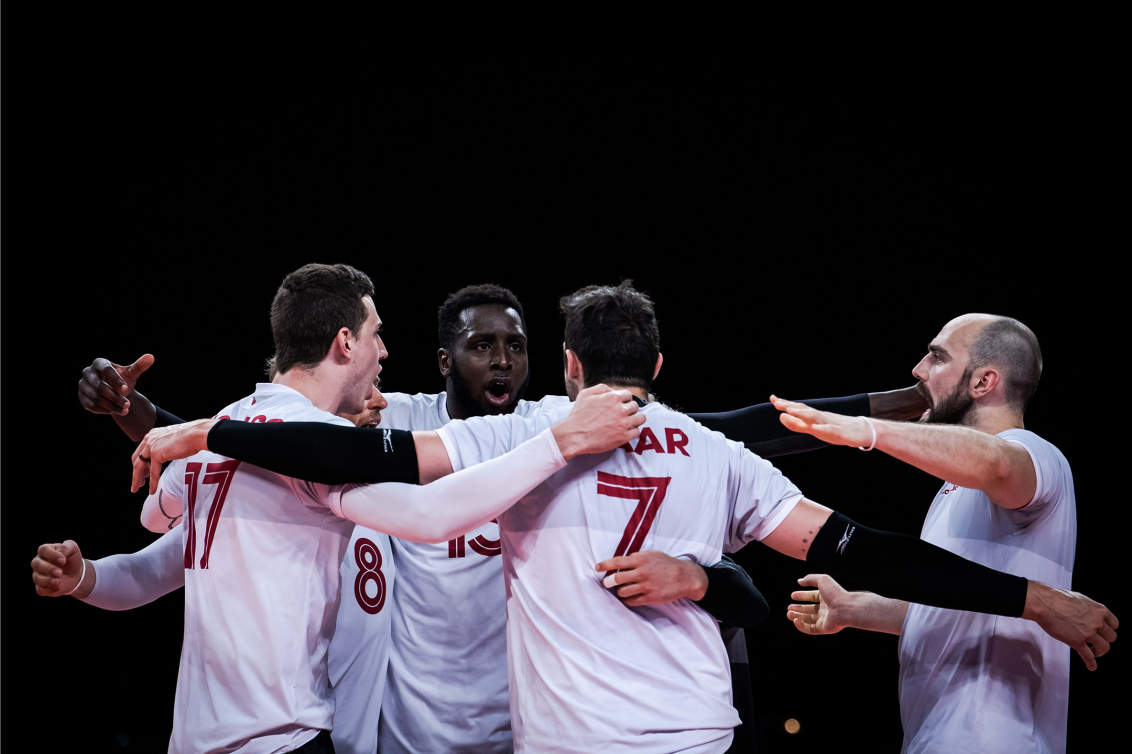 Stephen Maar, Ryan Sclater, Arthur Szwarc, Lucas Van Berkel and Sharone Vernon-Evans will all make their Olympic debuts in Tokyo. The team is currently in training camp in Turkey before moving to Shiwa, Japan for their final Olympic preparations.
Team Canada will play in Pool A with host country Japan, Poland, Italy, Iran and Venezuela for the preliminary round. Their first match will take place on Day 1 of the Games, July 24, against Italy. The preliminary round will finish on August 1 with the playoffs beginning August 3. All volleyball matches at Tokyo 2020 will take place at the Ariake Arena, with competition continuing through August 7.
Team Canada Volleyball Athletes at Tokyo 2020:
Blair Bann (Edmonton, AB)
Jay Blankenau (Sherwood Park, AB)
Nicholas Hoag (Sherbrooke, QC)
Stephen Maar (Aurora, ON)
Steven Marshall (Abbotsford, BC)
Gordon Perrin (captain) (Creston, BC)
TJ Sanders (London, ON)
Ryan Sclater (Port Coquitlam, BC)
Arthur Szwarc (Toronto, ON)
Lucas Van Berkel (Edmonton, AB)
Sharone Vernon-Evans (Scarborough, ON)
Graham Vigrass (Calgary, AB)