Team Canada at Beijing 2022: Day 10
A Canadian pilot drove to the podium in the Olympic debut of women's monobob, Team Canada gets a shot at gold in women's hockey, and five Canadians earn advancement into snowboard big air finals.
Here's what you might have missed on Day 10.
Beijing 2022 Competition Schedule and Results

Bobsleigh
Christine de Bruin won bronze to stand on the first ever Olympic podium in the women's monobob event. She finished the four runs with a total time of 4:21.03. Cynthia Appiah moved up on the second day to finish eighth overall in 4:23.04.
READ: Monobob bronze for de Bruin at Beijing 2022
READ: Cynthia Appiah: A desire to be not just the best, but also the best representation
The two-man event got underway with the first two runs in that event. Reigning co-Olympic champion Justin Kripps had a tough start and is in 10th place with brakeman Cam Stones after the first day, 0.37 of a second out of a podium position. Christopher Spring and Mike Evelyn are the top Canadian sled in eighth place. They sit a quarter of a second out of third place. Olympic rookie pilot Taylor Austin is in 20th place with his brakeman Daniel Sunderland.
Ice Hockey
Team Canada will play for women's hockey gold following a 10-3 semifinal victory over Switzerland. Captain Marie-Philip Poulin led the way for Canada, scoring twice, while eight other players connected for goals. Brianne Jenner scored her ninth of the tournament, tying the record for most goals scored in a single women's Olympic tournament. Canada will play the United States in the gold medal match, which is scheduled for Wednesday at 11:10 p.m. ET.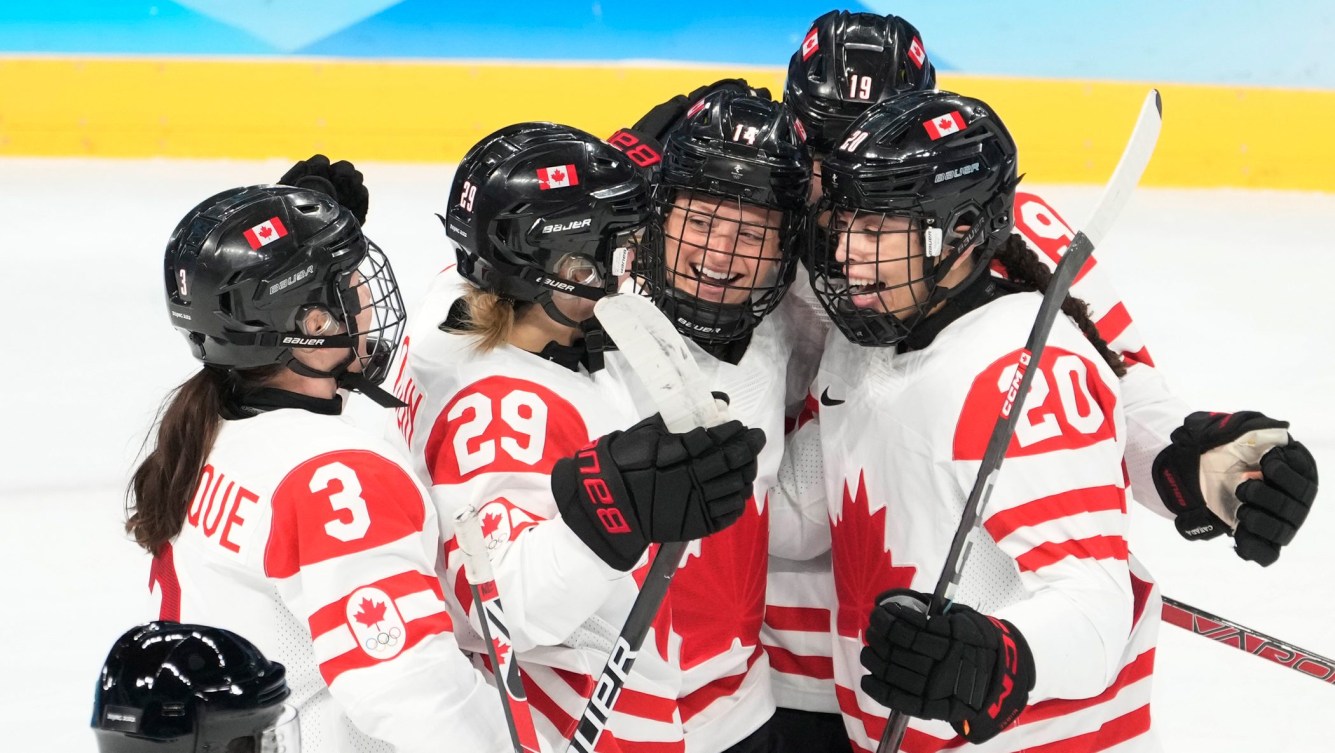 READ: Team Canada to play for Beijing 2022 women's hockey gold
Freestyle Skiing
Marion Thénault had an impressive performance in her Olympic debut, finishing seventh in the women's aerials event. She was just one spot shy of advancing to the super final after sticking her back double full full (triple twisting double flip with two twists on the first flip) and scoring 91.29 points in the first round of the final. Naomy Boudreau-Guertin and Flavie Aumond finished 18th and 19th, respectively, after not advancing out of the qualification round.
Olivia Asselin has advanced to the final of women's ski slopestyle after placing 11th in qualifying. Megan Oldham just missed out on a spot in the 12-woman final, finishing 13th.
Figure Skating
Piper Gilles and Paul Poirier had an unfortunate slip on one of their lifts in the free dance and ended up placing seventh overall in the ice dance event with a total score of 204.78. Laurence Fournier-Beaudry and Nikolaj Soerensen were close behind, finishing with 192.35 points for ninth place, while Marjorie Lajoie and Zachary Lagha maintained their 13th place standing from the rhythm dance with a total of 181.02 in their Olympic debut.
READ: Gilles & Poirier resilient together after disappointment in free dance
Snowboard
Reigning big air world champion Laurie Blouin qualified for the women's final in fourth place (156.25 points). She will be joined by Jasmine Baird in the 12-woman final after Baird finished in 10th place (129.50 points). Brooke Voigt did not advance after finishing in 21st place with 96.00 points.
Max Parrot, Mark McMorris, and Darcy Sharpe all booked their tickets into the men's big air final. Parrot was the top qualifier with 164.75 points while McMorris qualified in eighth place. Sharpe secured the 12th and final qualifying spot with 142.00 points. Sébastien Toutant will not advance after finishing in 26th place.
READ: Five Canadians advance to snowboard big air finals at Beijing 2022
Curling
Team Jennifer Jones got back in the win column, ending their three-match losing streak with an 11-5 win over the ROC. They followed up with a 7-3 win over Great Britain to get their record to 3-3 and sit in three-way tie for fifth place. After their bounce back win against the United States, Team Brad Gushue kept the good times rolling against Italy, coming away with a 7-3 victory to improve their record to 4-2 and sit in third place in the standings.
READ: Patience prevails as Team Gushue scores late to beat Italy
READ: Team Canada steals way to crucial victory in women's curling