Team Canada at Beijing 2022: Day 11
A gold medal and Olympic record for the women's team pursuit squad, a second medal in Beijing for a Canadian snowboard star, and Team Canada aims to defeat the host nation for a second straight game to advance in the men's hockey playoffs.
Here's what you might have missed on Day 11.
Beijing 2022 Competition Schedule and Results

Long Track Speed Skating
Ivanie Blondin, Valérie Maltais, and Isabelle Weidemann won Canada's first ever Olympic gold medal in the women's team pursuit. After getting past the reigning world champions from the Netherlands in their semifinal, they defeated the reigning Olympic champions from Japan in the final, setting an Olympic record of 2:53.44 in the process.
READ: Blondin, Maltais, Weidemann win team pursuit gold at Beijing 2022
Jordan Belchos, Ted-Jan Bloemen, and Tyson Langelaar raced in the C final of the men's team pursuit. They recorded a time of 3:40.39 to defeat South Korea by more than 13 seconds to finish fifth overall.
Snowboard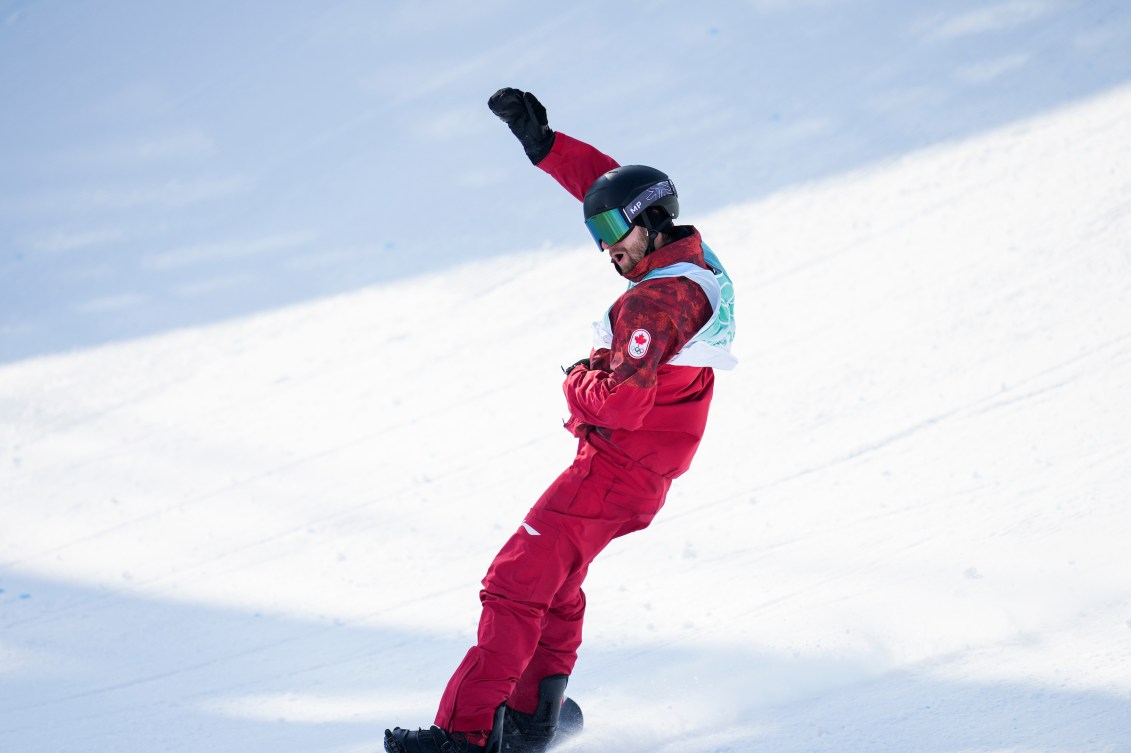 Max Parrot won his second medal of Beijing 2022, taking bronze in the men's big air event. His best-two-of-three runs total score of 170.25 put him on the podium behind China's 17-year-old phenom Su Yiming (182.50) and Norwegian Mons Roisland (171.75). Mark McMorris and Darcy Sharpe were each only able to successfully land one trick, finishing 10th and 12th, respectively.
READ: Parrot's strategic adjustment yields bronze in wild big air final
In the women's big air final, Jasmine Baird was the top Canadian in seventh place with a total score of 130.00 points. Laurie Blouin had one of the best tricks of the day for her second run, but was unable to land another cleanly and finished eighth.
Ice Hockey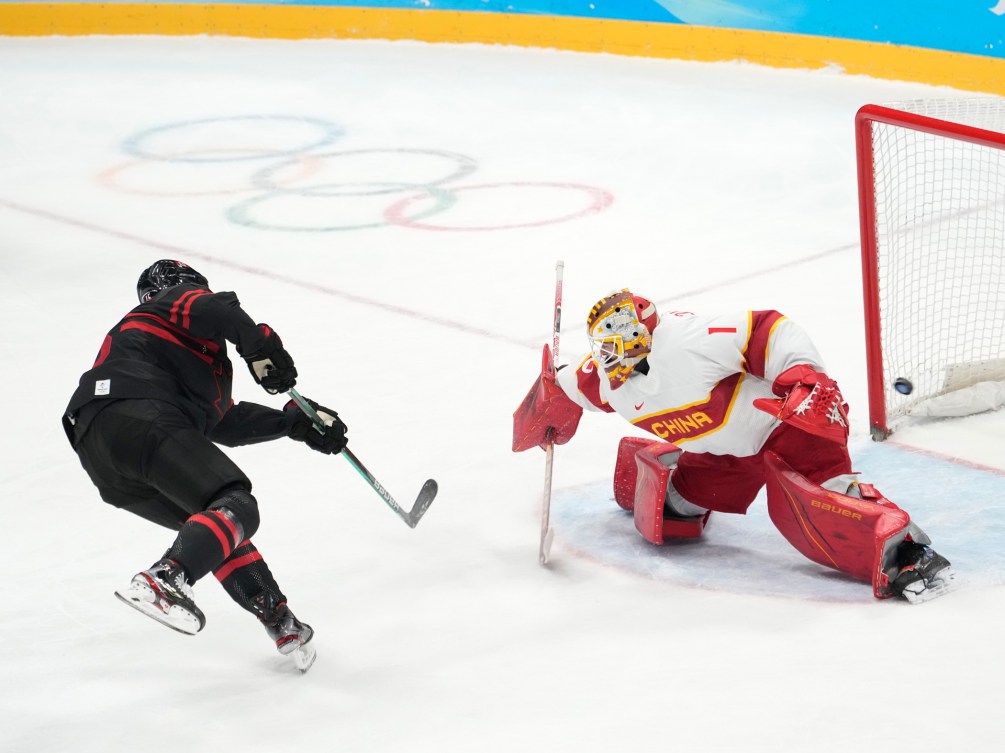 Team Canada earned a spot in the men's hockey quarterfinals with a 7-2 victory over China. Adam Tambellini recorded two goals and three assists to lead Canada to the win. Jordan Weal also scored a pair of goals while Eric O'Dell, Eric Staal and Jack McBain added solo markers. Canada, now 3-1-0 in Beijing, will face Sweden in quarterfinal play on Wednesday.
READ: Canada defeats China to earn Beijing 2022 men's hockey quarterfinal spot
Biathlon
Adam Runnalls, Christian Gow, Jules Burnotte and Scott Gow finished sixth in the men's 4×7.5km relay. That is Canada's best ever Olympic result in the event.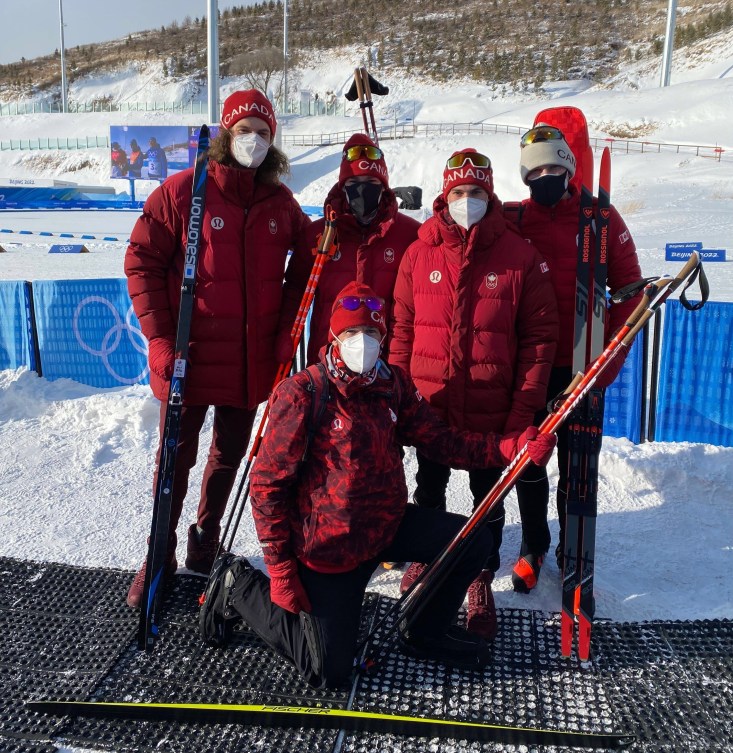 Bobsleigh
Christopher Spring and Mike Evelyn were the top Canadian sled in the two-man event. They finished in seventh place, three spots ahead of Justin Kripps and Cam Stones. Taylor Austin and Daniel Sunderland made it to the final run and finished 20th overall in their Olympic debuts.
Freestyle Skiing
Olivia Asselin started the 12-woman final for ski slopestyle, but withdrew after the first of her three runs. The 17-year-old cited a flare up of a knee injury combined with mental fatigue as the reason.
Max Moffatt is the lone Canadian to advance to the final of the men's ski slopestyle event. He finished 11th in qualifying with a best-of-two run score of 74.06.
"It was a bit stressful to get in," said Moffatt. "I was kind of sitting near the bubble at the end and there's a lot of heavy hitters to go so the last few drops are super nerve wracking, but I'm so hyped on how I skied and yeah, I can't believe I'm gonna be in there tomorrow with the boys. Hyped."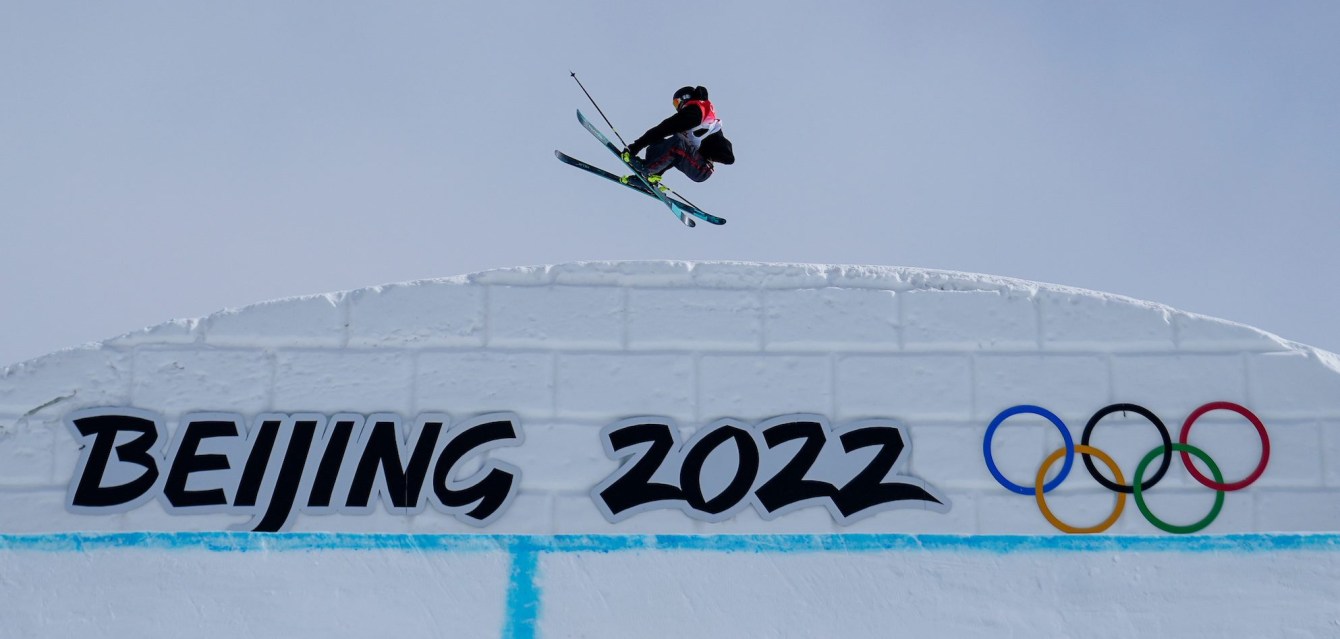 Édouard Therriault just missed out on advancing to the 12-man final by one spot. Evan McEachran placed 24th while Teal Harle was 26th.
Miha Fontaine was the top Canadian in men's aerials qualification as he just missed out on advancing to the 12-man final by one spot. Émile Nadeau placed 17th while Lewis Irving finished 23rd.
Alpine Skiing
Marie-Michèle Gagnon finished in a tie for eighth in the women's downhill, crossing the line in 1:33.45. That is her career best Olympic result in any event. Roni Remme finished 24th.
Curling
Team Gushue defeated China 10-8 to win their third straight game to bring their record 5-2 record. But then they dropped a 7-6 game to the ROC in extra ends. At 5-3, they sit in third place in the standings as they look to lock up one of four semifinal spots. They'll need to win their final round robin game against Great Britain.
READ: Gushue survives tough battle for key Team Canada victory
Figure Skating
After her great performances in the team event, Madeline Schizas competed in the women's short program. She had some trouble with her opening triple lutz and was unable to add on her planned triple toe. She instead added a double toe onto her triple loop to get the required jump combination in. She earned 60.53 points in the short program and will advance to the free skate in 20th place.