Team Canada at Beijing 2022: Day 14
Team Canada grinds their way back onto the men's curling podium, a shared podium in women's ski halfpipe is an Olympic dream fulfilled, and Canada's speed skating sprint star made the most of his second chance to win an Olympic medal.
Here's what you might have missed on Day 14 at Beijing 2022.
Beijing 2022 Competiton Schedule and Results
Curling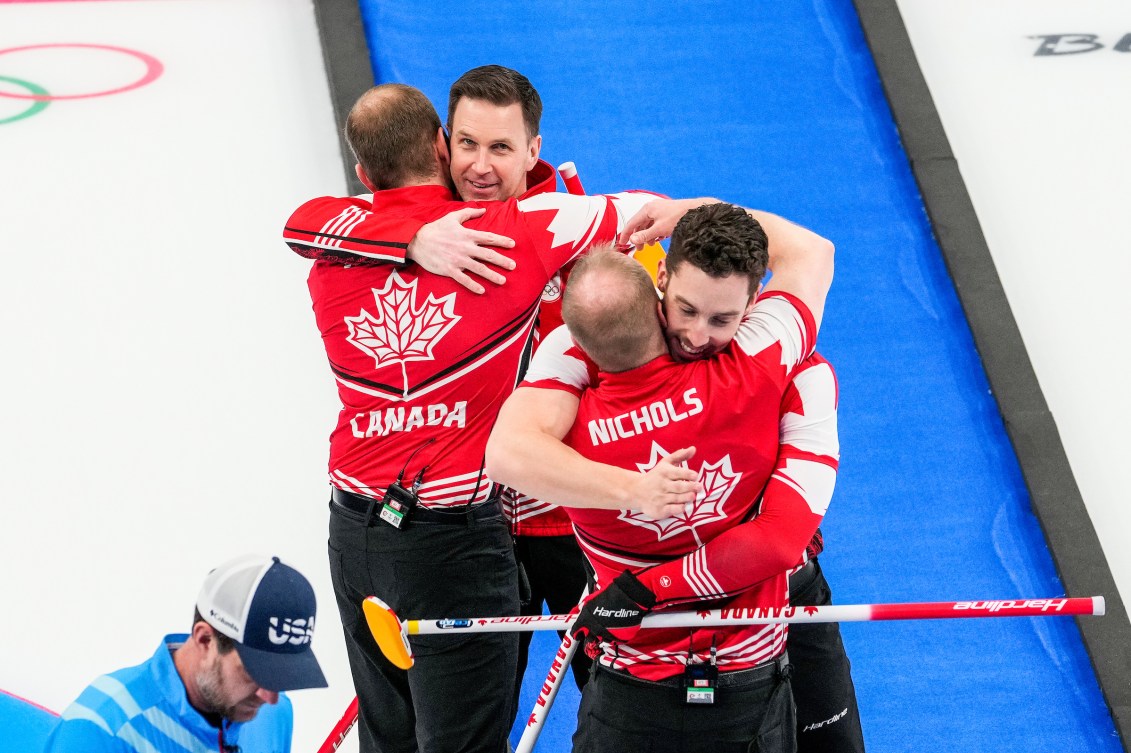 Team Gushue bounced back after a tough loss in their semifinal, defeating the defending Olympic gold medallists from the United States 8-5 to win the bronze medal in men's curling. Up 6-5 after eight ends, the Canadians stole two in the ninth and then ran the Americans out of stones in the 10th to secure the victory. Brad Gushue and Mark Nichols won their second Olympic medals, adding to the gold they won in their last Olympic appearance 16 years ago at Turin 2006. Brett Gallant and Geoff Walker will head home with hardware from their first Olympic appearance.
READ: Gruelling week in Beijing ends with bronze medal for Brad Gushue and Team Canada
Long Track Speed Skating
After just missing the podium in the 500m by 0.03, Laurent Dubreuil got his Olympic medal in the 1000m. He finished in 1:08.32 to secure the silver, 0.40 behind gold medallist Thomas Krol of the Netherlands. Connor Howe placed 12th in 1:08.97 while Antoine Gélinas-Beaulieu was 22nd in 1:10.075.
READ: Olympic silver medal a bonus for already happy Dubreuil

Freestyle Skiing
Cassie Sharpe and Rachael Karker had dreamed about standing on the Olympic podium together and that dream came true when they won silver and bronze, respectively, in the women's ski halfpipe. Sharpe wins her second straight Olympic medal, this one after making a comeback to competition in December following major knee surgery almost exactly a year ago. Amy Fraser was the third Canadian in the 12-woman final, placing eighth in her Olympic debut.
READ: Sharpe, Karker fulfill an Olympic dream as they hoped: together
Brady Leman was the top Canadian in men's ski cross, finishing second in the small final to play sixth overall. Reece Howden, Jared Schmidt and Kevin Drury were all eliminated in the quarterfinals, placing ninth, 10th and 12th overall, respectively.
Bobsleigh
It was the start of the two-woman event with heats one and two. Monobob bronze medallist Christine de Bruin is the top Canadian pilot in fourth-place with her brakewoman Kristen Bujnowski. They sit 0.42 out of a podium position, behind American Elana Meyers Taylor in third. German sleds hold onto the top two positions. De Bruin and Bujnowski won bronze medals at the 2019 and 2020 World Championships. Cynthia Appiah and Dawn Richardson Wilson are in eighth place while Melissa Lotholz and Sara Villani sit in 16th place heading into the second day of competition.
READ: Cynthia Appiah: A desire to be not just the best, but also the best representation
Figure Skating
The last event of the Games is the pairs, which began with the short program. It was a bit of a tough day for both Canadian duos. Vanessa James doubled her planned triple toe, which contributed to her and Eric Radford sitting in 12th place with 63.03 points. After landing beautiful side by side triple toe loops, Kirsten Moore-Towers and Michael Marinaro both fell on their throw triple loop as he hit his toe pick after launching her into the air. That put them in 13th place with 62.51 points. Both teams will compete in the free skate on Day 15.
"Giving ourselves another five minutes to process the frustration, process what happened out there, and then we have no choice but to go on to the next," said Marinaro. "We are veterans with dealing with setbacks, unfortunately. I think we are going to be able to park it, not right this second, but in five to 10 minutes, we'll be able to park it and move on to the free program."
Biathlon
Three Canadians qualified to compete in the 30-man field for the 15km mass start. Christian Gow was up amongst the leaders for most of the race, thanks to three clean rounds of shooting. But three missed shots in his fourth trip through the range cost him as he finished in 13th place. Jules Burnotte finished 18th, his personal best result in an elite level event. Scott Gow ended up 25th.