Team Canada at Beijing 2022: Day 16
This is it. The final day of the Beijing 2022 Olympic Winter Games.
Here's what you might have missed on Day 16.
Beijing 2022 Competition Schedule and Results
Bobsleigh
Justin Kripps and his crew of Ryan Sommer, Cam Stones and Ben Coakwell won the bronze medal in the four-man event. They needed a clean final run down the track to secure their spot on the podium and did just that. Their four-heat total time of 3:55.09 put them 0.06 ahead of the fourth-place sled. It is Canada's third Olympic medal all time in time four-man event.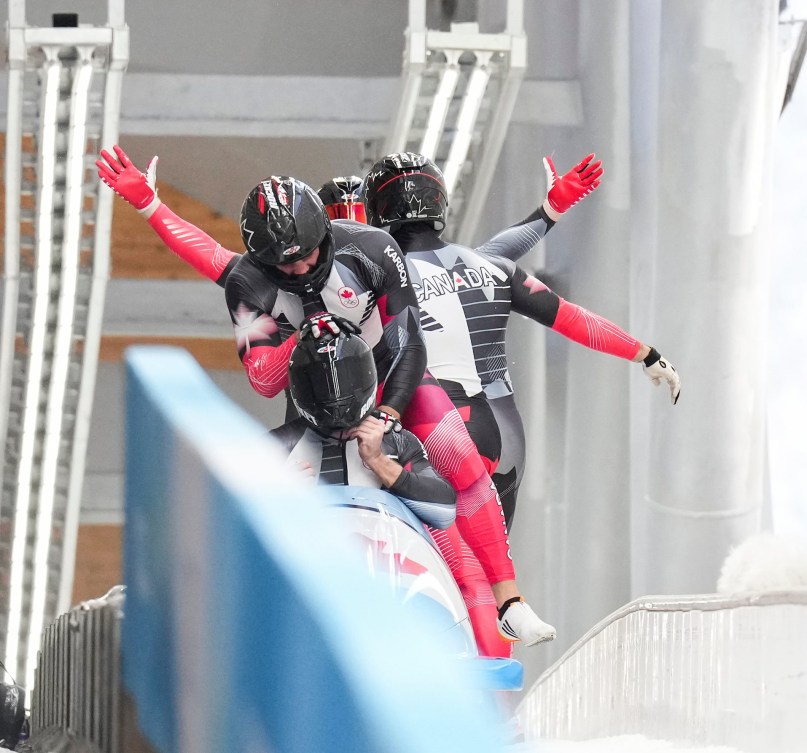 READ: Kripps crew hangs on for four-man bobsleigh bronze medal
Christopher Spring and his crew of Cody Sorensen, Sam Giguere and Mike Evelyn ended up in ninth place. Taylor Austin and his crew of Daniel Sunderland, Chris Patrician and Jay Dearborn finished 23rd.
Cross-Country Skiing
The start time of the women's 30km mass start was moved up because of the bad weather in the forecast. Cendrine Browne battled through the elements for a 16th place finish, Canada's best ever Olympic result in the freestyle version of the event. Katherine Stewart-Jones also broke into the top-30, while Dahria Beatty placed 39th and Laura Leclair finished 51st.
"It feels amazing to finish the Olympics on such a high note," said Browne. "What an amazing an epic race. It was so tough out here today. But I'm really happy with how I managed my energy and kept a lot of energy for the last lap. And when there was an attack I was able to follow. So yeah, it was really fun."
Alpine Skiing
The mixed team parallel event was postponed a day due to extremely high winds. Canada faced Slovenia in a head-to-head matchup in the 1/8 finals. Erin Mielzynski and Trevor Philp won their races, while Erik Read and Cassidy Gray came up just short in theirs. Tied 2-2, Slovenia advanced to the quarterfinals based on time.