Camp 3SDL photo provided by Maxime Dufour-Lapointe
Team Canada athletes make positive impact on their communities thanks to OLY Canada Legacy Grants
Olympians often credit their communities for helping them reach the highest level of sport. Now, many Team Canada athletes and legacy Olympians are working on projects to ensure the next generation of young athletes have even more opportunities.
The OLY Canada Legacy Grant, now in its fourth edition, recognizes projects led by Team Canada Olympians that draw on Olympic values to build stronger communities. Applicants submitted their projects under one of three categories:
Play (projects that improve accessibility, encourage inclusivity and diversity among youth and communities at all levels of sport)
Podium (projects that help strengthen the sport system and support the athlete journey)
Planet (projects that promote and support environmental sustainability and the health of our planet)
Here's a look at the seven exciting projects that have each been awarded a $10,000 OLY Canada Legacy Grant this year:
Play – Liam Gill (Liam & Friends)
Olympian Liam Gill has been snowboarding since the age of four. Now he's hoping to inspire the next generation of Indigenous snowboarders — and the OLY Grant will help him do just that.
A member of the Liidlii Kue First Nation, Gill proudly represents the Dehcho Dene of the Northwest Territories. Following his Olympic debut at Beijing 2022, the teenager toured three communities (Fort Smith, Fort Simpson, Yellowknife) in the Northwest Territories where he participated in snowboarding clinics.
Thanks to a partnership with the Sunshine Village Resort in Banff, Gill hopes to bring many of the snowboarders he met on his tour to a private event on the Alberta slopes where he can help further develop and inspire Indigenous youth to participate in sport.
"It has taken a village of family, friends and all my supporters to allow me to be where I am today as an Olympian who is receiving a Grant from the COC," said Gill. "Sport has the power to unite, create joy and inspire hope and pride. I want to share my love for snowboarding and the outdoors with youth from rural communities in the Northwest Territories. It means the world to me that Aboriginal youth are riding, participating and getting involved. I am honoured the Liam & Friends event will help to provide access to snowboarding for those youth who may not have the financial means to do so on their own."
The OLY Grant will assist in paying for travel expenses of attendees. The Liam & Friends event is planned for this spring.
"I am looking forward to getting on the snow and reconnecting with the friends I made last year," said Gill.
Play – Brandon McBride (McBride Youth United Association's Mentorship Program)
Brandon McBride has certainly found success in sport.
The 28-year-old from Windsor, Ontario has ran in two Olympic Games, participated in three World Athletics Championships, and competed at the Pan American Games and Commonwealth Games. McBride now wants to provide mentorship to the next generation of Canadian track and field athletes to ensure they are prepared, inspired, and motivated.
"During my journey, I have seen countless talented individuals fail to continue in sports because they didn't have the proper support, especially minorities," explained McBride. "These gifted individuals left their sport because they did not see representation or felt uncomfortable in their environment. My mentorship program aims to solve both issues by providing a diverse array of mentors in various sports and fields and equipping the next generation with tools to overcome adversity in sports and life. My hope is that athletes will leave our program more motivated, focused, prepared and comfortable in their skin."
Follow the McBride Youth United Association on Instagram
The McBride Youth United Association's Mentorship Program will consist of two eight-week intakes, March to April and June to July. Each intake will consist of 10-20 athletes. The OLY Grant will help fund everything from online communication tools to an event that will take place at the end of each intake.
"I look forward to aiding the youth athletes in achieving their dreams. I was very fortunate to have had great mentors, coaches and teachers. I would not have succeeded without these exceptional individuals' guidance and support. I cannot wait to provide similar guidance and support to Windsor-Essex County youth athletes."
The OLY Canada Legacy Grant will ensure the Farrell Boxing Program continues to grow.
The Hamilton, Ontario-based program, led by Olympic boxer Nickolos Farrell, is an inner city youth program that teaches self confidence and empowerment through the development of basic boxing skills. The 12-week program promotes self growth alongside physical and mental training.
A key to the program is its accessible location. Racialized and marginalized communities, including youth of various cognitive and physical abilities, can easily reach Farrell's program — but their current location is running out of space. The new funding will help the Farrell Boxing Program secure and relocate to a nearby, larger gym that meets current and future needs.
Follow Nickolos Farrell and the Farrell Boxing Program on Instagram
"As with any move it's hard to predict what all of the expenses will be as there are many unanticipated costs that arise throughout the process," said Farrell. "These hidden and unexpected expenses can be detrimental to the survival of small programs like ours. With this assistance, we will be able meet our financial requirements and can look forward to a successful move. For this we are extremely grateful."
The new location would be approximately 10 times larger than the program's current space. The new gym will allow for the creation of change areas, separate work out zones, space for hanging extra training bags and equipment, and offer more indoor space for classes.
Play – Nadine Rolland (Everybody in the Water)
Olympian Nadine Rolland has spent the past 20 years poolside as a swimming coach. Now Rolland, who swam for Canada at Sydney 2000, wants to ensure the pool is accessible for everyone.
Rolland's "Everybody in the Water" program aims to provide free swimming lessons at the Loutres swimming school in Granby, Quebec, create an initiation-to-swimming day for girls, and award 20 grants (five per level from ages 6 to 17) to children from different equity groups so they can swim competitively for free during the 2023-24 season.
"This project is a fantastic opportunity to get in touch with local schools and regional organizations and open the door to more equity group representatives to practice this sport and aspire to swim competitively, but perhaps did not previously dare to do so due to a lack of financial resources or a lack of aquatic sports avenues in their environment," explained Rolland.
The OLY Grant will help fund swimsuits, bathing caps, goggles and training tools. The Grant will also help pay for support staff to coordinate the program.
"I want to be a great ambassador for OLY Canada and for the Olympic values it represents so that more youth have access to the wonderful sport of swimming," said Rolland. "Swimming is a sport that can change lives in a positive way and I hope to have an impact on the lives of many thousands of youths over the next few years."
There's no doubt the Dufour-Lapointe sisters — Maxime, Chloé, and Justine — inspired many Canadian girls to participate in skiing following their performances at the Olympic Games over the years. But the trio of freestylers have taken that inspiration one step further with Camp 3SDL.
The 2023 edition of Camp 3SDL will be the program's 11th year in operation. Open exclusively to girls aged 7-18, Camp 3SDL is an annual not-for-profit event with a mandate of sharing the passion of skiing with young female skiers in Quebec.
"We feel supported in our mission to advocate for a healthy lifestyle, as well as share our passion for sport," Maxime said of receiving the grant. "Camp 3SDL allows us to continue to leave a legacy for future generations."
The event, which takes place each April, includes instructors who are all women. With a small coaching pool to choose from, finding enough instructors for the event can be a challenge. The OLY Grant will assist in securing them. Any leftover funds would be used for next year's event — or possibly for a second 2023 event in the fall. Registrations open in the first week of March.
"The OLY Grant will allow us to reach new heights with with our Camp 3SDL by offering, for the very first time, a ski discovery component. We will be able to allow some young girls to come and try skiing for the very first time," said Maxime. "We will be able to continue to offer 100% female coaching and support, all over two days instead of one. So it promises to be a very exciting weekend."
Podium – Guylaine Dumont (Retire with Confidence)
Unfortunately, it has become well documented that many athletes over the years have not been able to develop in a safe and supportive environment. Many suffered from various types of abuse, ranging from bullying, toxic environments, and neglect to emotional, physical, and sexual harassment. The impacts of abuse can lead to lifelong mental and physical health problems.
Guylaine Dumont, a beach volleyball player for Team Canada at Athens 2004, is working to support victims through The Spirit of Trust program. The retreats and sharing circles are led by survivors and peer helpers who promote healing to optimize the quality of their lives.
"Specifically, the 2023 OLY Canada Legacy Grant will allow us to increase our efforts on the program by holding two retreats and adding five more newly evaluated and trained survivor-leaders," said Dumont.
Dumont explained that a number of evidence-based research has shown that survivor/peer helper-led support reduces hospitalizations related to mental health problems and symptom distress.
"Peer support, which is the core of all The Spirit of Trust programs, is the only way to deploy a real safety net of hope, not only saving lives, but having exponential growth potential."
Planet – Brenda Taylor (Decarbonizing Rowing: Electric Outboard Pilot Project)
For most rowing clubs, the biggest source of greenhouse gas emissions are gas outboards used to power the coach boats. Brenda Taylor, a two-time gold medallist for Canada at Barcelona 1992, is looking to change that.
Taylor's project will pilot six electric outboards at a number of rowing clubs in British Columbia, including the Rowing Canada Aviron National Training Centre in Victoria. Data will be collected on fuel consumption, performance, user experience, and costs on both gas and e-outboards for one year. That data will then be used to develop the business case for e-outboards, providing clubs across Canada and the world with objective, easily accessible information to support informed purchasing decisions.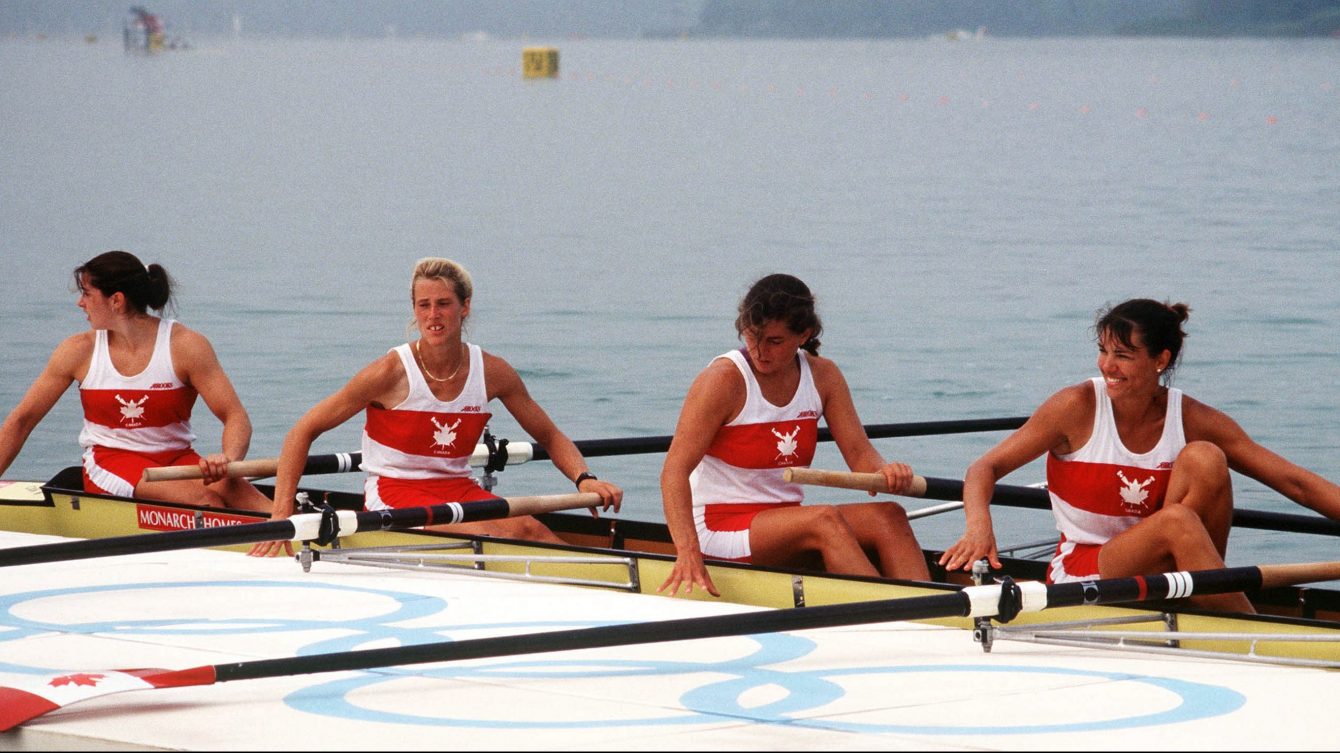 "Converting to electric outboards is a key step in decarbonizing rowing," explained Taylor. "In addition, 'going electric' will significantly reduce air, water and noise pollution, creating a healthier training environment for athletes and coaches."
Each rowing club typically has 6-12 gas-powered outboards which are used 3-8 hours each day. Each gas outboard emits about the same amount of greenhouse gases as one car, says Taylor. Electric outboards are fairly new and rapidly advancing, creating a lot of questions and inquiries from rowers and club users. This program, with the funding assistance of the OLY Grant, will look to provide answers and support on converting to electric.
"I am confident that, like electric vehicles, once you've used one, you won't go back to gas," added Taylor.
The OLY Canada Legacy Grant is designed to advance the Olympic Movement by providing financial assistance to Team Canada Olympians leading impactful projects that aim to build stronger communities through the principles and values of Olympism. Since it was launched in 2019, it has help fund 25 groundbreaking projects across the country.