Athens 2004
Team Canada Medal Count
3
6
3
Games Summary
Games of the XXVIII Olympiad
In 2004 the Olympic Games finally returned home to Greece. History was revisited as the shot put events were held in Olympia, site of the ancient Olympic Games. The archery events were staged in the Panathenaic Stadium that had been used for the 1896 Olympic Games. Both marathons began in the city that gave the event its name and followed the 1896 route, ending in the Panathenaic Stadium.
With the Greeks playing host, the Parade of Nations took on a unique look, as weightlifter and flag bearer Pyrros Dimas led the entire parade before the full Greek team entered at the very end. The record 201 participating NOCs included Kiribati and Timor-Leste making their Olympic debuts. For the third straight Games, Canada's contingent included more women than men.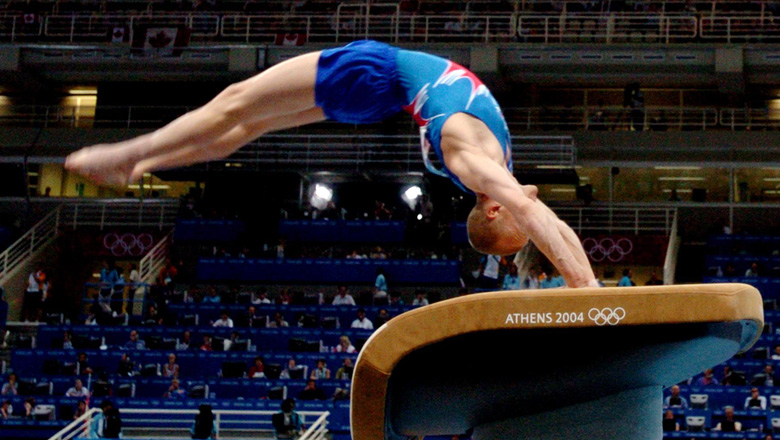 Canada's 12 medals included several breakthrough performances. Kyle Shewfelt won the country's first ever Olympic medal in artistic gymnastics, taking gold in floor exercise. Victorious in the sprint, Lori-Ann Muenzer won Canada's first ever Olympic gold medal in cycling. She was also the first Canadian woman to win an Olympic medal in track cycling. At just 22-years-old, kayaker Adam van Koeverden was Canada's only double medallist of the Games, winning gold in the K-1 500m and bronze in the K-1 1000m. Fellow kayaker Caroline Brunet stood on the podium at her third straight Olympic Games.
There were a pair of medals in diving. Alex Despatie won silver in the 3m springboard to become Canada's first male Olympic medallist in the sport while Émilie Heymans and Blythe Hartley teamed to win synchronized 10m platform bronze. Karen Cockburn won trampoline silver for her second straight Olympic medal. There were also silvers for mountain biker Marie-Hélène Prémont, sailors Ross MacDonald and Mike Wolfs, and the men's four in rowing. Canada enjoyed a successful debut of women's wrestling as Tonya Verbeek captured silver.
Canadian Medallists
| Event | Athlete | Finish | Sport |
| --- | --- | --- | --- |
| K-1 500m - Men | Adam van Koeverden | Gold | Canoe-Kayak - Sprint |
| Sprint - Women | Lori-Ann Muenzer | Gold | Cycling - Track |
| Floor Exercise - Men | Kyle Shewfelt | Gold | Gymnastics - Artistic |
| Springboard 3m - Men | Alexandre Despatie | Silver | Aquatics - Diving |
| Cross Country - Women | Marie-Hélène Prémont | Silver | Cycling - Mountain Bike |
| Women | Karen Cockburn | Silver | Gymnastics - Trampoline |
| Coxless Four - Men | Cameron Baerg, Thomas Herschmiller, Jacob Wetzel, Barney Williams | Silver | Rowing |
| Two-Person Keelboat - Men | Ross MacDonald, Mike Wolfs | Silver | Sailing |
| 55kg - Women | Tonya Verbeek | Silver | Wrestling - Freestyle |
| Synchronized Platform 10m - Women | Blythe Hartley, Emilie Heymans | Bronze | Aquatics - Diving |
| K-1 1,000m - Men | Adam van Koeverden | Bronze | Canoe-Kayak - Sprint |
| K-1 500m - Women | Caroline Brunet | Bronze | Canoe-Kayak - Sprint |
Teams