AP Photo/Jae C. Hong
Team Canada begins Tokyo 2020 with 4-0 softball victory
Canada is off to a winning start at the Tokyo 2020 softball tournament, defeating Mexico 4-0 on Wednesday at Fukushima Azuma Stadium.
Starting pitcher Sara Groenewegen set the tone for the Canadian squad, tossing four innings of no-hit softball and allowing just one baserunner. Groenewegen also registered three strikeouts.
Canada, ranked third in the world, allowed just two hits against fifth-ranked Mexico. Jenna Caira pitched the fifth inning while two-time Olympian Danielle Lawrie threw the final two.
"I think she just set the tone in a great way," Caira said of Groenewegen's performance after the game. "Getting ahead, mixing the pitches, her changeup was money and stretching the zone. I think that's Sara Groenewegen for you. She's a really great person to come in there and set the tone for our team. She did exactly what she does so it's great."
READ: Team Canada softball ready for the play of a lifetime at Tokyo 2020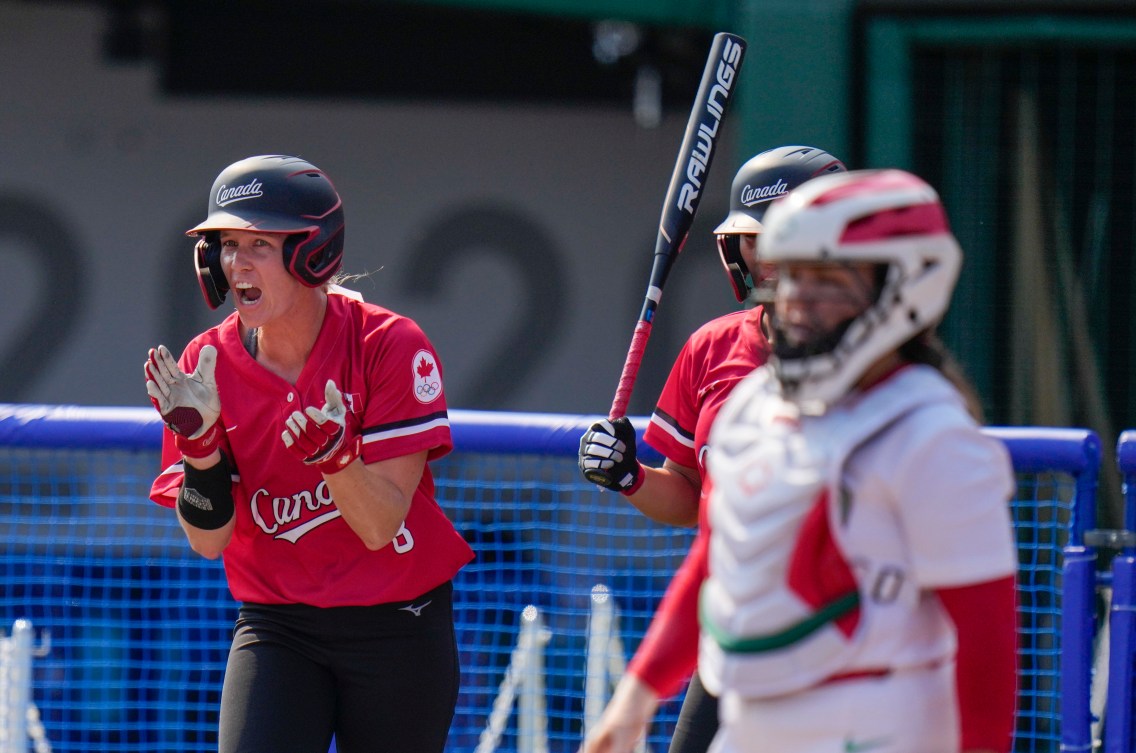 Caira credited the trio's pitching success to the team's game plan.
"Each pitcher is just so different and, knowing what we can bring to the table, we just have to trust that plan and then make adjustments accordingly when needed. I've got to go out there and just be myself and trust, obviously, that my team is behind me as they always are. It was a fun ball game."
Canada had a strong showing at the plate as well. Victoria Hayward, Larissa Franklin, Kaleigh Rafter and Jenn Salling had two hits each. Hayward scored twice while Salling had two runs batted in.
After a quick 1-2-3 first inning pitched by Groenewegen, the Canadian offense wasted little time getting on the board. Hayward, hitting leadoff, reached on a high bouncing single to the first base side and then Franklin ran out a ground ball to put runners at first and second. After Kelsey Harshman popped out, Rafter's hit down the right field line scored Hayward from the first. Salling followed that up with a single to right field, allowing Franklin to score and giving Canada an early 2-0 lead.
Mexico's first baserunner came in the top of the third when Sashel Palacios reached on a one-out walk. After Groenewegen struck out the next batter, Palacios' pinch runner, Stefania Aradillas, was caught trying to steal second to end the inning.
Canada took a 3-0 lead in the bottom half of the third when Salling drilled a solo home run to right field. The offense continued to click in the fourth when a Harshman line drive to right scored Hayward from third, making it 4-0.
READ: Softball star Sara Groenewegen: "Being an athlete saved my life"
Mexico's first hit of the game came in the fifth when Suzannah Brookshire singled. Brookshire eventually moved to second after Amanda Sanchez was hit by a pitch. Both runners would be stranded though as Caira pitched Canada out of the inning with a strikeout.
"What we constantly say is just stick with the process," said Caira. "We stuck with our plan and we did our homework. I think now that this game is over we just have to move on to tomorrow and take some time to relax – but then get our minds right before we go to bed to be ready for tomorrow."
Tokyo 2020 is the first Olympic Games to include softball since Beijing 2008. Canada is one of only four countries to play in every Olympic softball tournament and is looking to medal for the first time. The team came close in 2008, finishing fourth.
Canada continues tournament play on Wednesday evening (Thursday morning in Tokyo) against the top-ranked and rival Americans.