Photo: Dave Holland/Speed Skating Canada
Long Track Nationals: Mass start titles for Blondin and Gélinas-Beaulieu
Team Canada's long track speed skaters are taking their first strides towards Beijing 2022 at the 2021 Canadian Long Track Championships.
The five-day competition at the Calgary Olympic Oval will determine the skaters who will head out to the four ISU World Cups in November and December. Having a strong World Cup squad is critical as the number of Olympic entries Canada will have in each event will be based on results from those races. Athletes can pre-qualify for nomination to the Olympic team via a top-eight overall finish on the World Cup circuit or at the Olympic Skate-Off to take place December 27-31 in Quebec City.
READ: Skating towards Beijing 2022: What to watch in long track, short track, and figure skating
READ: How Team Canada will qualify athletes for Beijing 2022
Read on for the latest news from the nationals.
Day 5 – October 17
The Canadian Long Track Championships concluded with national titles being awarded in the mass start to Ivanie Blondin and Antoine Gélinas-Beaulieu.
It was Blondin's second gold medal in as many days, following her victory in the 1500m. She also won silver this week in the 3000m. Blondin has won five world championship medals in the mass start, including two world titles. Valérie Maltais, who often works as a teammate with Blondin during international mass start races, won the silver medal while Abigail McCluskey took the bronze.
"I just went out there and had fun, without too much stress on my shoulders, and it was a great result! Even though I was pre-qualified for World Cup races in the mass start, it was important that I race today to help increase the pace and provide my teammates with a more realistic experience of what this event looks like at a World Cup. As the mass start evolves, we need to work together as a team to get on the podium on the international stage," said Blondin.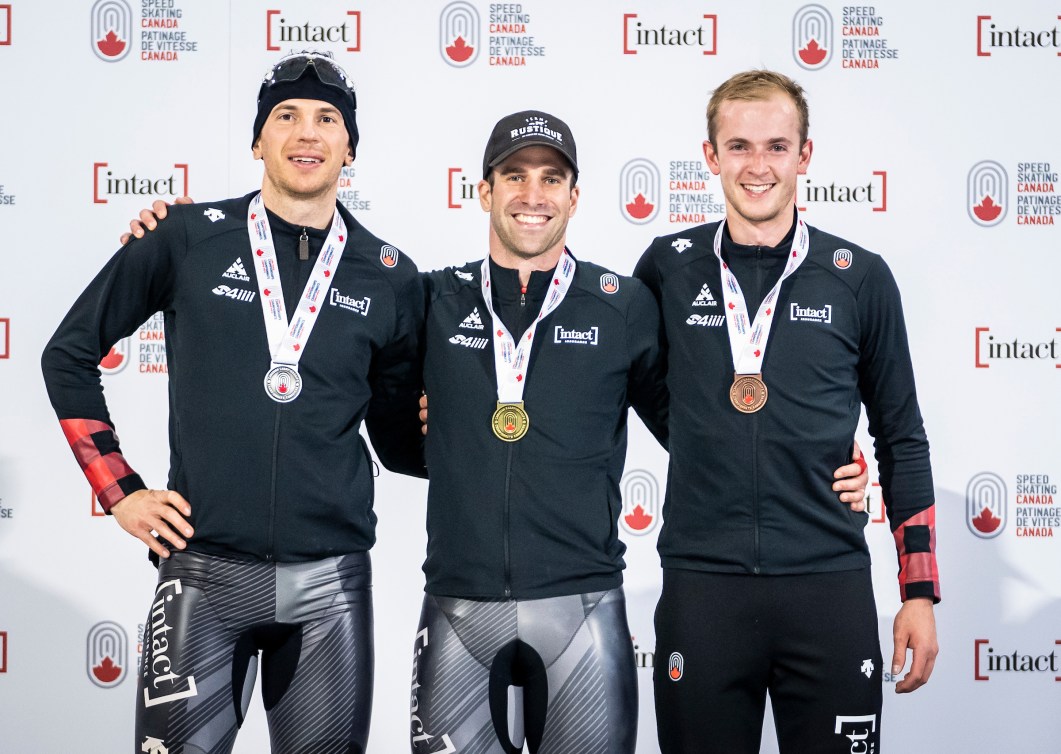 In the men's race, endurance specialist Graeme Fish led the pack for much of the race, which allowed Gélinas-Beaulieu and Jordan Belchos — who were both mass start medallists at the 2020 World Single Distances Championships — to conserve some energy before moving to the front in the last two laps. They finished first and second, respectively. The bronze medal was won by Hayden Mayeur.
"I didn't have any expectations for the race today, so my plan of attack was to have fun and try to watch how everyone else was racing," said Gélinas-Beaulieu. "I say that I would follow Jordan [Belchos] to learn some little tricks from his experience – at what moment he chose to pick up the pace, his timing, how he analyzes the other skaters. So for me, it was very educational to race by his side and I think we will be a great team together this year."
It is expected that next week will bring the announcement of which skaters will represent Canada on the World Cup circuit this fall. The first event will be November 12-14 in Tomaszow Mazowiecki, Poland.
Day 4 – October 16
Ivanie Blondin and Connor Howe came away with gold medals in the 1500m titles on Day Four of the 2021 Canadian Long Track Championships.
Blondin, who has her sights set on her third Olympic appearance in February, finished with a time of 1:54.64.
Isabelle Weidemann captured silver with a time of 1:55.57, and Valérie Maltais – gold medallist in Friday's 1000 metre – took home bronze with a time of 1:55.80.
For Blondin, the first-place finish brought a sense of relief in what has been an emotionally draining couple of weeks.
The past few weeks have been a bit of a mental struggle for me, so I'm really happy and grateful that it went the way it did," she told Speed Skating Canada. "It reassures me that even if I'm not feeling 100% mentally, I can still push through it and put out good performances."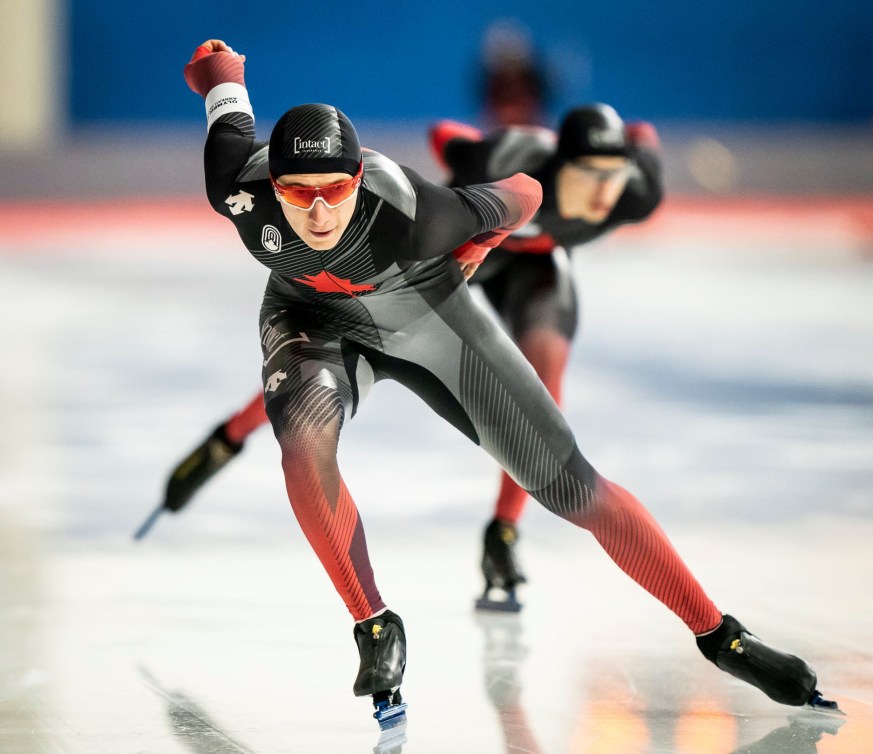 On the men's side, Connor Howe won in convincing fashion with a time of 1:43.50.
Howe beat out the field by more than a full second; a statement for the 21-year old who is looking to qualify for his first Olympic Games in 2022.
"My game plan was to execute my technique by being aggressive and relaxing to carry the speed as much as I could. The Olympics adds a lot of excitement to the year, so it's a good year for it all to come together for me." Howe told Speed Skating Canada.
The silver went to Antoine Gélinas-Beaulieu with a time of 1:44.73, while Tyson Langelaar finished third at 1:44.90.
Sunday is the final day of the competition, which will feature the women's and men's mass start event.
Day 3 – October 15
Valérie Maltais and Laurent Dubreuil captured the 1000m titles on the third day of the 2021 Canadian Long Track Championships.
Valerie Maltais takes the gold in the women's 1000m during the long track speed skating Canadian Championships at the Olympic Oval in Calgary, Alberta on October 15, 2021. Kaylin Irvine takes home the silver medal and Maddison Pearman the bronze.(Photo: Dave Holland/Speed Skating Canada)

Laurent Dubreuil takes the gold in the men's 1000m during the during the long track speed skating Canadian Championships at the Olympic Oval in Calgary, Alberta on October 15, 2021. Vincent de Haitre takes home the silver medal and Antoine Gelinas-Beaulieu the bronze. (Photo: Dave Holland/Speed Skating Canada)
Maltais crushed her personal best time in the 1000m event in over two seconds to cross the line in 1:14.95. Her previous mark, set in September, was 1:17.12. Heading toward what would be her fourth Olympic Games, Maltais appears to be on a mission in her new discipline. Previously she competed at Vancouver 2010, Sochi 2014 and Pyeongchang 2018 as a short track skater, but made a switch to the long track after competing in Pyeongchang.
"I was so surprised by my race and the result today. When I crossed the line, I couldn't believe it. I know I'm fast and can skate well, so today was about focusing on that and not on the outcome. It worked out, so I think I have a lot to learn from that! In short track, my best distance was the 1000m, so now everything is coming together in long track as well." Maltais told Speed Skating Canada.
Joining Maltais on the podium were Kaylin Irvine in the silver position with a time of 1:15.39 and Maddison Pearman with bronze, posting 1:15.60. Their times were fast enough to meet the Canadian standard and potentially qualify both for the World Cups this fall, which would mark Pearman's first appearance on the full international circuit.
For the second time at this Canadian Championships event, 29-year-old Dubreuil finished the day with a national title. He started on world-record pace, setting a 600m split mark at 40.28 seconds after his opening lap of 15.92, to finish the full race in 1:07.29. Less than three tenths of a second separated the skaters in second to fifth position. Vincent De Haître finished in second with a time of 1:08.02 and Antoine Gélinas-Beaulieu followed right behind at 1:08.10 with bronze.
"I feel great, but it hurts a lot to start that fast so I have to pump myself up to do it again next time! My starts and first lap have been spot on right now, but I'm still working on the endurance part. The first 600m was the fastest I've ever skated in my life, so it's a good sign for what's to come. I know on a good day, I can beat almost anybody in the 1000m." said Dubreuil.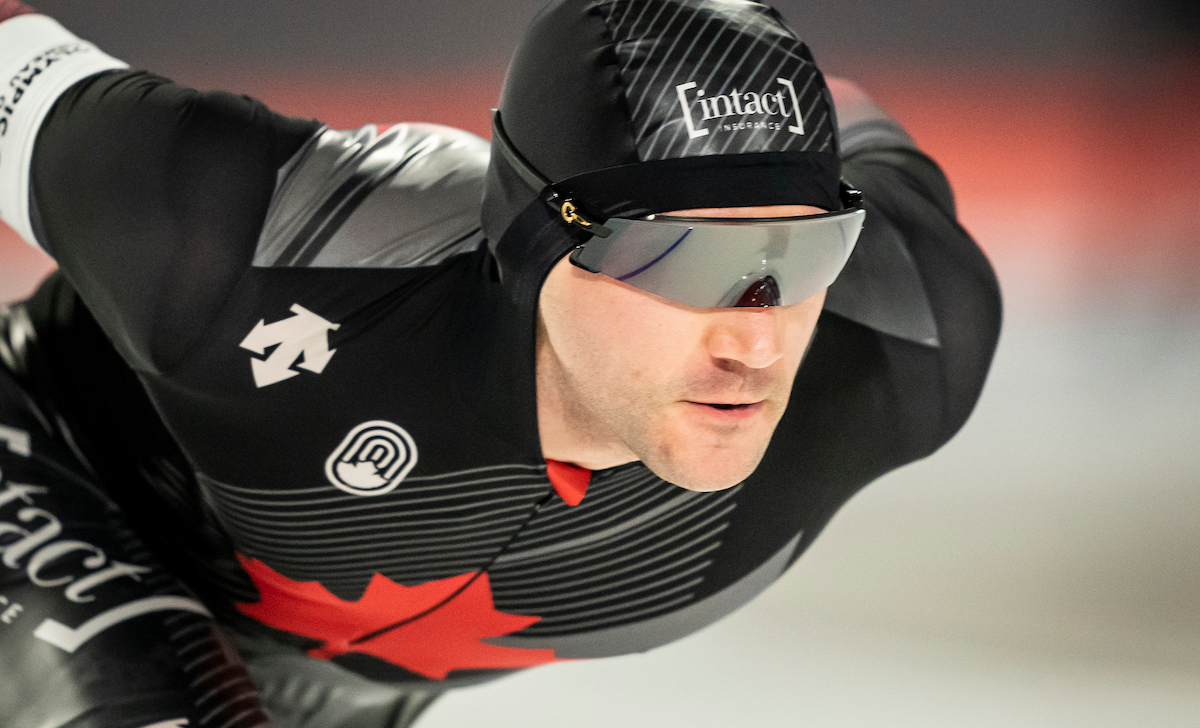 De Haître, with only eight weeks of on-ice training since returning from Tokyo 2020, qualified for his first speed skating World Cup circuit since the 2018 Olympic Games. The 27-year-old is just months removed from competing in the track cycling team pursuit at Tokyo 2020 and is looking to become the the fifth Canadian to compete in two Olympic Games within a 12-month span.
De Haître told Speed Skating Canada, "Overall, given my circumstances and that it's only week eight of my comeback, I think the race was a big success. I have things to work on and know there's a faster time in me, so I look forward to showing what I can do later on this year. I'm ahead of all of the benchmarks that my coaches and physiotherapists have set for me, so I've been on an upward trajectory so far! I've participated in enough Olympics, I'm here to compete."
Tomorrow's fourth day of the Canadian Long Track Championships will feature both the women's and men's 1500m.
Day 2 – October 14
Isabelle Weidemann and Ted-Jan Bloemen each won their second national titles in as many days, breaking two records in the process.
Weidemann lowered the national record in the women's 5000m to 6:46.81 as she took more than five-tenths of a second off the mark she had set at the Canadian championships in 2019, the last time the event was held. There were only two entries in the distance, with junior-aged Laura Hall finishing in 7:22.61 for the silver.
"Today, I focused on myself a lot more in the first few laps to make sure that I was being efficient and listening to my technical cues," said Weidemann. "The 5000m definitely gets hard when you start to suffer a little bit, but it's awesome to skate at home in front of my family and I'm happy with my consistency so far this season."
Bloemen skated to a Calgary Olympic Oval track record of 12:41.55 to win the gruelling 25-lap 10,000m in which he is the reigning Olympic champion. For the second straight day, the silver and bronze medallists behind him were, respectively, Graeme Fish (12:49.33), and Jordan Belchos (13:02.75). Fish is the national record holder, having skated a world record 12:33.86 (since broken in February 2021) while winning gold at the 2020 World Single Distances Championships.
"That was quite the effort! It's so easy in the 10,000m to give in to the fatigue, but I tried to just think positively, push through and believe that I could make it to the end," said Bloemen. "I felt like I was really close to hanging on for the world record, but I still set a track record here today, which feels good. I don't want to do anything different this year since I won the gold medal at the last Olympics in this distance."
On Friday, the sprinters will be back in the spotlight with the men's and women's 1000m on tap. You can livestream all of the action on Speed Skating Canada's YouTube channel.
Day 1 – October 13
There were four national champions crowned on the opening day of competition. Reigning 500m world champion Laurent Dubreuil took the men's title in the shortest distance with a speedy sprint of 34.12 seconds, just 0.01 off his personal best time. Two-time Olympian Gilmore Junio was the runner-up in 34.59 seconds while Cédrick Brunet, who competed at the 2020 World Junior Championships, came third in 34.97 seconds.
"I've been skating really well in training the last month and feel good all summer," said Dubreuil. "I think I had it in me to be a couple of tenths faster today, but the execution wasn't perfect. It was so close to my personal best even while not feeling great, so that is encouraging. I am building off every year and think that when I'm at my best, I can be the best in the world."
The women's 500m was super tight, with Brooklyn McDougall and Marsha Hudey both finishing in 37.85 seconds. But upon review of the photo finish, McDougall, a member of the NextGen National Team, took the title by five one-thousandths of a second (37.851 to 37.856) over the two-time Olympian. Another two-time Olympian, Kaylin Irvine, was third in 37.93 seconds.
"Right now, I'm still a little bit overwhelmed by the race and am so happy that I was able to put that together and race as fast as I did," said McDougall. "My motto going forward is to keep it simple and skate the way I know how to skate. This will be my first experience on the World Cup circuit so I am looking forward to learning from my teammates and the veterans on our team."
The women's 3000m podium was filled by the trio who have had great international success together over the last two seasons in the team pursuit, including medals at the 2020 and 2021 World Single Distances Championships. Isabelle Weidemann skated to gold in a time of 3:56.89, as she beat out Ivanie Blondin (3:59.99) and Valérie Maltais (4:01.23) for the title.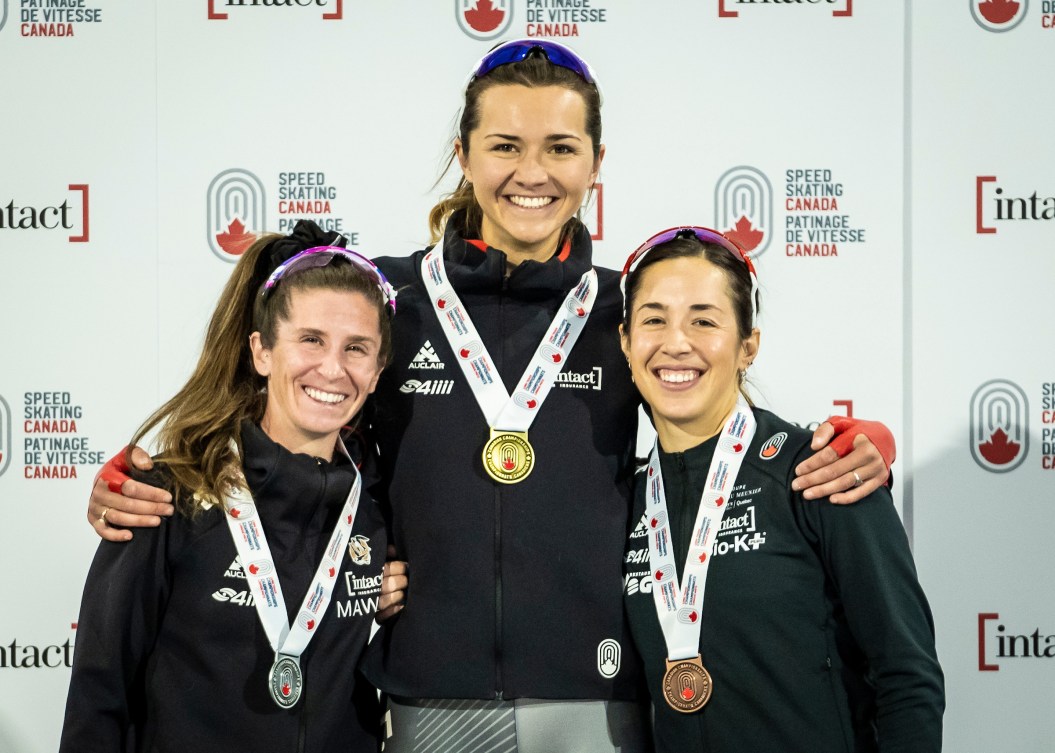 The men's long distance race of the day was the 5000m, won by 2018 Olympic silver medallist and 2020 World champion Ted-Jan Bloemen with a time of 6:06.69. Also making it to the podium were Graeme Fish (6:13.31), who had been second to Bloemen at the 2020 Worlds, and Jordan Belchos (6:18.94).
There will be more endurance racing on Thursday, with the women's 5000m and the men's 10,000m on the schedule. You can livestream all of the action on Speed Skating Canada's YouTube channel.