Team Canada at Beijing 2022: Day 6
It was another four medal day for Team Canada at Beijing 2022.
Canada's first medallist of the Games skated onto the podium again, there were a couple of history-making bronze medals in alpine and freestyle skiing, and a thrilling photo finish in men's snowboard cross.
Here's what you might have missed on Day 6.
Beijing 2022 Competition Schedule and Results

Long Track Speed Skating
Isabelle Weidemann won her second medal of Beijing 2022, taking the silver medal in the women's 5000m in 6:48.18. She added to the bronze medal she earned in the 3000m. Weidemann was the lone Canadian entry in the event.
Alpine Skiing
After his close call in the downhill, Jack Crawford stepped on the Olympic podium, winning bronze in the men's alpine combined. Crawford had been second in the downhill portion of the event and then did what he needed to do in the slalom to hold onto third place.
READ: Crawford wins bronze for Canada's first ever Olympic medal in alpine combined
Two other Canadians were in the top 10. Broderick Thompson placed eighth with Brodie Seger right behind in ninth. Seger had been third after the downhill, but was racing slalom for the first time in two years. Trevor Philp was unable to finish the slalom race.
Snowboard
At 20 years old, Eliot Grondin became the youngest ever Olympic medallist in men's snowboard cross, winning the silver medal. He was just beaten to the line for the gold medal in a photo finish. Kevin Hill and Liam Moffatt did not advance past the quarterfinals.
READ: Grondin wins snowboard cross silver in photo finish at Beijing 2022
Elizabeth Hosking and Brooke D'Hondt finished sixth and 10th, respectively in the 12-woman halfpipe final. Hosking scored 79.25 for her second run to tie for Canada's second best Olympic placement ever in the event.
Freestyle Skiing
Canada won the bronze medal in the first ever Olympic mixed team aerials event. Marion Thénault, Miha Fontaine and Lewis Irving teamed up to score 290.98 points to finish behind the United States and China.
READ: Canada wins bronze in Olympic debut of mixed team aerials
Curling
After opening with a 10-5 over Denmark, Team Gushue earned a 6-5 win over Norway in their second match of the men's tournament at Beijing 2022.
READ: Canada wins tight battle with Norway to remain unbeaten in men's curling
That was followed by Team Jones getting going in the women's tournament with a 12-7 victory against the reigning Olympic silver medallists from South Korea.
Ice Hockey
Team Canada played their first match of the men's tournament, opening with a 5-1 win against Team Germany.
READ: Team Canada defeats Germany in men's hockey opener at Beijing 2022
Figure Skating
Keegan Messing placed 10th in the men's free skate to finish 11th overall with 266.61 points. He improves upon his 12th place finish from PyeongChang 2018.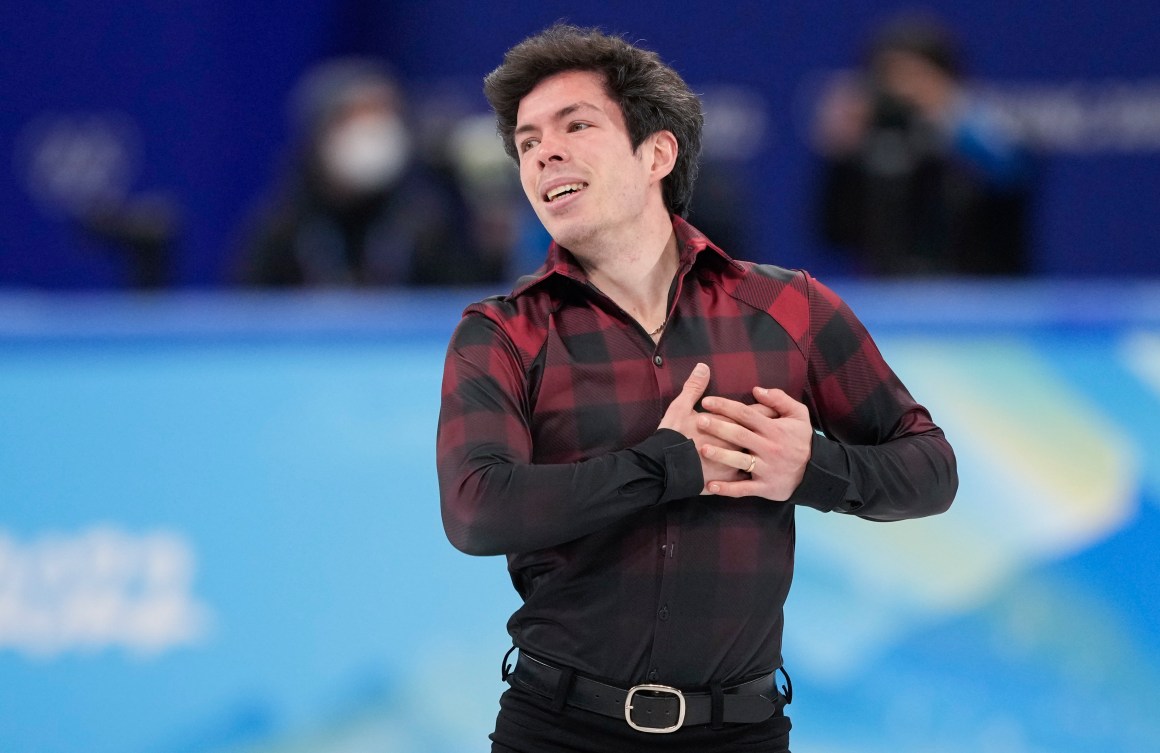 Luge
The last event of the luge competition was the team relay. Trinity Ellis started for Canada, followed by Reid Watts before Tristan Walker and Justin Snith slid the anchor leg. They finished sixth with a total time of 3:05.235.
Cross-Country Skiing
In the women's 10km classic interval start race, Dahria Beatty finished 18th for her best individual result in her two Olympic appearances. She called it a "happy surprise" to be in the top 20. Katherine Stewart-Jones finished 36th, Cendrine Browne was 48th, and Olivia Bouffard-Nesbitt was 61st.
Skeleton
At 20 years old, Blake Enzie is the youngest man in the men's field. After the first two runs, he sits in 19th place with two more runs to come on Day 7.