Team Canada at Beijing 2022: Day 13
Team Canada wins the latest installment of the cross-border rivalry to claim Olympic gold in women's hockey, an Olympic champion returns to the podium in women's ski cross, and Team Gushue played in the semifinals of men's curling.
Here's what you might have missed on Day 13 at Beijing 2022. 
Beijing 2022 Competition Schedule and Results
Ice Hockey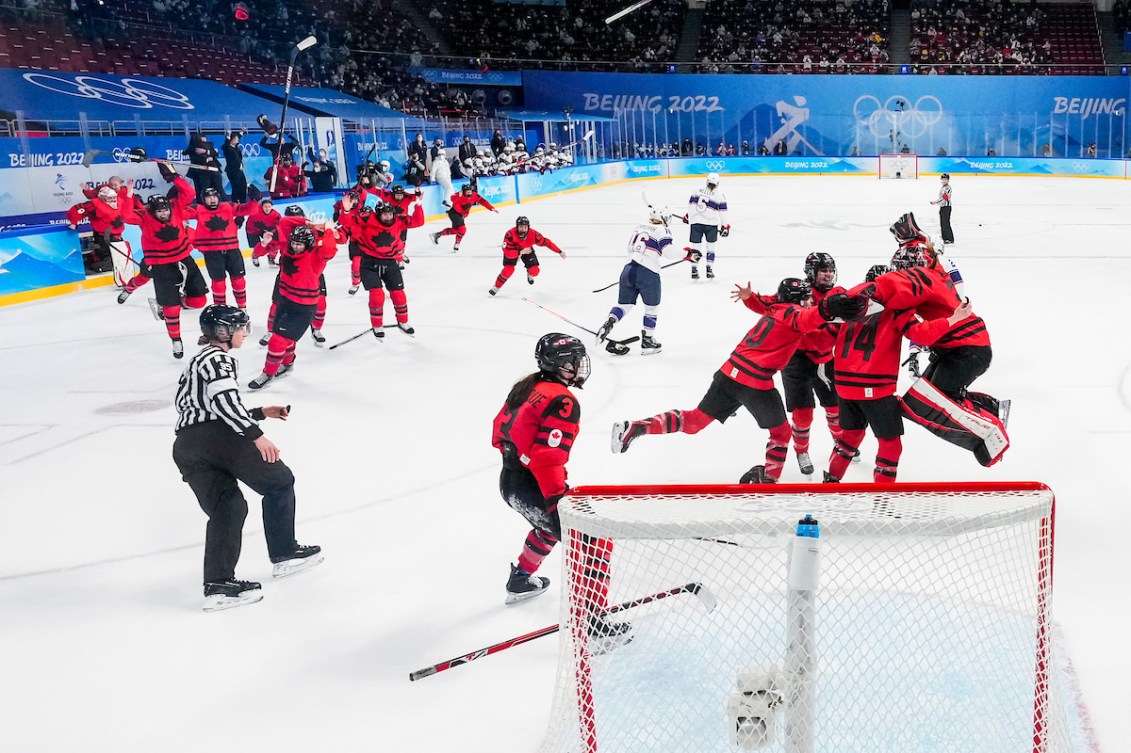 Canada's women's hockey team is golden once again. Captain Marie-Philip Poulin scored a pair of goals to lead Canada to a 3-2 victory over the United States in the gold medal game, placing the team back on top of the podium following a heartbreaking shootout loss to the Americans in the PyeongChang 2018 final. Sarah Nurse also scored and added an assist, giving her a record 18 points in a single Olympic tournament. Ann-Renée Desbiens was solid in net once again, stopping 38 of 40 shots.
It's the fifth gold medal for Team Canada in women's hockey since the sport was added to the Olympic program at Nagano 1998.
READ: Team Canada wins women's hockey gold at Beijing 2022
READ: 'Captain Clutch' leads Team Canada back to the top of the Olympic podium
Freestyle Skiing
Sochi 2014 Olympic champion Marielle Thompson has added a silver medal to her collection, after finishing second in the big final in Beijing. She moved up from fourth place midway through the race to claim her spot on the podium. Brittany Phelan, Courtney Hoffos and Hannah Schmidt, finished 1-2-3 in the small final to place fifth, sixth, and seventh overall.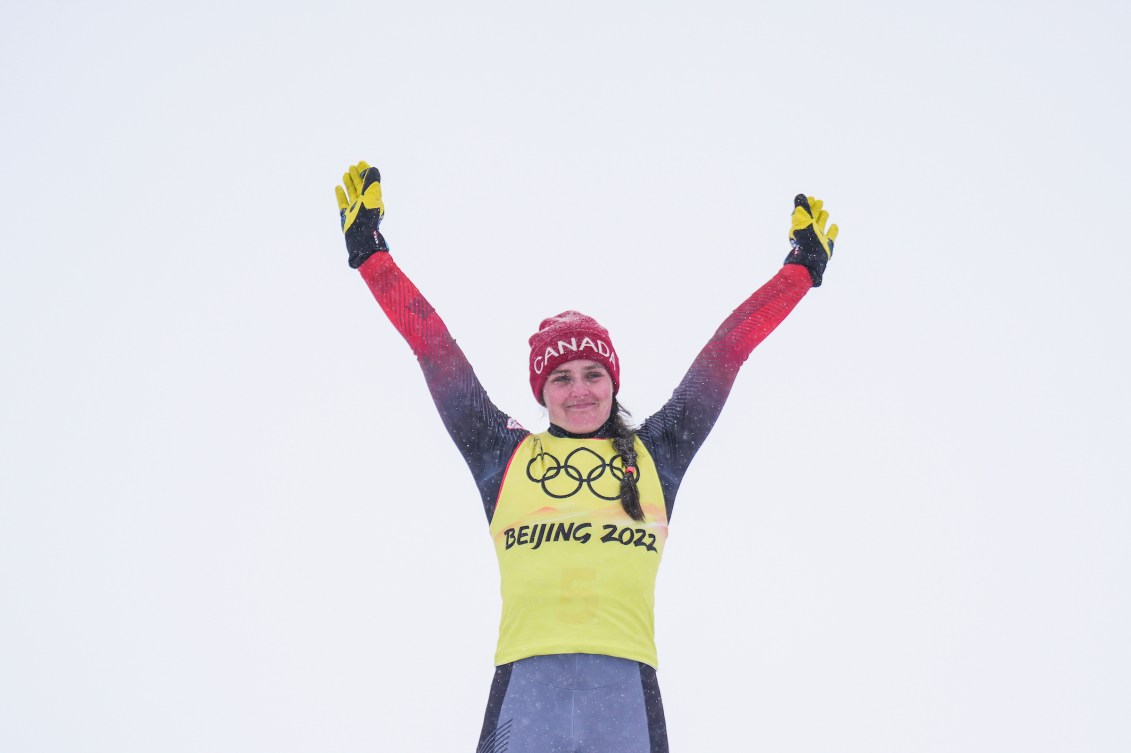 READ: Thompson wins silver for second career Olympic medal in women's ski cross
All six Canadian skiers advanced to their respective finals in halfpipe. Rachael Karker ranked second in women's qualifying, with reigning Olympic champion Cassie Sharpe in sixth. Amy Fraser was 11th of the 12 women who will move on. On the men's side, Brendan Mackay and Noah Bowman ranked fifth and sixth while Simon d'Artois was also in the top eight.
READ: Team Canada skiers set to challenge for Olympic halfpipe hardware
Alpine Skiing
Roni Remme was the only Canadian skier competing in the women's alpine combined, but she did not finish the downhill run to be able to compete in the slalom.
Curling
Team Brad Gushue closed out their preliminary round against Bruce Mouat and Great Britain, the number one-ranked team in the world. They lost that match 5-2 before heading into their semifinal against Sweden. Down 4-3 but with the hammer in the 10th end, Gushue took a shot at the win with his last shot, but came up just centimetres short and ended up giving up a steal. Team Gushue will now play for bronze against the United States.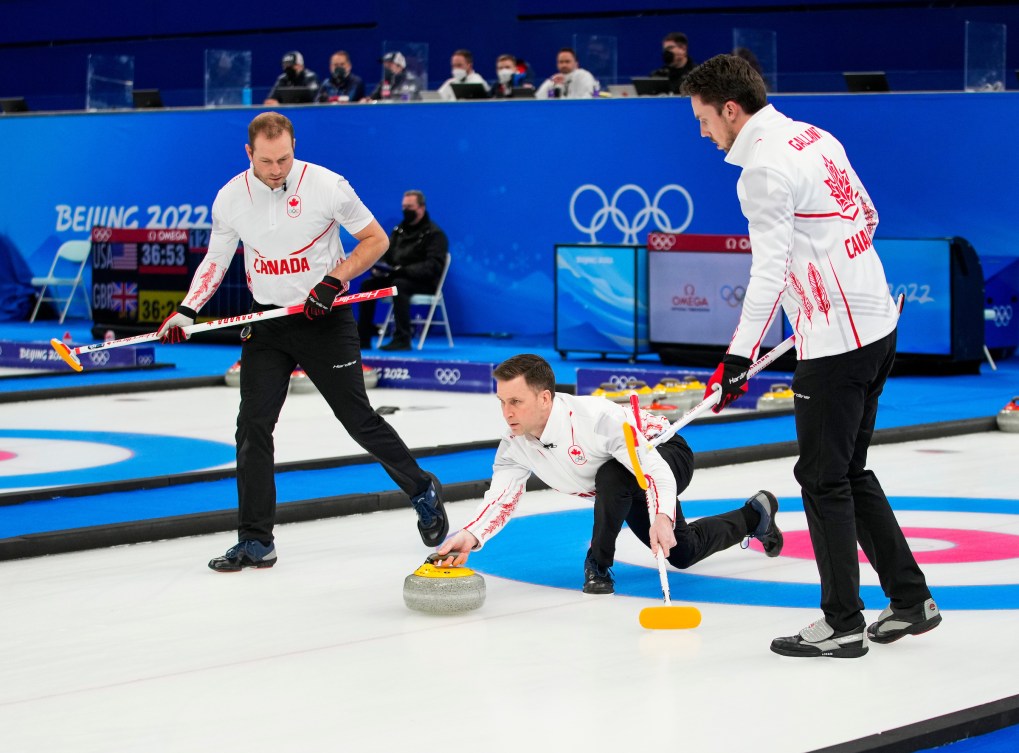 Team Jennifer Jones finished their round robin play against Denmark. Though they got the 10-4 win, the results of other matches in the last draw didn't go their way and they ended up on the wrong side of the tiebreaker scenarios. That brings their Olympic journey in Beijing to an end.
READ: Team Jennifer Jones win final game but miss playoffs at Beijing 2022

Figure Skating
Madeline Schizas finished 18th in the women's free skate with a score of 115.03 to move up a spot from the short program as she placed 19th overall. She ended with a total score of 175.56.
Long Track Speed Skating
First-time Olympians Maddison Pearman and Alexa Scott competed in the women's 1000m at the Ice Ribbon. Scott placed 12th in 1:15.79 while Pearman was 26th in 1:17.66.