THE CANADIAN PRESS/Frank Gunn
Team Canada to play for gold at IIHF Women's World Championship
Team Canada has advanced to the gold medal game of the IIHF Women's World Championship.
Canada secured a spot in Sunday's championship game with a 5-1 semifinal victory over Switzerland on Saturday in Brampton, Ontario. Sarah Fillier netted a hat trick in the win while Jamie Lee Rattray and Rebecca Johnston added solo markers. Netminder Ann-Renée Desbiens returned to the Canadian crease after not dressing for Thursday's quarterfinal, making eight saves in the victory.
Team Canada will face a familiar foe for the women's worlds title. The United States advanced to the gold medal game with a 9-1 semifinal win over Czechia, setting up yet another winner-take-all showdown between the Canadians and Americans. Only once in tournament history have the two not met in the championship game. Puck drop is scheduled for 7 p.m. ET on Sunday and will be broadcast by TSN.
READ: Team Canada looking for golden three-peat at IIHF Women's World Championship
Canada is looking to win a third straight women's world championship after defeating the United States in back-to-back gold medal games. The Canadians also beat the Americans in the gold medal game at Beijing 2022.
Canada controlled the play in the first period of Saturday's semi. Kristin O'Neill had the game's first good chance, making a nice move to get through the Swiss defense only to have her shot denied by goaltender Andrea Brändli. A few minutes later, a Swiss turnover near the blue line gave Blayre Turnbull a breakaway but her shot went off Brändli's glove and then the post.
With five minutes remaining in the first, Johnston was able to beat Brändli with a deflection – but the goal was immediately called off due to a high stick.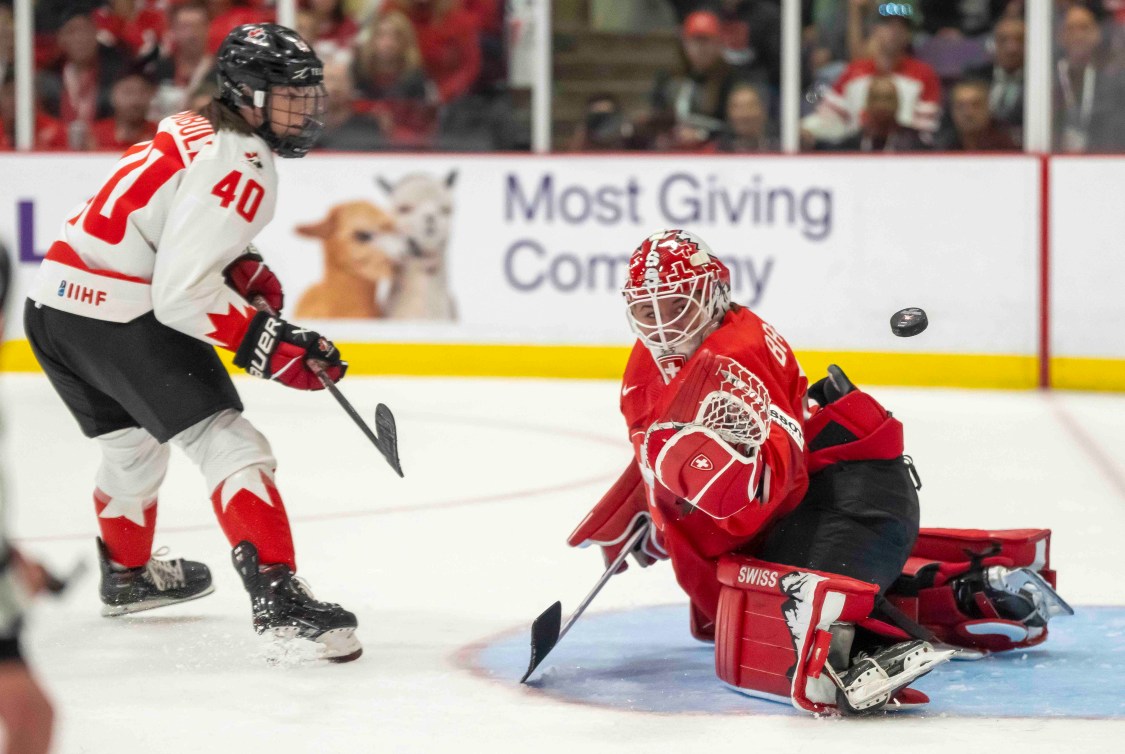 With 1:33 remaining in the opening frame, Switzerland captain Laura Stalder was given a five-minute major and game misconduct for a check from behind on Sarah Nurse. Early in the second period, Nurse nearly opened the scoring on the power play, ripping a shot past Brändli and off the crossbar.
Not long after O'Neill was stopped on a breakaway, Nurse setup Fillier in the slot who beat Brändli with a wrist shot to open the scoring at 11:06. Then with 2:56 remaining in the second, Natalie Spooner tried a wraparound attempt which allowed Fillier to deposit the loose puck in front past the Swiss netminder to give Canada a 2-0 lead.
Canada made it 3-0 with a power play goal 3:48 into the third period. The puck snuck through the pads of Brändli and sat in the crease where Rattray poked it across the line, extending Canada's lead.
Fillier completed her hat trick with 4:56 remaining. The Swiss were unable to grab a loose puck in front of their net, allowing the 22-year-old to score her seventh of the tournament and add to Team Canada's advantage.
On a five-on-three power play, Alina Muller ended Desbiens' shutout bid with 2:04 remaining. Team Canada struggled holding onto leads in each of the past two games but that would be as close as Switzerland would get. Canada needed a nine-round shootout to defeat the United States to conclude preliminary round play and then beat Sweden in overtime in Thursday's quarterfinal.
With 0.8 seconds remaining in regulation, Johnston scored to make it a 5-1 final.
Saturday's result pushed Canada to 12-0 all-time against Switzerland at the world championship.
Switzerland will play Czechia in Sunday afternoon's bronze medal game. It's the third straight bronze medal match for the Swiss at this event.