THE CANADIAN PRESS/AP-Bo Amstrup/Ritzau Scanpix via AP
Team Canada looking for golden three-peat at IIHF Women's World Championship
A Team Canada roster loaded with Olympic Games experience will look to capture a third straight gold medal at this year's IIHF Women's World Championship.
The Canadians begin their quest for a three-peat on Wednesday April 5 when they take on Switzerland in Brampton, Ontario. It's the first time Canada has hosted the worlds since Calgary did so in 2021, a tournament that was significantly impacted by COVID-19 restrictions. The country hasn't hosted a world championship that could be fully attended by fans since 2016 in Kamloops, B.C.
Team Canada, also the reigning Olympic gold medalists, is on quite a run at the world championships. After winning three straight silver medals from 2013 to 2017 and a bronze in 2019, the Canadians have won back-to-back gold medals, including late last summer in Denmark.
READ: Team Canada wins gold at 2022 women's world hockey championship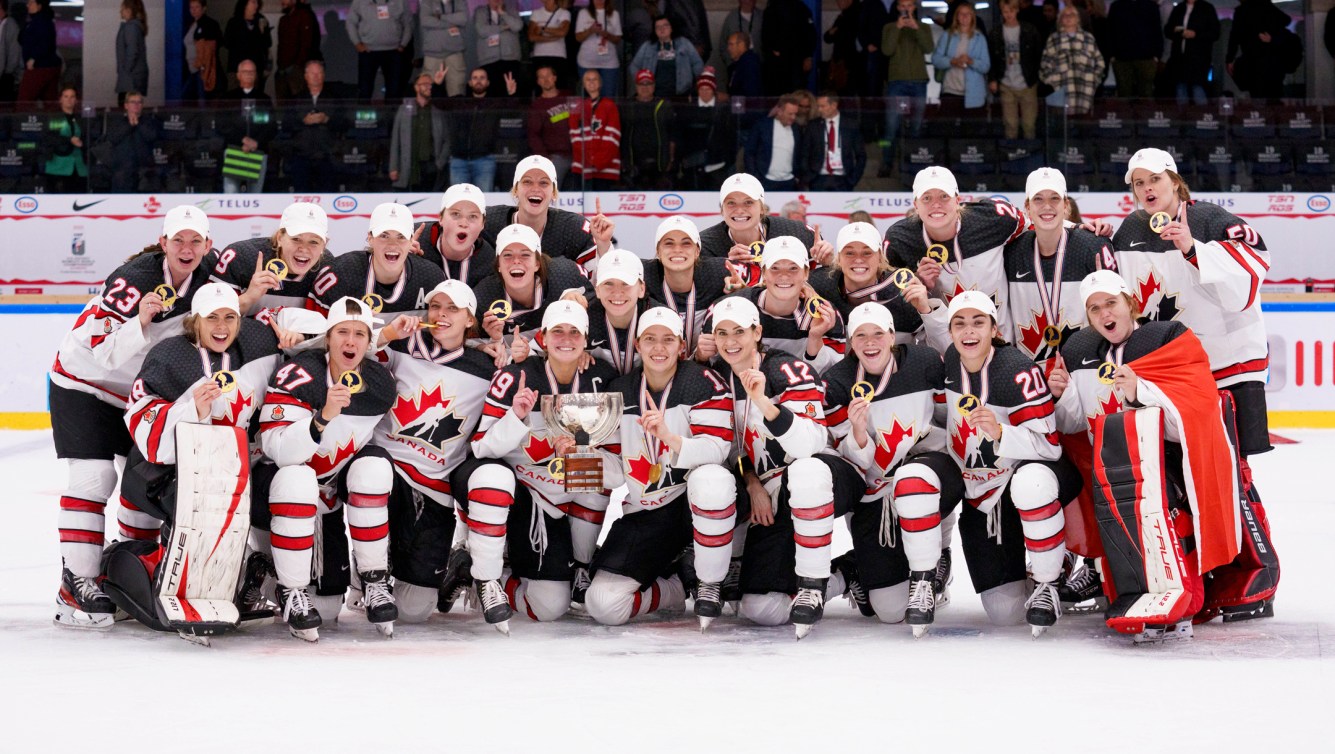 Marie-Philip Poulin will captain Team Canada once again. It was an incredible 2022 for "Captain Clutch", who not only won Olympic and world championship gold but earned the prestigious Northern Star Award as Canada's Athlete of the Year, becoming the first female hockey player to win the honour.
Poulin, who turned 32 on March 28, will again be looked upon to play a major role in Canada's offence. The Beauceville, Quebec native recorded seven goals and 11 assists in seven games last February in Beijing and followed that up with five goals and five helpers in seven matches at September's world championship.
READ: 'Captain Clutch' leads Team Canada back to the top of the Olympic podium
While Poulin's offensive numbers were impressive last year, so too were Sarah Fillier's. The 22-year-old led Canada in scoring at last year's worlds with five goals and six assists in seven games. Fillier is coming off a 37-point campaign at Princeton University where she was the team's captain.
Team Canada's roster includes plenty of experience up front. Along with Poulin and Fillier, the lineup includes the familiar faces of Sarah Nurse, Brianne Jenner, Natalie Spooner, Rebecca Johnston and others. Nurse led Canada in scoring with 18 points in Beijing, breaking Hayley Wickenheiser's Olympic record of 17 set at Turin 2006. Jenner, meanwhile, was named the Olympic tournament's Most Valuable Player, scoring nine goals to match the single Games record. Spooner is back with the national team after giving birth to her first child in December.
There is a new name up front to keep an eye as well: 21-year-old Danielle Serdachny. She led all NCAA Division I players in scoring this past season with 71 points in 40 games with Colgate. Those numbers were four points better than American forward Taylor Heise, who has been a standout at the international level in recent years.
READ: Best of 2022: A doubly golden year for Canadian women's hockey
Canada's Erin Ambrose (23) and Melodie Daoust (15) celebrate after Ambrose scored a goal against Switzerland during a women's semifinal hockey game at the 2022 Winter Olympics, Monday, Feb. 14, 2022, in Beijing. (AP Photo/Petr David Josek)

Team Canada forward Sarah Nurse (20) celebrates her goal against the United States during first period women's hockey gold medal game action at the 2022 Winter Olympics in Beijing on Thursday, Feb. 17, 2022. THE CANADIAN PRESS/Ryan Remiorz

Rebecca Johnston #6 of Team Canada with teammates Blayre Turnbull and Claire Thompson #42 of Team Canada celebrate following a goal versus Team Switzerland in Women's Preliminary Round hockey during the Beijing 2022 Olympic Winter Games on Thursday, February 03, 2022. Photo by Leah Hennel/COC

Emerance Maschmeyer #38 and teammate Ann-Renee Desbiens #35 of Team Canada walk to the start the first period at the Beijing 2022 Olympic Winter Games on Tuesday, February 08, 2022. Photo by Andrew Lahodynskyj/COC *MANDATORY CREDIT*
On the backend, five of the seven players on defence who helped Team Canada win gold at last year's world championship return for another round of duty. Those five — Erin Ambrose, Renata Fast, Jocelyne Larocque, Ella Shelton and Micah Zandee-Hart — also played key roles in Beijing. The group will be joined by Olympic gold medalist Claire Thompson, who didn't take part in last year's worlds, and 24-year-old Jaime Bourbonnais, who helped Canada win gold at the 2021 event.
All three of Canada's goaltenders — Ann-Renée Desbiens, Emerance Maschmeyer and Kristen Campbell — won world championship and Olympic gold last year. Desbiens saw most of the playing time, posting a 5-0 record in Beijing and an impressive 0.80 goals against average in five world championship appearances.
Team Canada schedule at the 2023 IIHF Women's World Championship
Canada will play in Group A along with the United States, Czechia, Switzerland and Japan. Canada and the United States have met in every gold medal game in women's worlds history except for 2019 when host Finland fell to the U.S. in the championship game. Finland will join Sweden, Hungary, Germany and France in Group B.
Following their opening game against the Swiss on Wednesday, Team Canada will take on Czechia on Friday and Japan on Saturday before concluding preliminary round play with a big showdown against the rival Americans on April 10. All of those Team Canada games will be at 7:00 p.m. ET.
The quarterfinals will take place April 13 followed by the semifinals on April 15 and the bronze and gold medal games on April 16. All games will be played at Brampton's CAA Centre and will be broadcast by TSN.
Canada is hosting the women's worlds for the ninth time and has won gold in six of eight tournaments played at home.
Team Canada roster for 2023 IIHF Women's World Championship
Goaltenders (3)
Kristen Campbell (Brandon, MB)
Ann-Renée Desbiens (La Malbaie, QC)
Emerance Maschmeyer (Bruderheim, AB)
Defence (7)
Erin Ambrose (Keswick, ON)
Jaime Bourbonnais (Mississauga, ON)*
Renata Fast (Burlington, ON)
Jocelyne Larocque (Ste. Anne, MB)
Ella Shelton (Ingersoll, ON)
Claire Thompson (Toronto, ON)*
Micah Zandee-Hart (Saanichton, BC)
Forwards (13)
Emily Clark (Saskatoon, SK)
Sarah Fillier (Georgetown, ON)
Brianne Jenner (Oakville, ON)
Rebecca Johnston (Sudbury, ON)*
Emma Maltais (Burlington, ON)
Sarah Nurse (Hamilton, ON)
Kristin O'Neill (Oakville, ON)
Marie-Philip Poulin (Beauceville, QC)
Jamie Lee Rattray (Kanata, ON)
Danielle Serdachny (Edmonton, AB)*
Natalie Spooner (Scarborough, ON)*
Laura Stacey (Kleinburg, ON)
Blayre Turnbull (Stellarton, NS)
*Players who were not on the gold medal-winning team at the 2022 IIHF Women's World Championship