Mark Blinch/COC
Decathlon champ Damian Warner named Canada's Athlete of the Year
You can add one more award to Damian Warner's trophy case for 2021.
The World's Greatest Athlete is now Canada's Athlete of the Year.
A few months after becoming the first Canadian to win Olympic decathlon gold, Warner has been voted as our country's best athlete by a distinguished committee of 35 men and women from across the country with diverse backgrounds in sports media.
There were so many Team Canada athletes in contention for the year-end honour after their outstanding performances at Tokyo 2020. But what Warner did over his two days of competition this past summer could not be ignored.
READ: Team Canada Athlete and Team of the Year candidates for 2021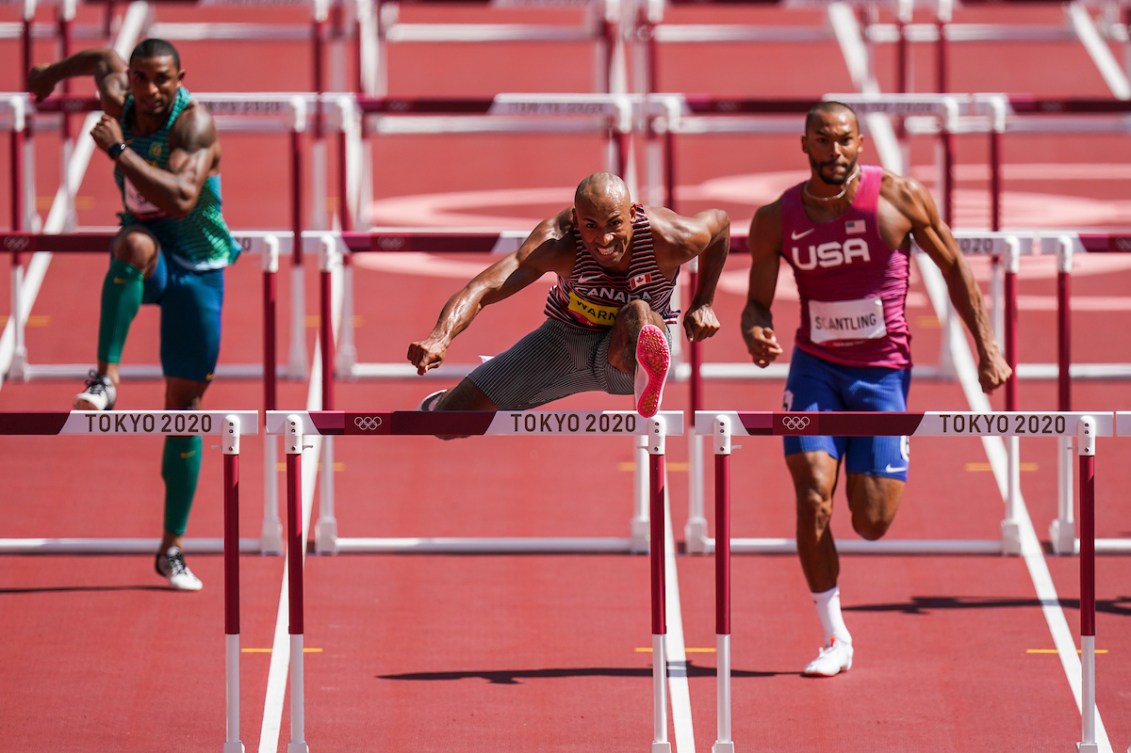 Excelling at 10 different athletics disciplines, Warner became the first decathlete to break the 9000-point mark while winning Olympic gold and just the fourth to do it all-time.
READ: Living the Dream: Damian Warner, Olympic decathlon champion
Warner led the Olympic decathlon from start to finish, beginning with a world decathlon best time of 10.12 seconds in the 100m. He then broke a 25-year-old Olympic decathlon best mark with his 8.24m leap in the long jump. He also posted an Olympic decathlon best time (13.46s) in the 110m hurdles and achieved a personal best 4.90m in the pole vault. That was all key to him earning an overall total of 9018 points.
Warner was ultimately selected to be Team Canada's Closing Ceremony flag bearer at Tokyo 2020.
Though the Olympic gold medal brought Warner lots of glory, he had another memorable moment in May when he won his record sixth Hypo-Meeting in Götzis, Austria. In his first decathlon since winning bronze at the 2019 World Championships, Warner hit 8995 points on the strength of world decathlon bests in the long jump (8.28m) and 110m hurdles (13.36s). Despite not being a long jump specialist, Warner now owns the Canadian record in the event.
His performances are even more remarkable when you consider how he was forced to train in 2020-21 because of pandemic-related restrictions. Rather than attending intensive, focused training camps over the winter, he was in an old, unheated hockey arena in his hometown of London, Ontario where he and his coaching team created a makeshift setup for training his 10 different running, jumping and throwing events.
Warner is the first track and field athlete to be named Canada's Athlete of the Year since Donovan Bailey in 1996, following his double gold performance at the Olympics in Atlanta.
There were two rounds of voting for Canada's Athlete of the Year. A general nomination round allowed committee members to make their case for any athlete they felt worthy of the title of Canada's Athlete of the Year. A vote whittled that long list down to a short list after which more discussion took place before the final vote on the winner.
Other finalists included: Olympic 200m champion Andre De Grasse; one of last year's winners, soccer phenom Alphonso Davies; Olympic champion soccer goaltender Stephanie Labbé; Olympic 100m butterfly champion Maggie Mac Neil; Toronto Blue Jays superstar Vladimir Guerrero Jr; and Edmonton Oilers captain and NHL MVP Connor McDavid.
Damian Warner named CP Male Athlete of the Year
It wasn't too surprising when, later in December, Warner was named the winner of the Lionel Conacher Award as CP Male Athlete of the Year. He received 18 of the 47 votes cast. De Grasse and his three Olympic medals at Tokyo 2020 was second with 14 votes. Last year's winner, Davies, was third with seven votes.
"Accepting awards like this is weird to me, because it is like a coin flip essentially," Warner told the Canadian Press. "Andre won a gold medal, and Alfonso is having an incredible year. So, when you're picked, you kind of feel guilty to a certain extent. It's a good problem to have in Canada that we have so many athletes, and not only us three but the list goes on and on and on of people that were really successful this year. As a sports fan, that's always a cool thing to see."
"So, it's always a humbling thing and I'm grateful to be recognized, (but) it's also recognizing my family, my coaches and everybody that helped me get to this point, which is what I think is really cool about it," he added.
Leylah Fernandez named CP Female Athlete of the Year
Leylah Fernandez has won the Bobbie Rosenfeld Award as The Canadian Press Female Athlete of the Year.
READ: By the Numbers: Leylah Fernandez, U.S. Open finalist
Fernandez thrilled the country when she exceeded all expectations by advancing to the final of the U.S. Open. Ranked 73rd in the world heading into the last Grand Slam of the season, she defeated defending champion Naomi Osaka as well as former world number one Angelique Kerber and two other top-five seeds (Aryna Sabalenka and Elina Svitolina) en route to the final. With the help of those upsets, Fernandez rose all the way to No. 24 in the year-end WTA rankings. She had started the year at No. 88 but got an early boost when she won the Monterrey Open in March for her first career WTA Tour title.
READ: Fernandez's fairytale run ends in US Open final
In a close race for the award, Fernandez received 12 of 45 votes cast by sports editors, writers and broadcasters from across the country. Swimmers Penny Oleksiak and Maggie Mac Neil each received 10 votes. Fernandez is the third tennis player to win the Rosenfeld Award in the last decade, following Eugenie Bouchard in 2013 and 2014 and Bianca Andreescu in 2019.
Women's National Soccer Team named CP Team of the Year
It came as no great surprise that following their historic Olympic gold medal at Tokyo 2020, Canada's National Women's Soccer Team has been named The Canadian Press Team of the Year.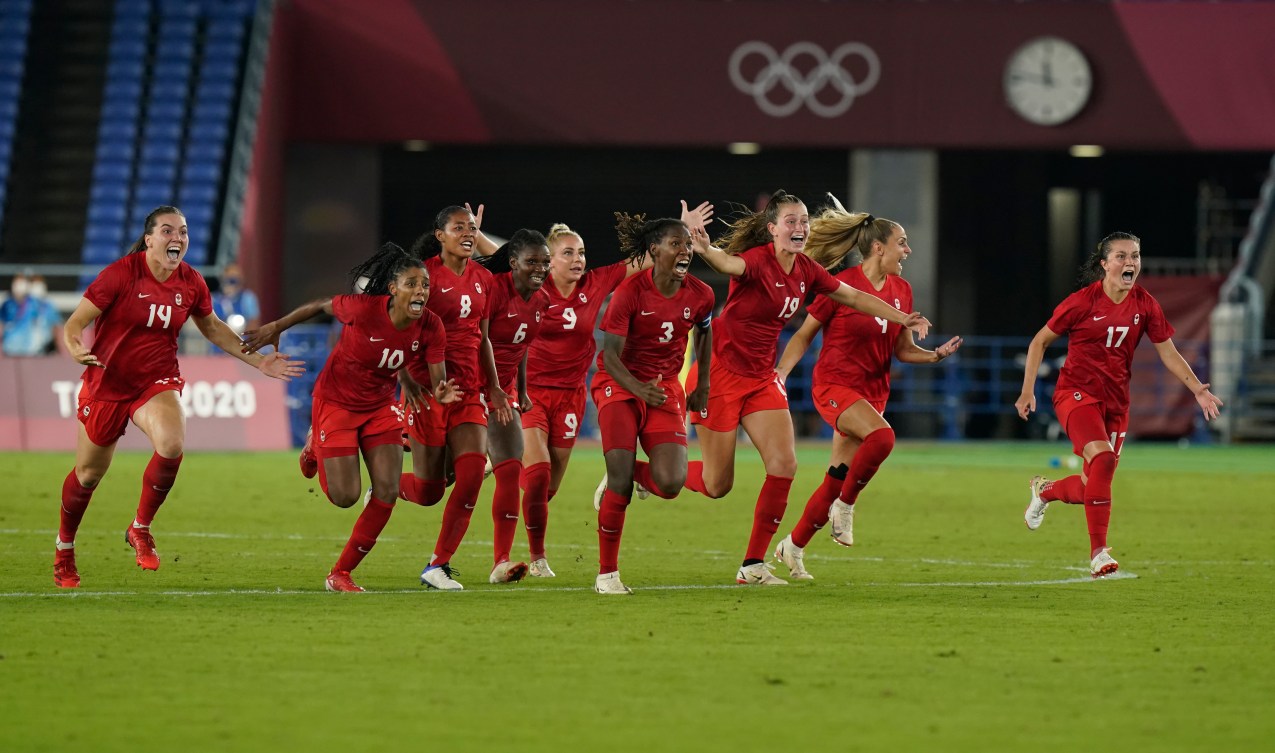 READ: Best of 2021: Glorious gold for Team Canada in women's soccer
They had gone to the Games with a stated goal of changing the colour of the medal after their back-to-back bronzes at London 2012 and Rio 2016. But as the eighth-ranked team in the world, achieving that goal wouldn't be easy.
They reached the quarterfinals with a win and two draws in group play. In a rematch of the bronze medal game from Rio 2016, Canada got the better of Brazil again, winning in a penalty shootout thanks to some hot stops by goalkeeper Stephanie Labbé.
That set up a semifinal showdown with the United States, which for many brought back a lot of memories from a controversial semifinal loss to the Americans at London 2012. But this time, it was the Canadians who came away as the victors after Jessie Fleming scored the lone goal of the game on a penalty kick.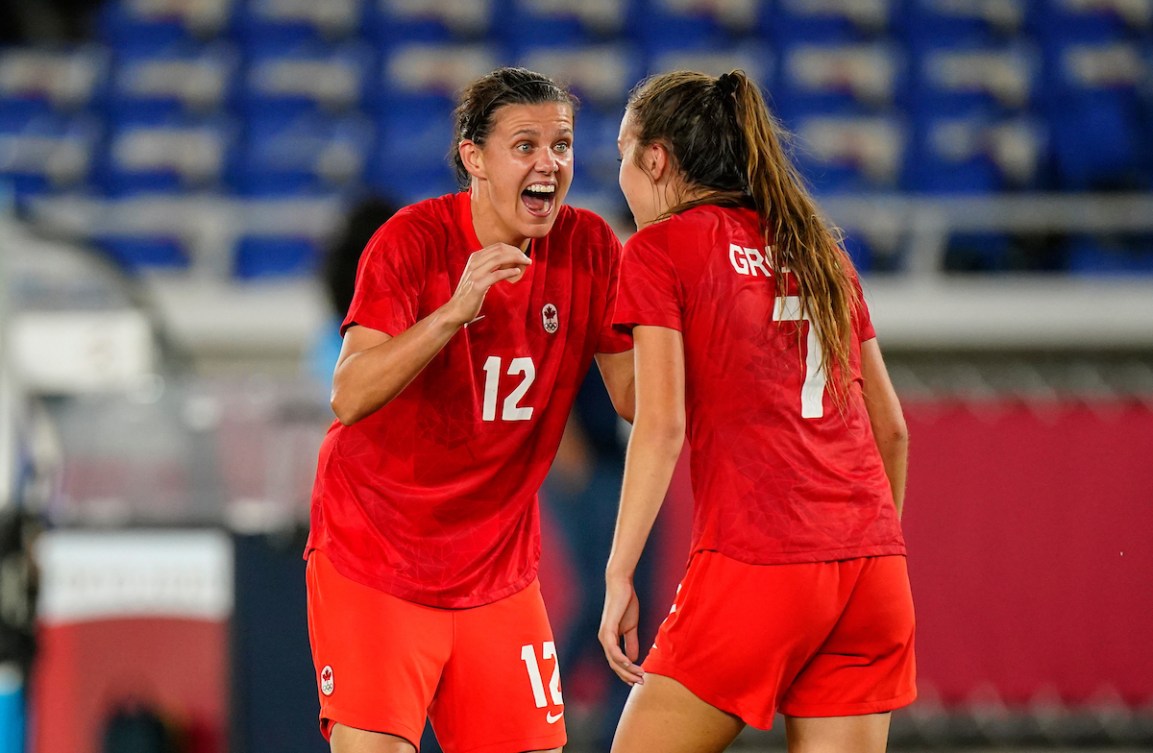 Canada would not come down from that high. In fact, they only flew higher. The gold medal game against Sweden was deadlocked 1-1 after regulation and extra time, leading to another high pressure penalty shootout. The moment of glory landed on the foot of 20-year-old Julia Grosso, who kicked home the winner that sent the nation into celebration.
As the 22 athletes stood on the podium, right in the middle of the squad was captain Christine Sinclair. Long the lone star, she was now surrounded by other playmakers and scorers who couldn't have been more thrilled to see her finally have an Olympic gold medal hanging around her neck.
The team took 38 of 44 votes in Team of the Year voting, winning in a landslide over the women's Olympic swimming team (three votes) and the women's national hockey team, men's national soccer team, and the Montreal Canadiens who had one vote apiece.