THE CANADIAN PRESS/Ryan Remiorz
Marie-Philip Poulin named Canada's Athlete of the Year
Hockey player Marie-Philip Poulin has won the 2022 Northern Star Award as Canada's Athlete of the Year.
Poulin was the captain of the Canadian women's hockey team that won gold at both Beijing 2022 and the 2022 IIHF Women's World Championship.
In recognition of her stature as a leader on and off the ice, Poulin was given the honour of being Team Canada's co-Opening Ceremony flag bearer at Beijing 2022, alongside short track speed skating legend Charles Hamelin. She went on to score six goals and add 11 assists, ranking her second only to teammate Sarah Nurse for the tournament scoring lead.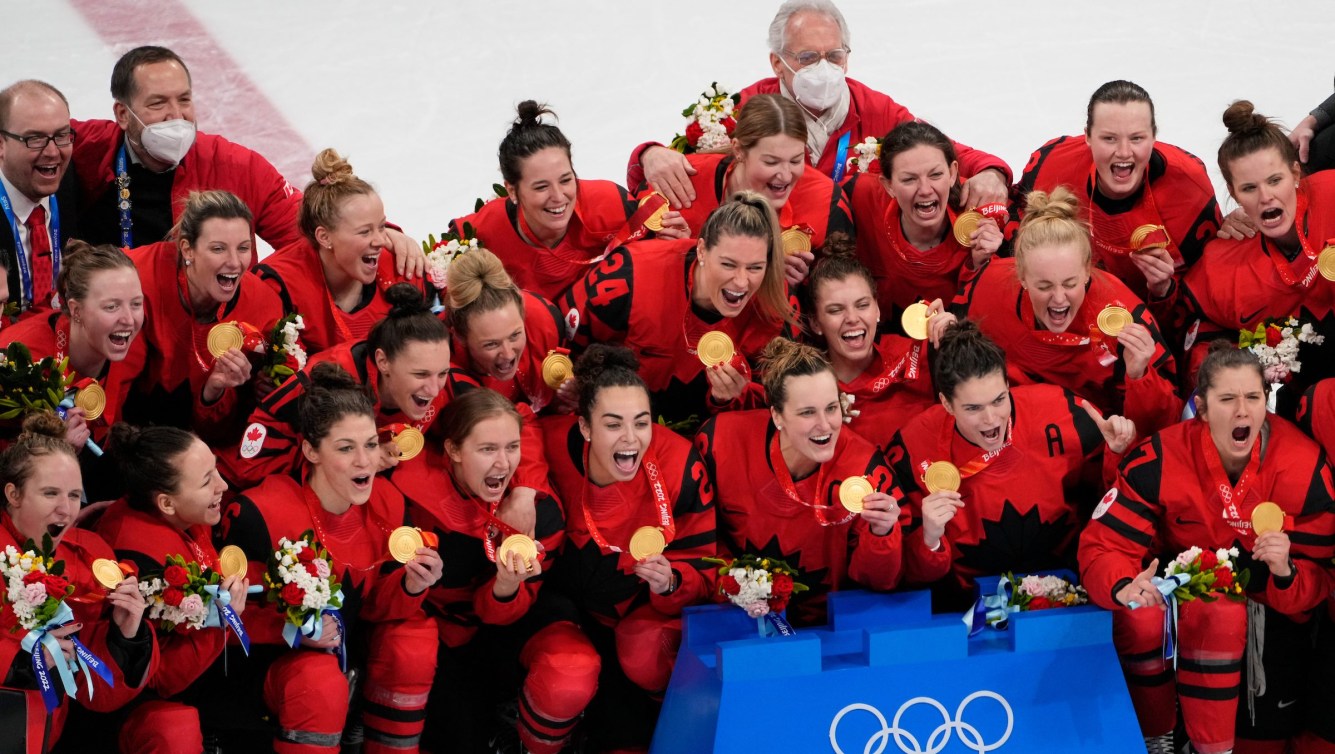 READ: 'Captain Clutch' leads Team Canada back to the top of the Olympic podium
Two of those goals, including the eventual game winner, came as Canada earned the 3-2 win over the United States in the final. That made "Captain Clutch" the first hockey player – male or female – to score in four Olympic gold medal games.
In August, Team Canada was back on the ice at the IIHF Women's World Championship in Denmark where they won their second straight world title, after ending an almost decade long drought in 2021. Poulin recorded five goals and five assists at the worlds.
READ: Team Canada wins gold at women's hockey world championship
When not wearing the maple leaf, Poulin plays with the Professional Women's Hockey Players' Association's Dream Gap Tour. She leads the scoring this year with eight goals and four assists in seven games. In June, she was named Player Development Consultant with the NHL's Montreal Canadiens, for now a part time role as she continues her playing career.
Poulin is the 14th hockey player to be named Canada's Athlete of the Year, but breaks through as the first woman from her sport to win the vote amongst broadcasters and journalists. Formerly known as the Lou Marsh Award, the honour has been handed out annually since 1936, except during World War II.
Other finalists who were considered this year include tennis player Félix Auger-Aliassime, golfer Brooke Henderson, swimmer Summer McIntosh, para Nordic skier Brian McKeever, and NHL defenceman Cale Makar.
Marie-Philip Poulin named CP Female Athlete of the Year
To cap off the year, Captain Clutch was named the winner of the Rosenfeld Award after she was voted the Canadian Press female athlete of the year for 2022. She received 22 out of the 48 total votes. Swimming's rising star Summer McIntosh was ranked second with a total of 10 votes.
"It sure tops up the year. I think 2022, when I take a little time to myself and rethink it, it's quite amazing, not only personally, but as a group," Poulin told Canadian Press. "A big thank you to people that voted, but this goes to the people around me, my teammates."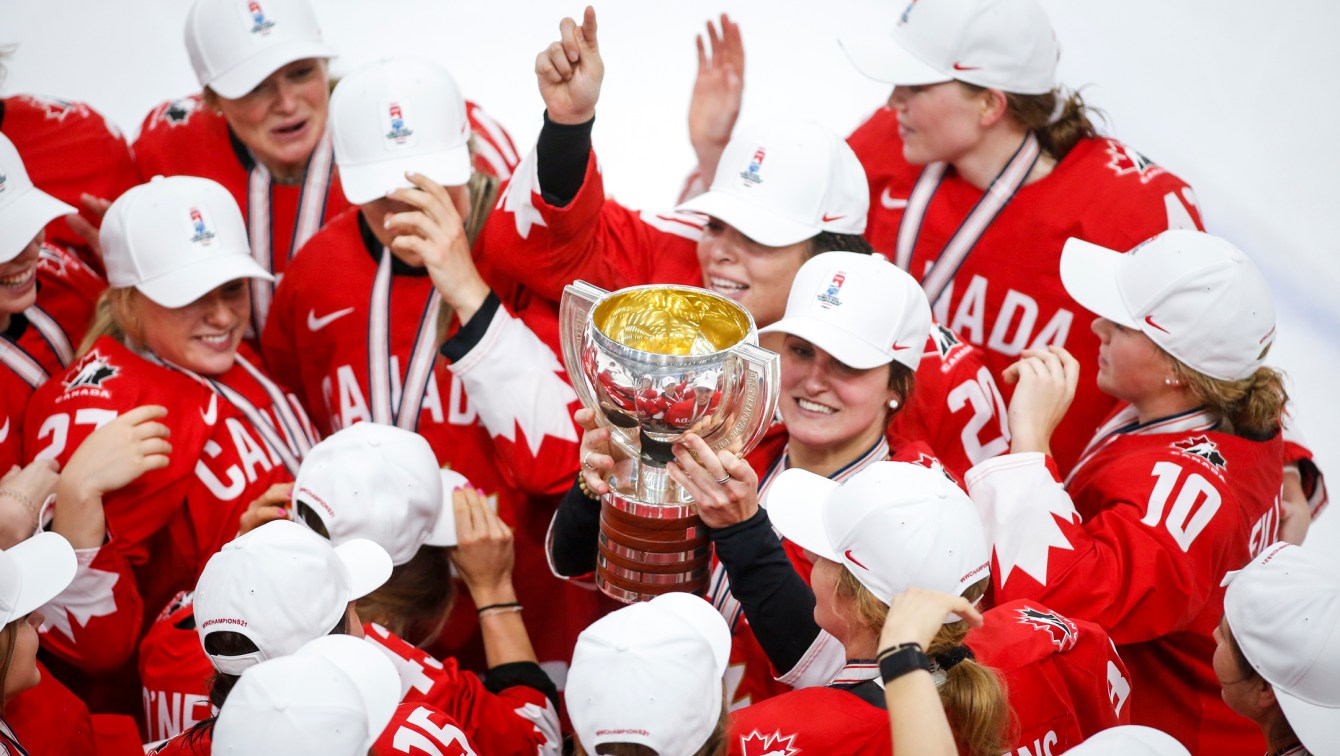 Felix Auger-Aliassime named CP Male Athlete of the Year
What a year it has been for Félix Auger-Aliassime. From winning his first four ATP tour singles titles, to claiming the Davis Cup with Team Canada for the first time in history, and finishing the year ranked 6th in the world it is no surprise that he has been named the winner of the Lionel Conacher Award as CP Male Athlete of the Year.
READ: Félix Auger-Aliassime wins Swiss Indoors final for fourth ATP singles title
"I managed to accomplish all the goals I set for myself and more," Auger-Aliassime said. "I had already performed well halfway through the year, but to finish the year at the Turin Masters, to win the Davis Cup … I'm happy with my evolution as a person and as a player."
READ: Best of 2022: Team Canada on top of tennis world
Auger-Aliassime received 20 of 48 votes from sports editors and broadcasters across the country. Soccer player Alphonso Davies, who was a driving force during Team Canada's World Cup play, finished second with 10 votes. Cale Makar, hockey player and Stanley Cup champion Colorado Avalanche, was third with seven votes.
"It's been a great year, so to receive this award — recognition from the Canadian public and media — is quite an honour," Auger-Aliassime said.
Men's National Soccer Team named CP Team of the Year
Our men's national soccer team have been awarded the Team of the Year but the Canadian Press for 2022.
This year saw the team qualify for the FIFA World Cup for the first time in 36 years and score their first ever World Cup goal there — a header scored by Alphonso Davies just 68 seconds into their game against Croatia.
READ: 5 lessons learned from Canada's FIFA World Cup adventure
READ: Best of 2022: Canadian soccer takes a few big steps forward
The team received 23 votes to take the top spot. Canada's Davis Cup team — which won a first-ever world tennis title in November — was runner-up with 19 votes.