Atlanta 1996
Team Canada Medal Count
3
11
8
Games Summary
Games of the XXVI Olympiad
It was at the Centennial Olympic Games that Canada recorded its best ever medal total in a non-boycotted Games, winning 22 medals, highlighted by three gold medals. Two of those came from the track, where on back-to-back Saturday nights Donovan Bailey first captured the title of world's fastest man with his victory in the 100m in world record time of 9.84 seconds and then anchored the 4x100m relay team (also featuring Carlton Chambers, Robert Esmie, Glenroy Gilbert, Bruny Surin) to gold. Bailey was just the second Canadian to win double gold in athletics at the same Games, following Percy Williams in 1928, who was also the last Canadian to win the 100m.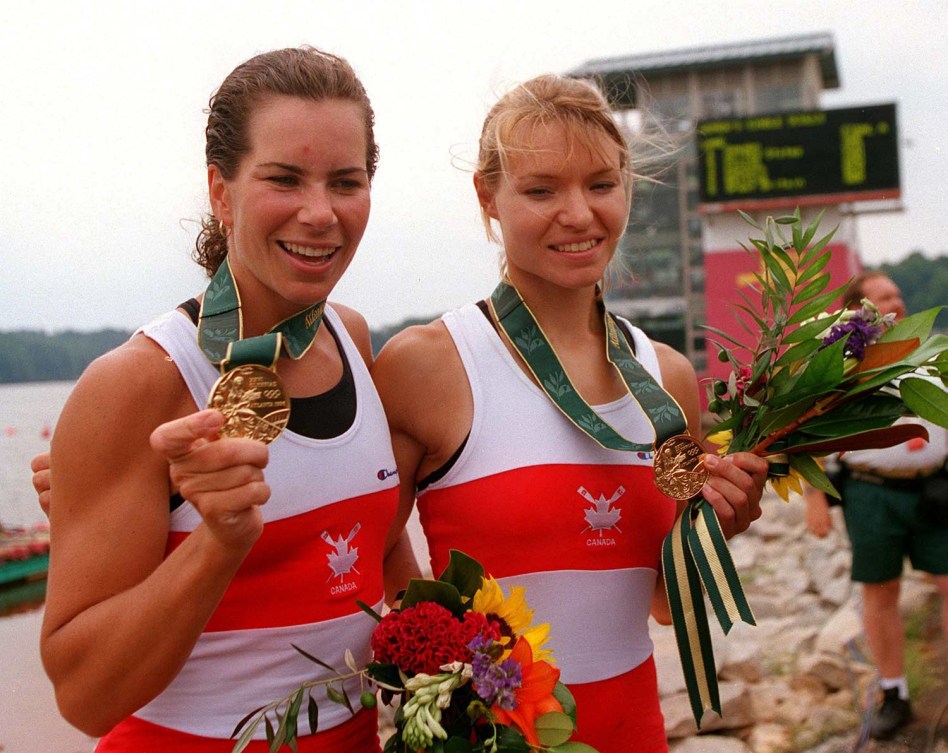 The other gold medal was just as historic, as rowers Marnie McBean and Kathleen Heddle won the double sculls to become Canada's first ever three-time Olympic gold medallists, having won double gold four years earlier in Barcelona. The rowing team accounted for six medals. McBean and Heddle joined the quad sculls for a bronze medal. The women's eight won silver, as did single scullers Silken Laumann and Derek Porter along with the men's lightweight four. Also on the water, Caroline Brunet won Canada's only canoe/kayak medal of the Games, taking silver in the K-1 500m.
The cycling team was also formidable, bringing home five medals, adding to the country's all-time Olympic cycling medal tally of four. Clara Hughes won a pair of bronze medals in road cycling, beginning her run to becoming the first athlete to win multiple medals in both the summer and winter Games. She was also the first female Canadian cyclist to win an Olympic medal. She was joined later in the Games by Alison Sydor who won silver in the Olympic debut of mountain bike. On the track, Curt Harnett won sprint bronze for his third career Olympic medal while Brian Walton took silver in the points race.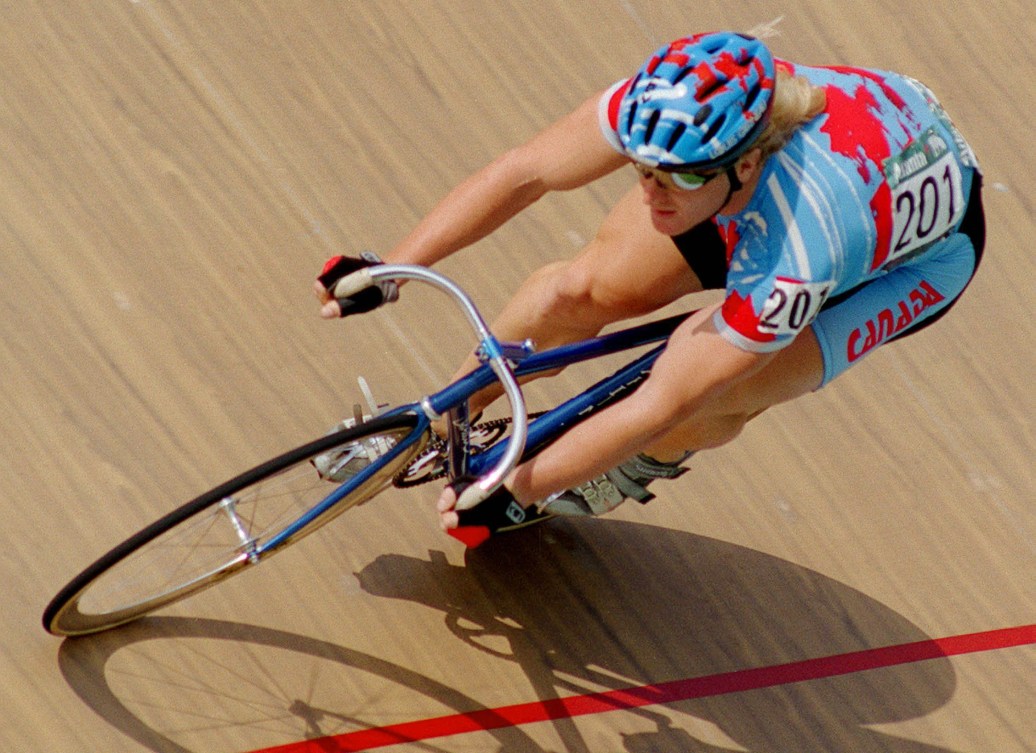 In the pool, Curtis Myden was a double bronze medallist in the men's 200m and 400m individual medleys while Marianne Limpert won silver in the 200m individual medley. Canada also won silver in the first Olympic synchronized swimming team competition. Diver Annie Pelletier added a bronze in the 3m springboard.
Canada also reached the podium in the inaugural Olympic beach volleyball tournament as John Child and Mark Heese won bronze. There were two silver medals from combat sports, courtesy of boxer David Defiagbon and wrestler Guivi Sissaouri.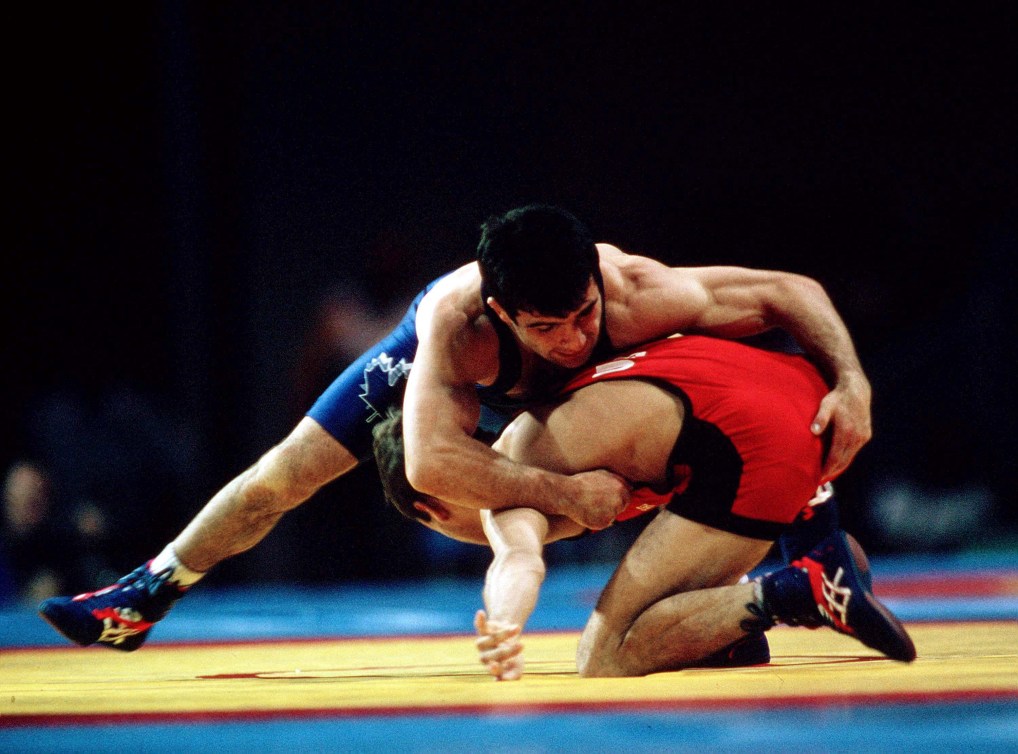 For the first time ever, the Canadian team was comprised of more women than men.
Canadian Medallists
| Event | Athlete | Finish | Sport |
| --- | --- | --- | --- |
| 100m - Men | Donovan Bailey | Gold | Athletics |
| Relay 4x100m - Men | Donovan Bailey, Carlton Chambers, Robert Esmie, Glenroy Gilbert, Bruny Surin | Gold | Athletics |
| Double Sculls - Women | Kathleen Heddle, Marnie McBean | Gold | Rowing |
| Individual Medley 200m - Women | Marianne Limpert | Silver | Aquatics - Swimming |
| Team - Women | Lisa Alexander, Janice Bremner, Karen Clark Le Poole, Karen Fonteyne, Sylvie Fréchette, Valerie Hould-Marchand, Katarzyna Kulesza, Christine Larsen, Cari Read, Erin Woodley | Silver | Aquatics - Synchronized Swimming |
| Heavyweight - Men | David Defiagbon | Silver | Boxing |
| K-1 500m - Women | Caroline Brunet | Silver | Canoe-Kayak - Sprint |
| Cross Country - Women | Alison Sydor | Silver | Cycling - Mountain Bike |
| Points Race - Men | Brian Walton | Silver | Cycling - Track |
| Coxed Eight - Women | Alison Korn, Theresa Luke, Maria Maunder, Heather McDermid, Jessica Monroe, Emma Robinson, Lesley Thompson-Willie, Tosha Tsang, Anna Van der Kamp | Silver | Rowing |
| Lightweight Four - Men | David Boyes, Gavin Hassett, Jeffrey Lay, Brian Peaker | Silver | Rowing |
| Single Sculls - Men | Derek Porter | Silver | Rowing |
| Single Sculls - Women | Silken Laumann | Silver | Rowing |
| 60kg - Men | Guivi Sissaouri | Silver | Wrestling - Freestyle |
| Springboard 3m - Women | Annie Pelletier | Bronze | Aquatics - Diving |
| Individual Medley 200m - Men | Curtis Myden | Bronze | Aquatics - Swimming |
| Individual Medley 400 - Men | Curtis Myden | Bronze | Aquatics - Swimming |
| Individual Road Race - Women | Clara Hughes | Bronze | Cycling - Road |
| Individual Time Trial - Women | Clara Hughes | Bronze | Cycling - Road |
| Sprint - Men | Curt Harnett | Bronze | Cycling - Track |
| Quadruple Sculls - Women | Laryssa Biesenthal, Kathleen Heddle, Marnie McBean, Diane O'Grady | Bronze | Rowing |
| Men | John Child, Mark Heese | Bronze | Volleyball - Beach |
Teams