Cealy Tetley
Team Canada to have six riders and horses competing in equestrian at Tokyo 2020
Team Canada will have entries in all three equestrian disciplines at this summer's Olympic Games.
That includes a dressage team of three riders and their horses, two entries in individual eventing, and one combination for jumping.
Canada qualified a full dressage team by winning gold at the Lima 2019 Pan American Games. Lindsay Kellock was part of that victorious squad and will be making her Olympic debut with her horse Sebastien. She will be joined by two other first-time Olympic competitors – Chris von Martels (with Eclips) and Brittany Fraser-Beaulieu (with All In). Von Martels was a double medallist at the 2015 Pan Am Games in Toronto while Fraser-Beaulieu and All In have been Canada's highest-placed combination on the FEI Dressage World Ranking since 2017.
Collectively, this trio has won 10 medals in FEI Nations Cup competitions.
"This has been a dream of mine since I was a young child," said von Martels. "Of course, I feel like it is a big accomplishment, but my focus is to be my very best and represent our great country at the highest level."
Canada's only Olympic dressage medal was a bronze in the team event at Seoul 1988. Canada last qualified a full dressage team for London 2012.
In eventing, Jessica Phoenix is headed to her third straight Olympic Games, this time with her equine partner Pavarotti. They led Canada to a team bronze medal at the 2019 Pan Am Games where they finished fifth in the individual event. That was the fifth Pan Am Games medal of Phoenix's career. She also helped Canada win team silver at the 2010 World Equestrian Games.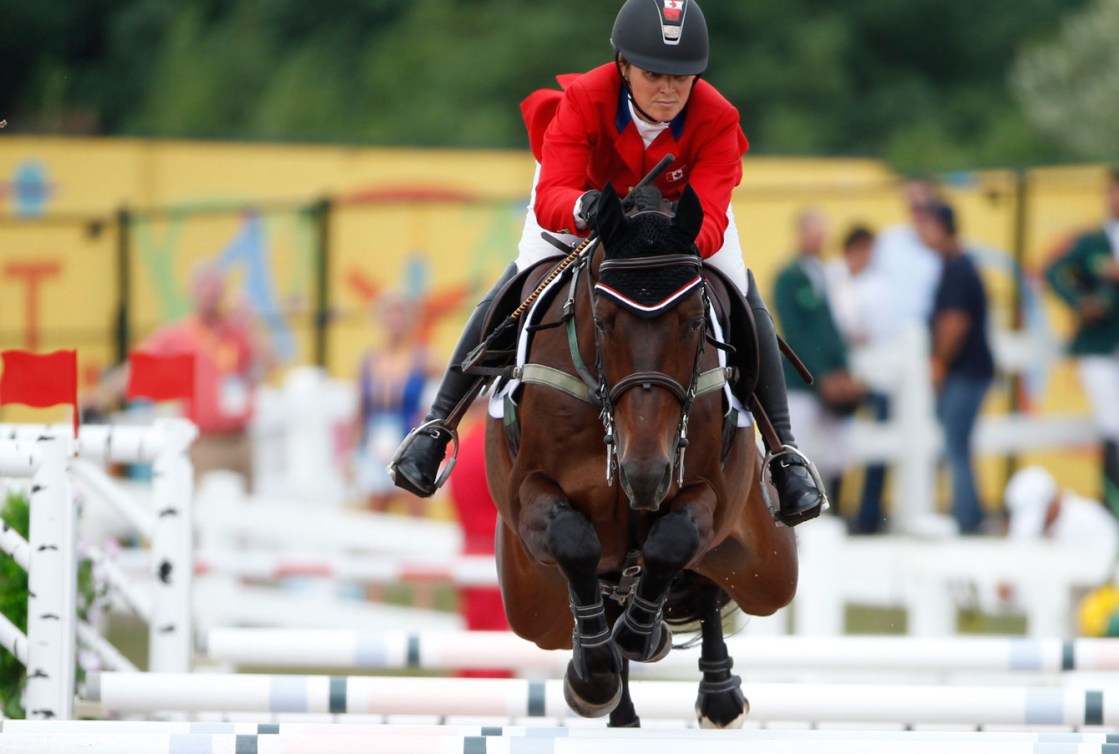 "It's always been my dream to have Pavarotti at an Olympic Games and it's an incredible day to be realizing that dream," said Phoenix. "Pavarotti and I have a long history together competing in the Pan American Games, World Equestrian Games and multiple four- and five-star competitions around the world. The Olympics feels like a culmination of all of our years together."
They'll be joined in the individual event by Colleen Loach and Qorry Blue d'Argouges, a combination that made their first Olympic appearance at Rio 2016. Canada's best-ever Olympic result in individual eventing was a ninth-place finish by Robin Hahn at Mexico City 1968.
Canada's lone competitor in jumping will be Mario Deslauriers, who is returning to the Olympic Games after 33 years. At Los Angeles 1984 and Seoul 1988, he helped Canada to back-to-back fourth-place finishes in the team event. He also finished fourth individually in his Olympic debut. Now 56 years old, Deslauriers is expected to be the oldest member of Team Canada at Tokyo 2020 where he will compete with Bardolina 2, his partner from the 2019 World Equestrian Games.
Jumping has been Canada's most successful equestrian discipline at the Olympic Games, with five medals won. Three of those have come in the individual event, the most recent being the bronze that Eric Lamaze won at Rio 2016. Lamaze withdrew himself from consideration for Tokyo 2020 because of health concerns. He's been undergoing treatment for a brain tumour for the last three years.
Most of the equestrian competition will take place at the Equestrian Park, with the cross-country portion of eventing at the Sea Forest Cross-Country Course.
The equestrian events will begin with dressage, which will run July 24-28. Eventing follows from July 30 to August 2. The individual jumping event will take place August 3 and 4.
Team Canada Equestrian Athletes at Tokyo 2020:
Brittany Fraser-Beaulieu, Horse: All In – Dressage
Lindsay Kellock, Horse: Sebastien – Dressage
Chris von Martels, Horse: Eclips – Dressage
Colleen Loach, Horse: Qorry Blue d'Argouges – Eventing
Jessica Phoenix, Horse: Pavarotti – Eventing
Mario Deslauriers, Horse: Bardolina 2 – Jumping