Team Canada at Tokyo 2020: Day 1
The first full day of competition at Tokyo 2020 saw Michael Woods, Sarah Pavan & Melissa Humana-Paredes, and Leylah Fernandez in action, among many other Team Canada athletes and teams.
Tokyo 2020 Olympic Competition Schedule and Results
GET THE TEAM CANADA APP
Road Cycling: Woods just misses podium in road race sprint finish
Michael Woods came oh so close to winning Canada's second ever Olympic medal in the men's road race. After more than six hours and 234km of racing, Woods was in a small group sprinting for the silver and bronze medals. But he was just edged out by Belgian Wout van Aert and Slovenian Tadej Pogacar, who joined breakaway gold medallist Richard Carapaz of Ecuador on the podium.
Woods' fifth-place finish is Canada's second best ever in the men's Olympic road race, behind only Steve Bauer's silver at Los Angeles 1984. Woods was supported in his efforts by teammates Guillaume Boivin and Hugo Houle.
Artistic Gymnastics: Cournoyer reps Canada
The artistic gymnastics competition began with the men's qualification round. As the lone Canadian, René Cournoyer was in mixed group six within subdivision two as he hoped to earn a spot among the 24 men who will compete in the individual all-around final. Cournoyer finished with a total score of 77.697 points for his performances on the six apparatuses, meaning he did not advance to the final.
Fencing: Gordon en garde in men's sabre
Shaul Gordon was the first Canadian fencer on the piste for the men's individual sabre event. He had a bye through the Round of 64, but then was defeated 15-10 by Mojtaba Abedini of Iran who was seeded 13th, seven spots higher than Gordon.
Taekwondo: Yong makes long awaited debut
After more than a decade as a national team athlete, Yvette Yong finally competed at the Olympic Games. Unfortunately, she was eliminated early, dropping a 19-5 decision to Vie Truong Thi Kim Tuyen of Vietnam in the women's 49kg Round of 16.
Swimming: First Canadians in the pool
Reigning world champion Margaret Mac Neil got things going for Canada at the Tokyo Aquatics Centre in the women's 100m butterfly where she finished with the fifth-fastest time in the heats (56.55 seconds) to advance to the semifinals along with Katerine Savard, who ranked 11th with her time of 57.51 seconds.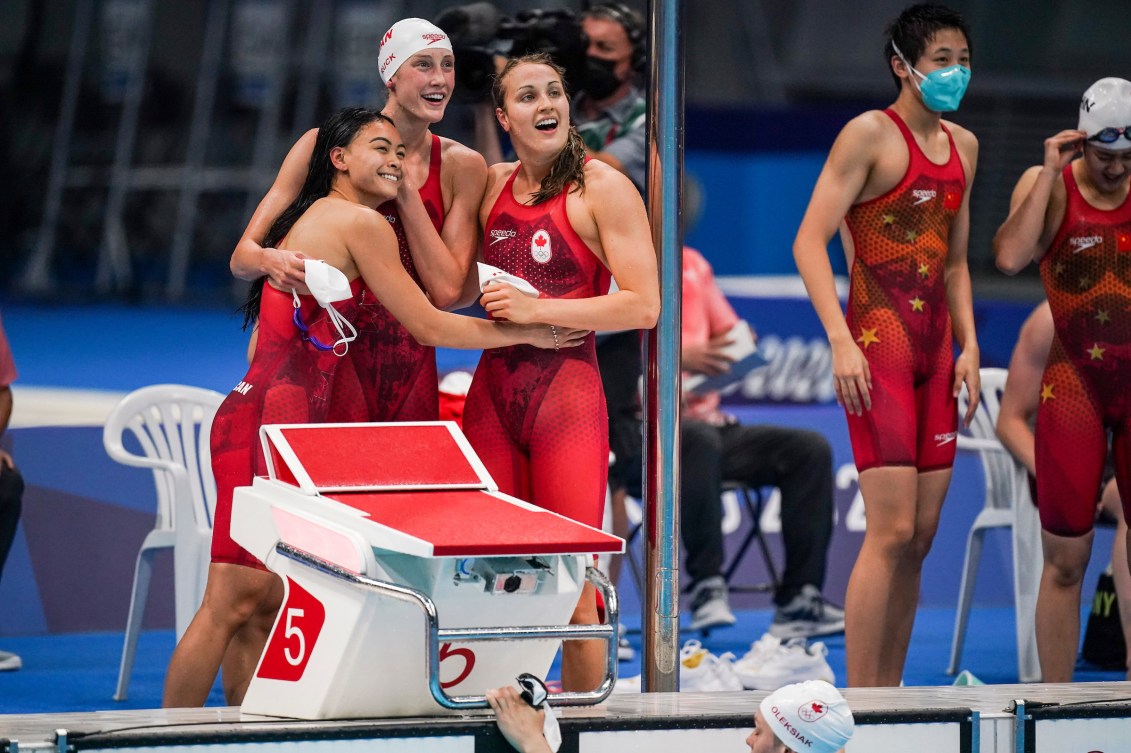 The women's 4x100m freestyle relay quartet of Kayla Sanchez, Taylor Ruck, Rebecca Smith and Penny Oleksiak finished with the third-fastest time in the heats (3:33.72) to advance to the next-day final, when they look to win Canada's first medal of Tokyo 2020.
Sydney Pickrem was withdrawn from the women's 400m individual medley for non-COVID-19 medical reasons and an effort to protect her performance in her other events, notably the 200m individual medley. Tessa Cieplucha ranked 14th in the 400m IM with her time of 4:44.54 and did not advance to the final. Gabe Mastromatteo ranked 38th in the men's 100m breaststroke heats with his time of 1:01.56 and did not advance to the semifinals.
Beach Volleyball: Both Canadian teams hit the sand
World champions Sarah Pavan and Melissa Humana-Paredes kicked things off for Canada with a 2-0 win in their first preliminary round game in Pool A against Dutch duo Stam and Schoon. Pavan and Humana-Paredes took the first set 21-16 and the second set 21-14. They'll be back in action on Day 3 against a team from Germany.
Canadian beach volleyball player Sarah Pavan bumps the ball during preliminary play against the Netherlands during the Tokyo 2020 Olympic Games on July 24, 2021. COC/Handout Dave Holland *MANDATORY CREDIT*

Canadian beach volleyball player Melissa Humana-Paredes bumps the ball during preliminary play against the Netherlands during the Tokyo 2020 Olympic Games on July 24, 2021. COC/Handout Dave Holland *MANDATORY CREDIT*
Heather Bansley and Brandie Wilkerson were in the nighttime session for their first Pool C match against X.Y. Xia and Wang of China, ranked 10th in the world. The Canadians took the first set 21-18 but then the Chinese came back to win the next two, 21-15, 15-11. They'll return to the court on Day 4 against Argentina.
Rowing: Seven Canadian boats on the water
The three Canadian boats that competed on Day 0 (Trevor Jones in men's single sculls, Carling Zeeman in women's single sculls, Jessica Sevick & Gabrielle Smith in women's double sculls) all advanced directly to the next round of their events, so no repechages for them!
Three of the seven Canadian boats in action on Day 1 have also avoided repechages. Caileigh Filmer & Hillary Janssens won their heat in the women's pair to advance to the semifinals. Conlin McCabe & Kai Langerfeld are also straight through to the semis in the men's pair after finishing third in their heat. Jennifer Casson & Jill Moffatt were second in their heat of the women's lightweight double sculls to also go straight to the semifinals.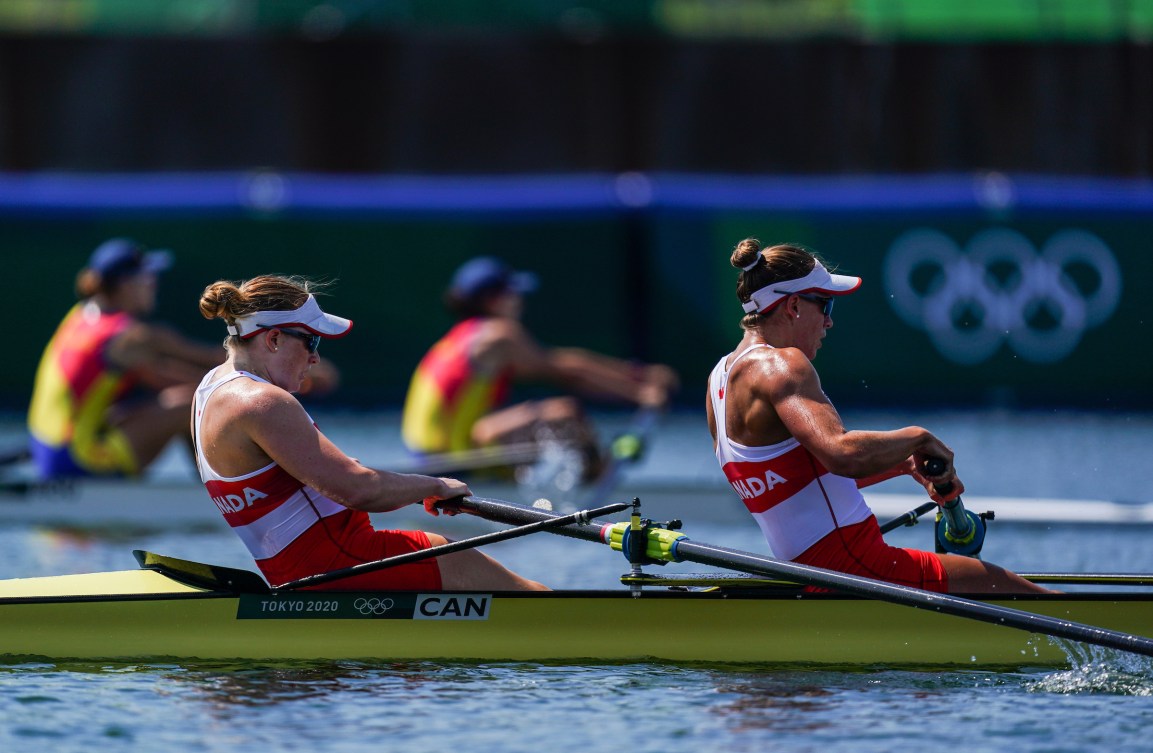 Repechages await on Day 2 for Patrick Keane & Maxwell Lattimer in the men's lightweight double sculls, as well as the crews of the women's and the men's fours. The women's eight had their heat moved up in anticipation of some adverse weather coming into the region in the coming days. The Canadian boat finished second to New Zealand by three-tenths of a second, so they miss automatic advancement to the final and will also row in a repechage.
Tennis: Women on court for opening day
The first tennis players on court for Canada were Leylah Fernandez in women's singles and Gaby Dabrowski and Sharon Fichman in women's doubles. Fernandez defeated Dayana Yastremska of Ukraine 6-3, 3-6, 6-0 in their first ever meeting. Next up for Fernandez will be the winner of Zarina Diyas (KAZ) and eighth-seed Barbora Krejcikova (CZE).
At the same time, Dabrowski and Fichman faced off against Laura Pigossi and Luisa Stefani of Brazil. Unfortunately, it did not go in the Canadians favour, as they lost in straight sets, 7-6(3), 6-4.
Badminton: Three duos in action
The first day of badminton group play saw all three of Canada's doubles teams on court. Rachel Honderich and Kristen Tsai took the first set 21-16 in their women's doubles match against the Netherlands, but couldn't come away with the win as they lost the next two 21-14, 21-15. Jason Ho-Shue and Nyl Yakura had a tough match against the second seeds from Indonesia in men's doubles, falling 21-12, 21-11. Joshua Hurlburt-Yu and Josephine Wu also had to deal with a high-ranked opponent, the third seeds from Thailand, resulting in a 21-13, 21-6 loss.
Boxing: Sanford first into the ring
The first Canadian to step into the ring was Wyatt Sanford in the men's welterweight division. He dropped a 5-0 decision to Merven Clair of Mauritius to be eliminated in the Round of 32. Clair came in as the higher ranked boxer, at number 12 in the IOC Boxing Task Force Rankings used to determine Olympic qualification. Sanford was Canada's only entry in men's boxing.
Equestrian: Dressage Day 1
The Grand Prix Team and Individual Qualifier Day 1 saw Chris von Martels and Eclips in the arena. They finished seventh in Group B with a score of 68.059. The remaining two Canadians — Brittany Fraser-Beaulieu and Lindsay Kellock — will compete on Day 2. The top two athletes in each of the six groups and the six next best scores (including ties) will advance to the Grand Prix Freestyle individual final. The top eight teams (including ties) will advance to the Grand Prix Special team final.
Table Tennis: Canada's trio ready to play
Olympic veterans Eugene Wang and Mo Zhang were first in action for Canada in the Round of 16 for mixed doubles, the first time this event has been included on the Olympic program. They started well, winning the first game 11-9, only to drop the next four 11-8, 11-7, 11-8, 11-6 to Xu Zin and Liu Shiwen of China.
Olympic rookie Jeremy Hazin played in the first round of men's singles, but was eliminated by Bojan Tokic of Slovenia 11-7, 11-9, 11-6, 11-7.
Field Hockey: Team Canada falls to Germany
Keegan Pereira scored in Canada's 7-1 loss to fifth-ranked Germany on Saturday. It was the first game of the tournament for both teams. Canada will look to rebound when they face Great Britain on Day 3.
Soccer: Canada holds onto 2-1 win over Chile
In Canada's second game of the competition, forward Janine Beckie scored twice to lift her team to victory. Combined with a 1-1 draw against Japan in their opener, Canada now looks primed to reach the quarterfinals. Their final match of the group stage on Day 4, up against Great Britain.
Softball: Canada defeats Australia 7-1
Canada improved to 2-1 in the opening round with a 7-1 victory over Australia. Kelsey Harshman had two hits and scored three times for the Canadians while Victoria Hayward added a hit and two runs. Jenna Caira earned the win, registering three strikeouts and allowing just two hits in 4 2/3 innings.
Volleyball: Five-set heartbreak for Team Canada
In the opening match of the men's volleyball tournament, Canada looked poised for a big victory over Italy, the reigning Olympic silver medallists. But after Canada took the first two sets, the Italians found their rhythm and came all the way back for a 3-2 (26-28, 18-25, 25-21, 25-18, 15-11) victory. Canada will now look to rebound against Japan on Day 3.
Water Polo: Canada drops opener to Australia
Canada was edged 8-5 by Australia in the team's first game of the women's water polo preliminary round. Monika Eggens scored three goals for Canada while singles came from Joelle Bekhazi and Kyra Christmas. Canada faces off against Spain on Day 3.