Mark Blinch/COC
Rugby
Team Canada Medal Count
0
0
1
Sport Overview
Rugby at Paris 2024
Venue: Stade de France
Competition Dates: July 24-25, 27-30 (Days -2, -1, 1-4)
Events: 2 (1 men, 1 women)
Trivia: Test your knowledge!
Although variations of rugby have existed since the Middle Ages, the first international match, played between Scotland and England, was not documented until 1871. There are two primary variants of rugby: Union and Sevens. While rugby union, featuring 15 players per side, had previously been on the Olympic program four times, it is rugby sevens (with seven players per side) that brought the sport back to the Games at Rio 2016.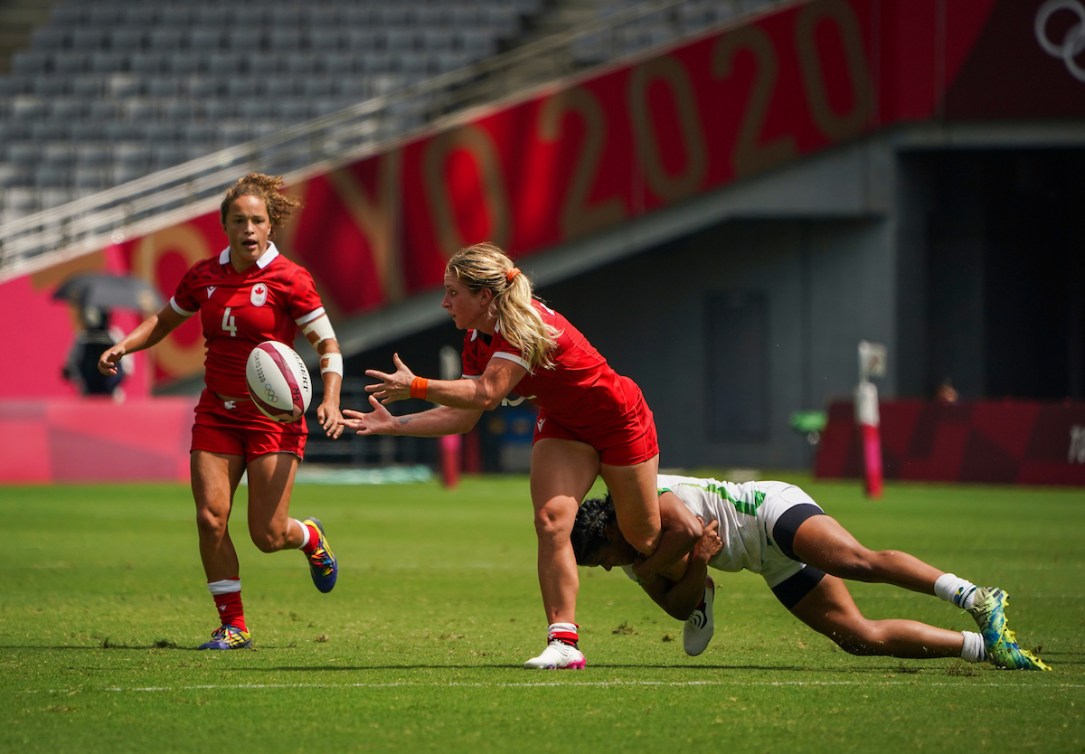 Both the men's and women's Olympic tournaments begin with the 12 teams divided into three pools of four for a preliminary round robin. The top eight teams advance to the knockout stage, beginning with the quarterfinals. The semifinal winners play in the gold medal game while the semifinal losers play for bronze.
All rugby sevens matches are divided into two seven-minute halves. The oval-shaped ball must be passed backwards between team members or kicked within the boundaries of the pitch.
The most valuable method of scoring is a try, worth five points when an attacking player puts the ball on the ground while controlling it within the dead ball area behind the goal line. After a try, a team can score two additional points by kicking the ball between the H-shaped goal posts. This is called a conversion. A team can also score three points with a penalty kick through the posts or with a drop goal, by which a player drops the ball to the ground and then kicks it through the posts.
Canada's Olympic Rugby History (Pre-Paris 2024)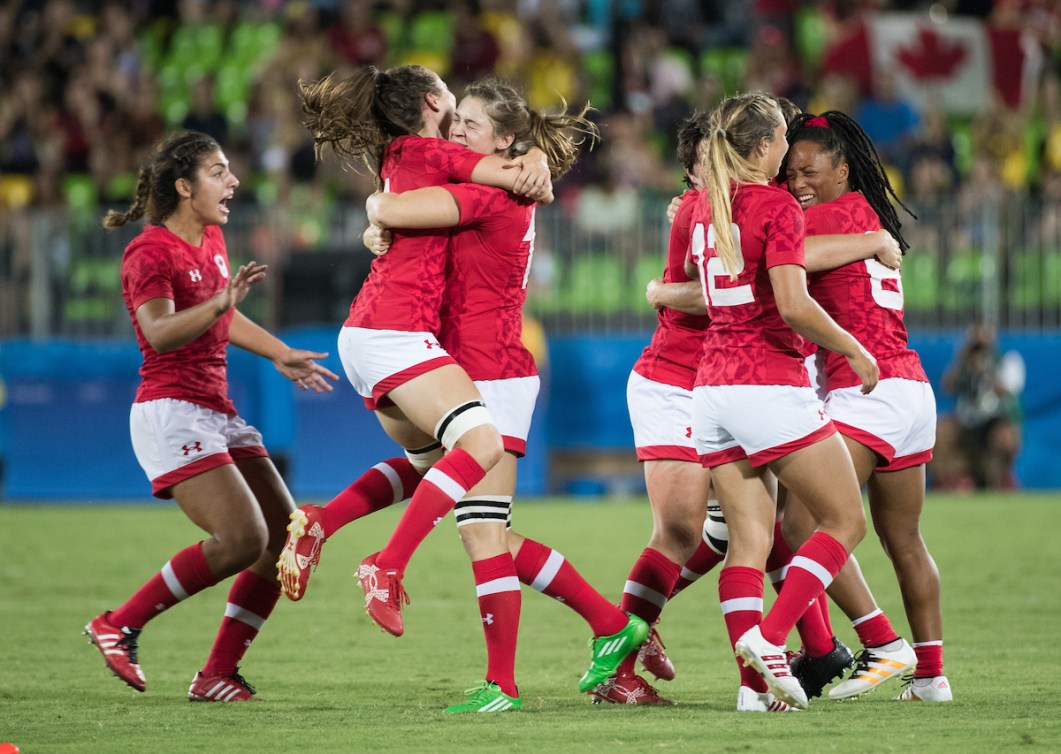 Canada won its first ever Olympic rugby medal at Rio 2016 when the women's rugby sevens team captured bronze in their inaugural Olympic tournament. Ghislaine Landry was the number two scorer in the entire tournament with 41 points (5 tries, 8 conversions).
Canada qualified a men's rugby sevens team for the first time at Tokyo 2020 where they placed eighth overall.
Olympic Rugby History
Rugby union was played at four Olympic Games in its 15-a-side format: Paris 1900, London 1908, Antwerp 1920, and Paris 1924. The sport was then absent from the Olympic program for nine decades until rugby sevens was included at Rio 2016.
Canadian Medallists
| Event | Athlete | Finish | Games |
| --- | --- | --- | --- |
| Women | Jen Kish, Karen Paquin, Natasha Watcham-Roy, Kelly Russell, Britt Benn, Ghislaine Landry, Hannah Darling, Megan Lukan, Bianca Farella, Charity Williams, Ashley Steacy, Kayla Moleschi | Bronze | Rio 2016 |
| - | - | - | - |
Teams