Rowing
Team Canada Medal Count
10
17
16
Sport Overview
Rowing at Paris 2024
Venue: Vaires-sur-Marne Nautical Stadium
Competition Dates: July 27-August 3 (Days 1-8)
Events: 14 (7 men, 7 women)
Trivia: Test your knowledge!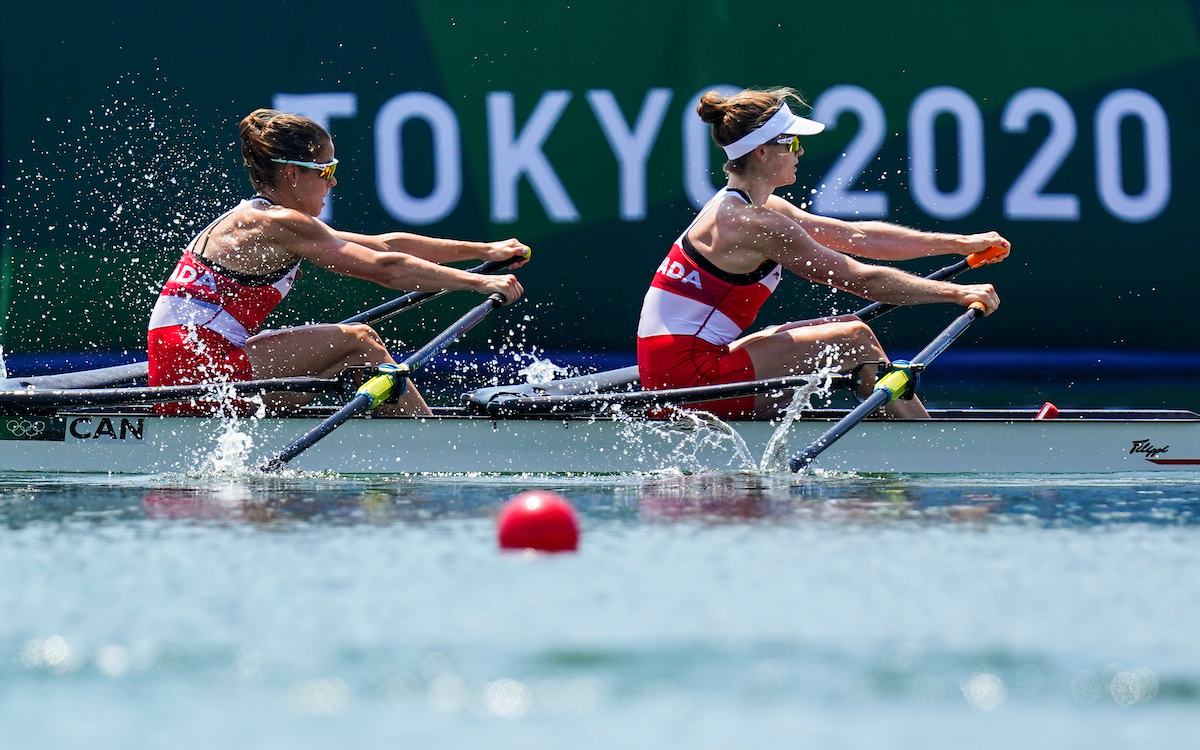 Olympic rowing became fully gender equal at Tokyo 2020, finally featuring identical events for men and women.
The 14 rowing events on the Olympic program can be divided into two groups: scull events (single sculls, double sculls, quadruple sculls, lightweight double sculls) and sweep events (pair, four, eight). In sculling, each rower pulls two oars. In sweeping, each rower pulls one oar. Rowing events are contested by individuals and crews of two, four or eight. On the current Olympic program, only the eight includes a coxswain to pace and steer the boat.
Each race covers a distance of 2000m on a six-lane course. Depending on the number of entries, there will be preliminary heats, repechages, quarterfinals, semifinals and finals. The A final determines the first six places and the B final determines places seven through 12.
As the name suggests, there is a maximum weight for lightweight crews. A women's lightweight crew can average no more than 57kg with no individual rower exceeding 59kg. The maximum average weight for a men's lightweight crew is 70kg with no individual rower exceeding 72.5kg. There are no such restrictions in any other event, except for coxswains who must weigh at least 55kg but don't need to be the same gender as the crew they are coxing.
Canada's Olympic History (Pre-Paris 2024)
The 43 Olympic medals won by Canadian rowers are the third-most for the country in summer sports.
It all began at St. Louis 1904 where the men's eight won a silver medal, the first of 11 Olympic medals Canada has won in the men's eight. That haul is highlighted by gold medals at Los Angeles 1984, Barcelona 1992 and Beijing 2008. The women's eight has contributed five medals, highlighted by gold medals at Barcelona 1992 and Tokyo 2020.
The most rowing medals Canada has won at a single Olympic Games is six, achieved at Los Angeles 1984 and Atlanta 1996. It was in Los Angeles where Lesley Thompson-Willie won the first of her five Olympic medals, silver in the women's coxed four, en route to becoming Canada's most decorated rower. Her other four medals came in the women's eight.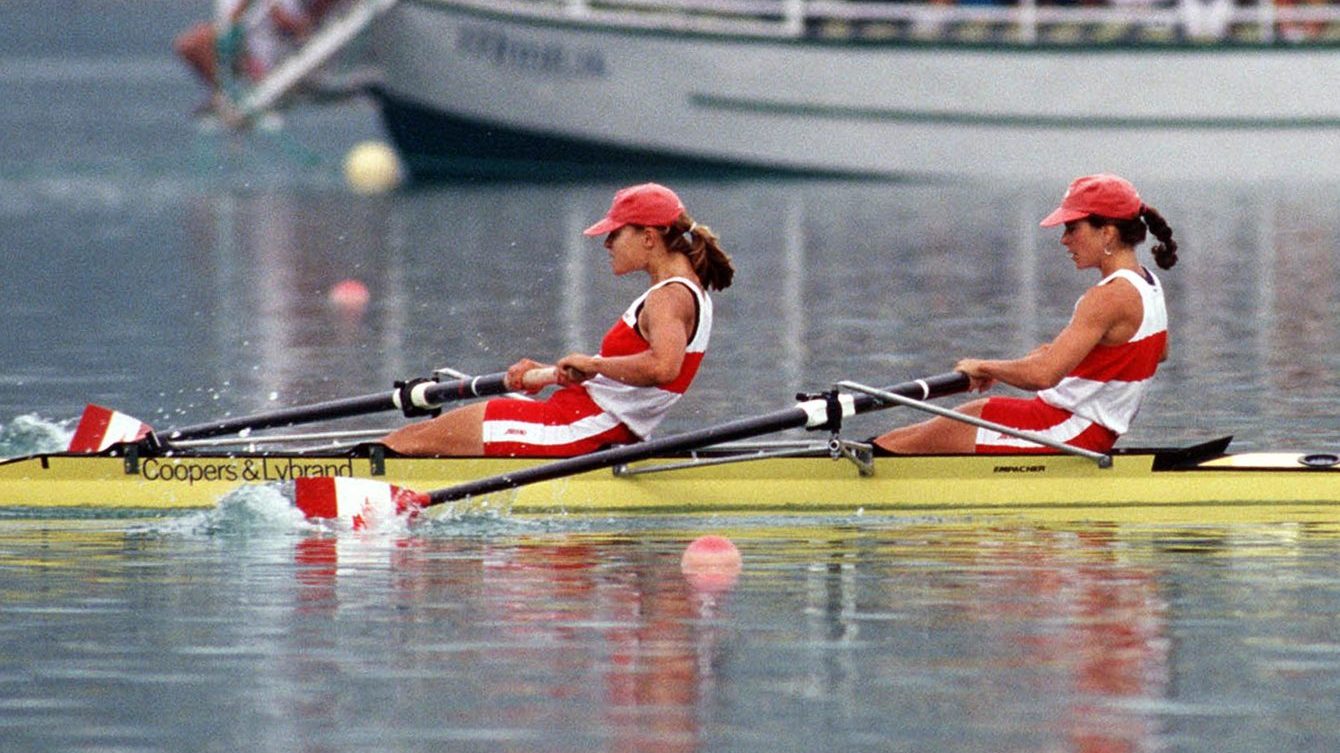 It was also in Atlanta where Marnie McBean and Kathleen Heddle became the first Canadian athletes to ever win three career Olympic gold medals, winning the women's double sculls to add to the double gold they had won at Barcelona 1992 in the women's pair and women's eight. Canada didn't win another medal in the women's pair until Caileigh Filmer and Hillary Janssens captured bronze at Tokyo 2020.  
Of Canada's five rowing medals won in Barcelona, four were gold to go with the bronze medal won in the women's single sculls by Silken Laumann just 78 days and five surgeries after a training accident that saw another shell ram into her, breaking her right leg.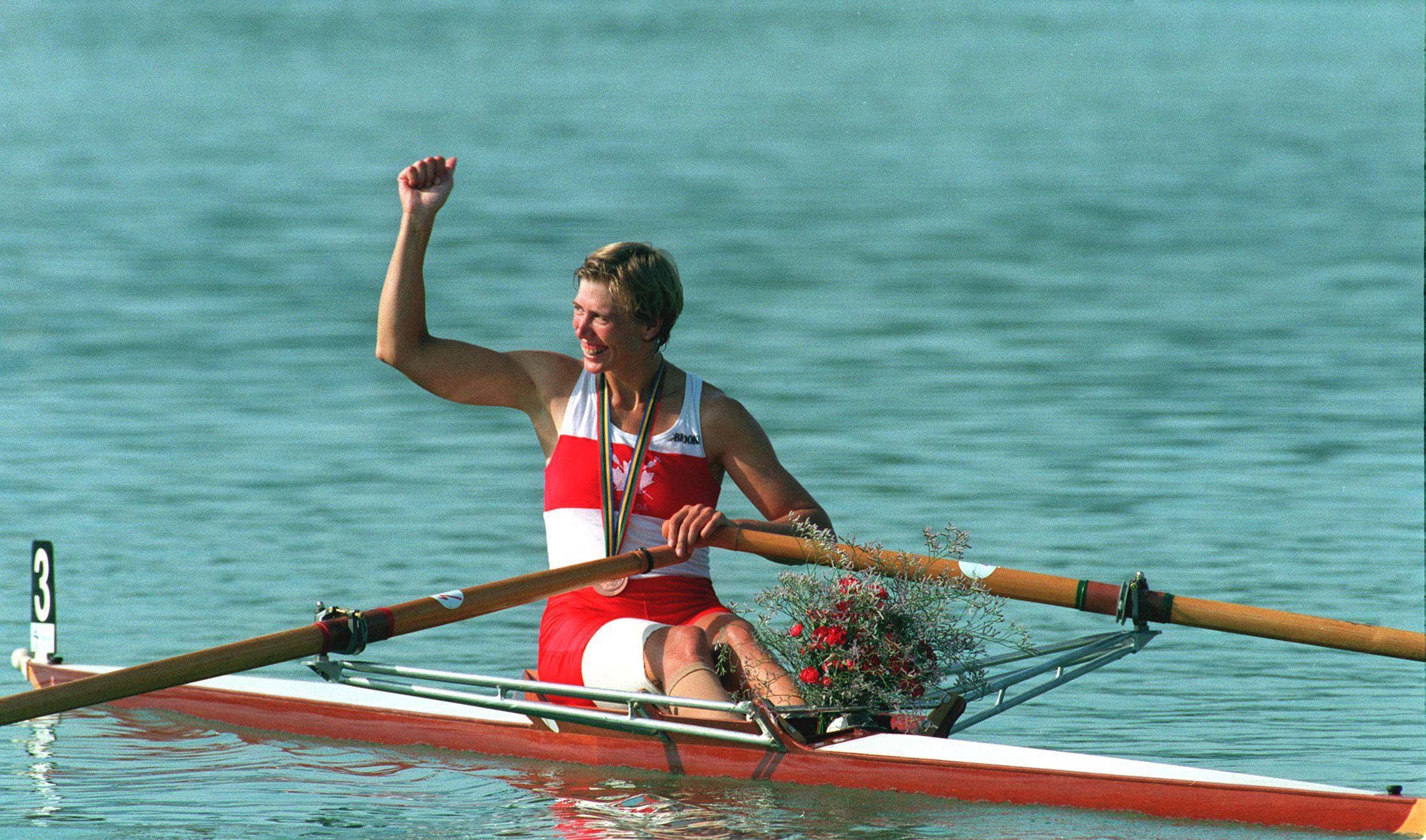 Canada's first Olympic gold medal in rowing was won in the men's four at Melbourne 1956. It was followed eight years later by George Hungerford and Roger Jackson winning the men's pair at Tokyo 1964 where they were dubbed the Golden Rejects after going from alternates to Olympic champions just weeks after beginning to train together. They were Canada's first Olympic gold medallists after the maple leaf flag had become official less than four months earlier.
At Rio 2016, Canada earned just one medal on the water as Lindsay Jennerich and Patricia Obee claimed silver in the women's lightweight double sculls.
Olympic Rowing History
Rowing was supposed to be included at the first Olympic Games in 1896, but rough seas forced the cancellation of the events. Rowing has been successfully contested at every Olympic Games dating back to Paris 1900. Only men competed in Olympic rowing until Montreal 1976 when six women's events were added. At that time, women's races were over 1000m. It wasn't until Seoul 1988 that women's rowing events were also held on 2000m courses, like the men.
Canadian Medallists
| Event | Athlete | Finish | Games |
| --- | --- | --- | --- |
| Coxless Four - Men | Archie MacKinnon, Donald Arnold, Lorne Loomer, Walter D'Hondt | Gold | 1956 Melbourne |
| Coxless Pair - Men | George Hungerford, Roger Jackson | Gold | 1964 Tokyo |
| Coxed Eight - Men | Blair Horn, Brian McMahon, Dean Crawford, Grant Main, Michael Evans, Kevin Neufeld, Mark Evans, Pat Turner, Paul Steele | Gold | 1984 Los Angeles |
| Coxless Four - Women | Brenda Taylor, Jessica Monroe, Kay Worthington, Kirsten Barnes | Gold | 1992 Barcelona |
| Coxless Pair - Women | Kathleen Heddle, Marnie McBean | Gold | 1992 Barcelona |
| Coxed Eight - Men | Andy Crosby, Bruce Robertson, Darren Barber, Derek Porter, John Wallace, Michael Forgeron, Michael Rascher, Robert Marland, Terry Paul | Gold | 1992 Barcelona |
| Coxed Eight - Women | Brenda Taylor, Jessica Monroe, Kathleen Heddle, Kay Worthington, Kirsten Barnes, Lesley Thompson-Willie, Marnie McBean, Megan Delehanty, Shannon Crawford | Gold | 1992 Barcelona |
| Double Sculls - Women | Kathleen Heddle, Marnie McBean | Gold | 1996 Atlanta |
| Coxed Eight - Men | Adam Kreek, Ben Rutledge, Brian Price, Dominic Seiterle, Jake Wetzel, Andrew Byrnes, Kevin Light, Kyle Hamilton, Malcolm Howard | Gold | 2008 Beijing |
| Coxed Eight - Women | Lisa Roman, Kasia Grucalla-Wesierski, Christine Roper, Andrea Proske, Susanne Grainger, Madison Mailey, Sydney Payne, Avalon Wasteneys, Kristen Kit | Gold | 2020 Tokyo |
| Coxed Eight - Men | Arthur Bailey, Donald McKenzie, George Reiffenstein, George Strange, Joseph Wright, Phil Boyd, Thomas Loudon, William Rice, William Wadsworth | Silver | 1904 St. Louis |
| Coxless Four - Men | Archie Black, Colin Finlayson, George MacKay, William Wood | Silver | 1924 Paris |
| Coxed Eight - Men | Arthur Bell, Harold Little, Ivor Campbell, John Smith, Norman Taylor, Robert Hunter, Warren Snyder, William Langford, William Wallace | Silver | 1924 Paris |
| Double Sculls - Men | Jack Guest, Joseph Wright Jr | Silver | 1928 Amsterdam |
| Coxed Eight - Men | Carlton Ogawa, David Helliwell, Douglas McDonald, Lawrence West, Philip Kueber, Richard McClure, Robert Wilson, Wayne Pretty, William McKerlich | Silver | 1956 Melbourne |
| Coxed Eight - Men | Archie MacKinnon, David Anderson, Donald Arnold, Glen Mervyn, John Lecky, Nelson Kuhn, Sohen Biln, Walter D'Hondt, William McKerlich | Silver | 1960 Rome |
| Coxless Pair - Women | Elizabeth Craig, Tricia Smith | Silver | 1984 Los Angeles |
| Coxed Four - Women | Angela Schneider, Barbara Armbrust, Jane Tregunno, Lesley Thompson-Willie, Marilyn Brain | Silver | 1984 Los Angeles |
| Coxed Eight - Women | Alison Korn, Anna Van der Kamp, Emma Robinson, Heather McDermid, Jessica Monroe, Lesley Thompson-Willie, Maria Maunder, Theresa Luke, Tosha Tsang | Silver | 1996 Atlanta |
| Lightweight Four - Men | Brian Peaker, David Boyes, Gavin Hassett, Jeffrey Lay | Silver | 1996 Atlanta |
| Single Sculls - Men | Derek Porter | Silver | 1996 Atlanta |
| Single Sculls - Women | Silken Laumann | Silver | 1996 Atlanta |
| Coxless Four - Men | Barney Williams, Cameron Baerg, Jake Wetzel, Thomas Herschmiller | Silver | 2004 Athens |
| Coxless Pair - Men | David Calder, Scott Frandsen | Silver | 2008 Beijing |
| Coxed Eight - Men | Gabe Bergen, Jeremiah Brown, Andrew Byrnes, Will Crothers, Douglas Csima, Rob Gibson, Malcolm Howard, Conlin McCabe, Brian Price | Silver | 2012 London |
| Coxed Eight - Women | Ashley Brzozowicz, Janine Hanson, Krista Guloien, Darcy Marquardt, Natalie Mastracci, Andréanne Morin, Lesley Thompson-Willie, Rachelle Viinberg, Lauren Wilkinson | Silver | 2012 London |
| Lightweight Double Sculls - Women | Lindsay Jennerich, Patricia Obee | Silver | 2016 Rio |
| Lightweight Double Sculls - Women | Lindsay Jennerich Patricia Obee | Silver | 2016 Rio |
| Single Sculls - Men | Everard Butler | Bronze | 1912 Stockholm |
| Coxed Eight - Men | Athol Meech, Edgar Norris, Frank Fiddes, Frederick Hedges, Herbert Richardson, Jack Murdoch, John Donnelly, John Hand, William Ross | Bronze | 1928 Amsterdam |
| Double Sculls - Men | Charles Pratt, Noel de Mille | Bronze | 1932 Los Angeles |
| Coxed Eight - Men | Albert Taylor, Cedric Liddell, Donald Boal, Earl Eastwood, George MacDonald, Harry Fry, Joseph Harris, Stanley Stanyar, William Thoburn | Bronze | 1932 Los Angeles |
| Double Sculls - Women | Daniele Laumann, Silken Laumann | Bronze | 1984 Los Angeles |
| Quadruple Sculls - Men | Bruce Ford, Doug Hamilton, Michael Hughes, Phil Monckton | Bronze | 1984 Los Angeles |
| Single Sculls - Men | Robert Mills | Bronze | 1984 Los Angeles |
| Single Sculls - Women | Silken Laumann | Bronze | 1992 Barcelona |
| Quadruple Sculls - Women | Diane O'Grady, Kathleen Heddle, Laryssa Biesenthal, Marnie McBean | Bronze | 1996 Atlanta |
| Coxed Eight - Women | Alison Korn, Buffy Williams, Dorota Urbaniak, Emma Robinson, Heather Davis, Heather McDermid, Laryssa Biesenthal, Lesley Thompson-Willie, Theresa Luke | Bronze | 2000 Sydney |
| Lightweight Four - Men | Liam Parsons, Iain Brambell, Jonathan Beare, Mike Lewis | Bronze | 2008 Beijing |
| Lightweight Double Sculls - Women | Tracy Cameron, Melanie Kok | Bronze | 2008 Beijing |
| Coxless Pair - Women | Caileigh Filmer, Hillary Janssens | Bronze | 2020 Tokyo |
Teams